♦

Lilune Havenbrookes

♦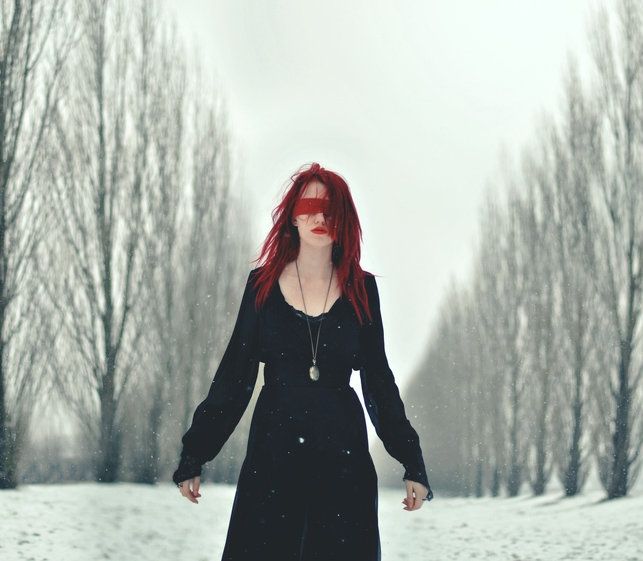 ♦
GENERAL INFORMATION
♦
Role:
War General
Gender:
Female
Nickname(s)/Alias(es):
Lilune of the Blood Moon
Age:
23
Love Interest:
None
♦
APPEARANCE
♦
Height:
5"6'
Weight:
130 Ibs.
Build:
Toned
Hair Color:
Scarlet
Eye Color:
None
Scars/Tattoos/Piercings:
Has no eyes
Description:
(Just anything that might not be covered in the provided picture.)
Preferred Clothing:
She tends to favor whatever is flexible with her movements, she tends not to care about the design, since she cannot see it anyhow. Lilune is known for always wearing a sash over her eyes.
♦
MENTALITY
♦
Oddities:
She tends to appear weak before she reveals her true nature.
Skills:
Lilune is renowned for her expertly honing her senses to her advantage. Another thing that makes her capable is her sensitivity to the flow of blood as well as body reaction to tell whether someone is being truthful or not. In conclusion with her skills if you underestimate her then it will be your grave.
Likes:
Toying with those who underestimate her, attempt to lie, or argue with her.
Dislikes:
Anyone who pities his or her self or another person.
Hobbies:
She is always planning what her next series of moves along with her soldiers.
Phobia(s):
When she is isolated and incapable of sensing anyone nearby she will go into a state of distress.
Sexuality:
Asexual
Personality:
(One paragraph at least please.)
♦
COMBATIVENESS
♦
Weapon Discipline:
She is trained to use guns in the direction of footsteps, along with the use of long reach melee weapons of all sorts. When someone gets close she uses small hidden blades laced in numbing poisons to strike them.
Abilities:
Her sense of smell along with her sensitivity in hearing are what makes her a force to be trifled with. Lilune is infamous for being able to reliably tell whether if someone is lying or not by touch. While she has greater senses from the lack of sight, she is very persuasive in her choice of words.
♦
BACKGROUND
♦
Relationship Status:
Single
Family:
Mother and Father are dead. Siblings whereabouts are unknown.
Personal History:
As a child Lilune was born through the act of adultery. In shame her mother had made a trip to give birth without her husband's knowledge, but failed to towards the end. As punishment Lilune's uncle gouged out her eyes and killed her father who happened to be his brother. He forgave her mother and left her behind in the night.
An elderly official found her and raised her in secrecy. Lilune was taught how to fight even without the use of her eyes. As a teenager she became a skillful assassin and eventually around 20 ranked up for the leader saw her potential.
Today she transfers into different locations as precaution. Lilune is always alert with her surroundings and uses strange tactics that somehow works out in the end.