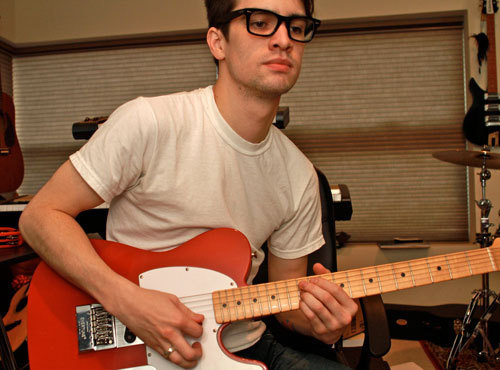 ♦
GENERAL INFORMATION
♦
Role:
Scorpio
Gender:
Male
Nickname(s)/Alias(es):
Sam Jazek
Age:
19
Love Interest:
Undetermined
♦
APPEARANCE
♦
Height:
5' 8 1/2''
Weight:
132
Build:
Slim, some muscle
Hair Color:
Black
Eye Color:
Brown
Scars/Tattoos/Piercings:
Spider bites, usually wears black rings.
Description:
Longer hair than in Brendon's recent months.
Preferred Clothing:
♦
MENTALITY
♦
Oddities:
Likes to be in control.
Skills:
Great public speaker.
Likes:
♦Control
♦The Spotlight
♦His Way
♦Weaker people
♦Intense Conversation
Dislikes:
♦Others in Control
♦Being Left out
♦Simple conversation
♦Peace
♦Tacky Clothes
Hobbies:
♦Public Speaking
♦Racing
♦Computer Programing
♦Swimming
Phobia(s):
♦Fire
♦Being Fired
Sexuality:
Bisexual
Personality:
A fiercely independent man who loves nothing more than to be in charge of someone that won't fight him for dominance. A loner that enjoys being by himself, his friendships generally are with people that don't mind his outright moodiness, or his need to be in the spotlight. Lyrik is a bit power hungry, and will not share his spotlight with anyone, but will drop it in a heart beat to save someone he cares about.
While being forceful and power hungry, Lyrik will not go without success for his cause. If you're looking for success or that big win, then you want Lyrik on your team. He will not back down without a fight, and secretly fears a challenge for his power position. He will not reveal his secrets to success in fear that he will have a competitor.
♦
COMBATIVENESS
♦
Weapon Discipline:
Technology, bombs, or guns.
Abilities:
Can hack anything to do with technology, and can swim like a fish giving him advantages in water.
♦
BACKGROUND
♦
Relationship Status:
Single
Family:
A sister named Caesura, a brother named Treble, and deceased parents.
Personal History:
Lyrik is the oldest child in his family, he has a younger siblings Caesura and Treble. Caesura is the youngest at age 13 while Treble is the middle child at age 17. Their parents while being famous musicians were very poor and died of disease when the trio were very young. They all grew up with different musical talents, for instance Lyrik was a brillant singer, until one day nodes took this away from him. Caesura plays violin for someone in high status, while Treble accompanies her on piano. Lyrik is jealous of his siblings but proud of them all the same. After his music career ended, Lyrik took up computer programming, and is currently working with a company on inventing holographic imagery.
Lyrik set him and his siblings up in an apartment in one of the dead cities. Generally, he is alone for his siblings spend a lot of time travelling. While he was alone, he learned the art of technology and was hired remotely to develop holographic imagery. Missing the spotlight, he joined a swim team, and has slowly been accumulating martial arts experience. Nothing in the martial arts has stuck for him yet, all he can do is successfully block a few hits on his body. Lately he's been feeling some unrest about his future and has been feeling more and more hostile towards the people turning their planet into a rock of dust.