...
Accessing FBI Criminal Data Base...
New York City Mafia Dossiers Uploading...
Password: Ness...
Access granted...
---
【More Than The Mugshot...】
"What's cooking Good Lookin'?"
---
☞
Full Name
☜
Nicholas Quinn.
☞
Nicknames
☜
Nick, Quinn
☞
Age
☜
32
☞
Ethnicity
☜
Irish and Italian
☞
Gender
☜
Male
☞
Sexual Orientation
☜
Heterosexual
☞
Hometown
☜
Dublin, Ireland
☞
Status
☜
Nick is not a Made Man however he does do quite a bit of work for the Falcones...for the right price
---
【Tale Of The Tape...】
"Baby, you know size don't matter...Right?"
---
☞
Height
☜
6'1
☞
Weight
☜
175lbs
☞
Eye Color
☜
Hazel
☞
Hair
☜
His hair is a dark brown and is kept short however is never given a particular style
☞
Body Type
☜
His body is quite solid, however it is in no way bulging. It is clear to any passerby or observer that his slight bulk is not from working out more than lots of walking and running and generally doing his job.
☞
Special Markings
☜
He does not have any scars or tatoos.
☞
Extras
☜
Pretty much anything else.
---
【Behind The Mechanics...】
"The only things I need are you"
---
☞
Likes
☜
Booze
Babes
Bullets
Bars
'Boinking' ;)
Booty
☞
Dislikes
☜
Babbling
Bitches
'Badasses'
Books
Bullets (In him)
☞
Habits
☜
He has a coffee habit, often being seen with a strong black one.
"Sex is a habit right?"
Nick like never eats in his own home, he's got kinda of a fast food habit but for women he'd call it more of a "Eating Out habit"
He also has a bit of a smoking habit, it's mostly social but in times of stress, he might be mistaken for a factory chimney.
☞
Fears
☜
Being arrested with all the people he's put in jail
Losing his sister
☞
Aspirations
☜
To one day retire from the Police and Mob life with his life and some money
To one day punch his stepfather in his no-good face
☞
Secrets
☜
It's a secret from all of his collegues that he is in league with the Falcone crime family.
He also has kept a secret for a very long time, he actually thinks his sister isn't a terrible person. Ssssh. It's a secret.
☞
Personality
☜
Nick could be only described as flirty, it is far too often that he can be seen with a girl on his arm or in his bed...Or atleast trying to get either of those things. He can barely resist making a comment or approaching a woman that he likes the look of. It's something that he couldn't stop even if he wanted to and he really doesn't want to stop. Ever.
He would never let it leak but he is quite fond of his sister. While he might not agree with many of her choices, especially of men but he still looks out for her even if he won't admit it. He will look out for her and has various threats to dish out if he thinks anyone will hurt her and he would make sure she didn't hear about it. Like...seriously. That'd be such a hassle.
When he's on business, either Cop or Mob business he can be slightly different. He might not change so much outwardly but inwardly his mind would be working over-time. Trying to keep every detail straight in his mind.
---
【Armed And Dangerous...】
"You sure you wanna see my piece?"
---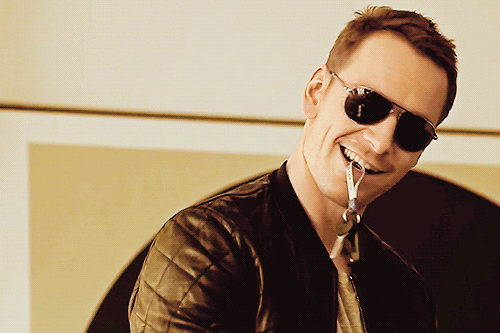 ☞
Style
☜
He usually tries to avoid 'whacking' people but if he has to, he tries to be quick and clean. His skills as a Police Officer being used to help not get caught.
☞
Load Out
☜
On-Duty: SIG Sauer P226 DAO
Off-Duty: Smith and Wesson Model 640
☞
Skills
☜
Athletics: Nicholas can run, he used to say while he might not be able to do calculas or write an essay atleast he can run. It's been one of his skills for all his life. He liked running and he really likes running after people, maybe that's what he's such a good Cop. The stamina is why he's such a good lover.
Firearms: Having recieved firearms training from the NYPD, he can use a gun and almost any kind with reasonable effectiveness.
Seduction: If he does say so himself, he's quite a seducer. He likes the game. The cat and mouse of it all. He enjoys it even if he doesn't intend it to go anywhere. Harmless fun.
☞
Equipment
☜
A key part of Nick's equipment would be his badge. He likes to think it pretty much gets him in anywhere he wants to go. It's not true.
He drives a
Ford
, his unmarked police car. Well, he can't be expected to be patrolling around marked now can he?
☞
Weaknesses
☜
One of his weaknesses is a good woman. If someone attracts him or repels him enough, he just can't stop himself going back for more. It's like a compulsion.
He isn't the strongest of guys out there, he couldn't take someone who's tanked themselves out in a hand to hand fight if he's not careful.
Forethought, this might be something people in 'The Business' would have a lot of, well...Nick isn't really cut out for it. Every action he takes seems to be on a whim, his comments, his smiles, his lack of respect will probably get him killed if he's not care. Trust me. He's not careful.
---
【Rap Sheet...】
"Fuck you! You aint got shit on me!"
---
☞
History
☜
Born in Dublin to two not very well of parents, Nick didn't have a great start in life, but he was kinda happy. He didn't want for anything that he needed, not that he agreed at the time. Four years into his life, his sister Fiona was born.
They had their usual sibling squabbles but everything was fine. Their family was happy. Then his Dad left. Nick's Father went to America and before too long he had a new Stepfather. The stepfather was a tool and Nick didn't give a shit what that guy said, he wasn't changing his last name for no-one and luckily he didn't have to but his sister, she didn't really have a choice being too long to really have one.
He grew into his teenage years with a hate for that man. It couldn't be said why but everything about the man rubbed Nick the wrong way. It was midway through his teens that Nick decided enough was enough. He didn't need the shit that his stepfather was doing. He wanted out. He needed to go and so he did.
He left on his own. Called his Dad, who helped him out a little but eventually Nick made his way to America with his Father. Left his Sister to get on with it on her own, he didn't think about it back then but he didn't know what was happening behind the closed doors of his own home.
He had many jobs over the years, he worked in stores, bars, clubs. You name it, he's worked there but it was all building up to one thing. He wanted to become a Cop. Not a Mall Cop. Not some Paul Blart type fuckery. A Real Police Officer. He set his mind to it and there. He made it happen. Blood, swear, tears and god knows what other bodily fluids later. He was there.
So here he is, a Cop. His sister was married to a Mobster and he's officially in 'The Business.' Boy is his life great.