---
Personnel Profile: Gregor Scott Cain
---
Role/rank: Asymmetrical Warfare Specialist
Home world:(will add worlds in soon. Don't let this stop you from making your character.)
Background: Federation Guerrilla Fighter
Age: 29
Height: 6'0"
Weight: 172lbs
Hair color: Grungy Black
Eye color: Green
Gundam Name: BMS-004 G-Exes Jackedge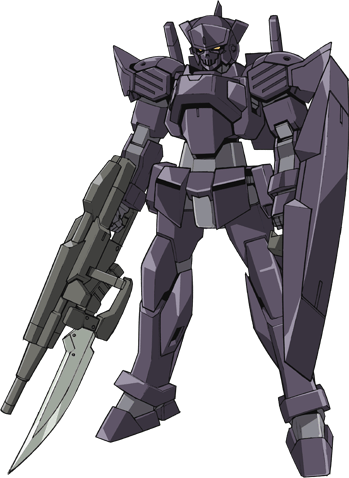 Weapons:
+DODS Rifle IIB:
See the main image, the rifle and bayonet. The weapon is standard issue on the Jackedge, as is the bayonet, and while the entire weapon generally remains in a single part, the bayonet can be separated for use, if the need should arise. When not in use, the rifle can be mounted on the rear armor skirt for stowage. The system that the rifle uses when discharging, the beam discharges spinning in trajectory like a drill, which increases the amount of penetrating power that each individual shot has.
+Beam Saber
A highly commonplace weapon on most Mobile Suits, the beam saber often see use on most platforms, whether as an addition to melee capabilities, or making up those capabilities in the full. In the case of the Jackedge, they compliment the other melee weapon system carried, which would be the Beam Tomahawk. The weapon kept on the right hip, alongside the beam tomahawk's hilt, when not in use.
+Beam Tomahawk
A variation of Beam weaponry, and a modified version of the Beam Axe, it carries more overall weight than a beam saber, but lacks the reach that the previously mentioned saber would have. This hilt is also stored on the right hip alongside the beam saber when not in use, allowing the pilot to choose, at a whim, which one would do more good at the time.
+Beam Vulcan
A helmet mounted system, used for the sole purpose of point blank combat and missile interception. The only real difference between other ballistic helmet mounted systems and this one is the use of beam over ballistic.
+Shield
Mounted on the left arm (Pictured above), the Jackedge uses an elongated shield that can use to protect its body from oncoming attacks, both beam and ballistic. Unlike some models of shields that incorporate weapons or other devices into the shield, the one mounted is just a shield, focusing on this purpose, granting it more durability. Of course, the pilot can still just up and bash someone with the shield, if they desired, but its purpose is purely defensive.
Skills:
Flight: 150
With the addition of the Sub-Flight System Wayboard, the Jackedge can maintain flight better than some other suits. However, to keep up with models designed for aerial and void combat, additional components and modifications are called for.
Speed: 150
Being designed for general purpose, default, the model used by Gregor, slightly modified, omitted the missile pods, allowing a slight increase in speed, as the missiles and their compartments did not weigh down the suit at all. Once again, as a general purpose model of design, it would take specialized modifications and upgrades to bring it up to par with other speed orientated suits.
Attack: 400
Gregor had the targeting systems on his Jackedge retrofitted and overhauled, to fully take advantage of the fact that the DODS Rifle IIB could put its unique beam rounds through heavier armor than one would expect of an average rifle. Coupling these targeting and scanning systems with the melee systems utilized, the Jackedge is deadly on the offensive, and even more so thanks to the modifications made to the current unit.
Defense: 300
Having omitted the missile systems and lightening the suit up, the suit was reloaded with additional armor. The Beam Vulcan systems, when used for missile interdiction coupled with the offensive systems, can stop more missiles than one would expect. The elongated shield, omitting anything that would lower its defensive capabilities, and uparmored frame let the suit take much more of a beating than one would expect. If everything goes according to his plans, however, Gregor doesn't expect to take a hit.
Likes: "That feeling you get when a plan goes off without a hitch? Nothing like it, mate."
+ Tactically, and generally, flexible plans
+ The battered, real worlds outside Revelation control
+ Kicking back after a long mission
Dislikes: "Those...
folks
that just blast into combat, without thought to the odds? Yea, them."
+ Chaos without Cause
+ Blustering idiots that charge around full of bravado
+ Revelation, on general principles.
Favorite whatever: "I'm rather fond of Scotch, as rare as it is."
What makes him different than other characters: Growing up without the resources to conventionally resist against mobile suits, Gregor knows all sorts of nasty tricks for foot soldiers and light vehicles for fighting, both against other unsuited forces and ones in Suits. Skilled in ambush actions, and piloting his suit in general, he has a knack for setting up plans with limited resources, especially when the odds are against him and those he's working with/over/under. He is actually more dangerous on foot, most cases, than he is suited up, having spent more time fighting there than in a suit.
Thoughts on each side:
Sexuality: Heterosexual
Single. taken, or a player: Single
Ideal partner: "We'll see who I meet, I ain't picky." He hasn't put any sort of thought into an ideal partner, considering he spends enough time planning, and fighting, that he really doesn't have time to go scouring bars and clubs for any sort of person that he believes meets any standards he would put in place.
Race: Completely human, with no indicator of any sort of specific origins.
History: Gregor was born into conflict, as both his parents were part of rebel cells that, while completely unaffiliated with the Federation, fully supported them as a governing body. They existed on Revelation fringe worlds, ones that hadn't gotten restored yet, actively fighting any forces that maintained station on these worlds. He grew up an insurgent that he acts like when in combat as an adult. He was eighteen years old when he and the Federation crossed paths at the reclamation site for a BMS-004 G-Exes Jackedge, with the young man having beaten them there and had finished bringing the suit online. Leading the Federation forces, which were on the planet without permission, and had not the weapons to conventionally fight out, he personally led them through guerrilla actions, leading them to safety in Federation space. With no where else to go, he spent more than a decade, to current time, leading special groups into Revelation territory, to raid and harass where they could, and then disappear otherwise until the next strike, general whereabouts only known to the top Federation commanding officers.
Strengths: A skilled tactician and unsuited combatant, a master at anti suit warfare with and without suits.
Weaknesses: Often finds himself following others into chaotic trouble, despite his misgivings and protestations. He also is a bit of a drunk off duty, usually having a flask on his person and having tapped it already for its contents.
The one thing you love most in the world: "A good drink after a job well done."
The one thing you wish was just gone from the world: "Well, patriotism dictates this be Revelation, but in reality, I don't mind most things enough to want them gone for good."
Personal Possessions: Gregor carries a compact rifle alongside a sidearm in the cockpit of his Jackedge, alongside an extended survival kit in case he has his Suit shot out from under him, and usually has a full flask with him at all times.
Mandatory Battle Theme