"In this day and age, justice is determined at Gunpoint..."
In the near future, it is possible to instantaneously measure a person's mental state, personality, and the probability that a person will commit crimes with a device installed on each citizen's body called the Psycho-Pass.


When this probability, measured by the "Crime Coefficient" index, is too high in some individuals those individuals are pursued and apprehended—with lethal force, if necessary. This task is performed by a special team of potential criminals called Enforcers, who are supervised by police officers known as Inspectors; the Inspectors ensure that Enforcers perform their duties within the constraints of the law.

The "Sybil System" is what dictates what to do with a person. Whether it be kill them, or paralyze them. The system rules all.

Though at the moment, a serial killer is on the loose. He uses other killers, and is highly manipulative. So far, his real name is not known, and is only known as "The Artist" for his tendency to make the dead body look like a sculpture, and places them in public places.
Inspectors are the boss of the police force. Each inspector is in charge of 1 enforcer, and each team is composed of two inspectors, and two enforcers. They supervise the enforcer's jobs to make sure everything is done smoothly. Inspectors study crimes such as murders and other things such as criminal research, and apprehend would-be killers, or people the Sybil system deems as a threat. They are the first response team at the site of the crime.

【Inspector one 】【Hayato Itsuya】【Spottedclaw59】
The veteran inspector for the first response team. They are very strict when it comes to their job and makes no effort to have no emotional bond with his Enforcers, for fear of clouding his Psycho-Pass. In fact, they despise the enforcers, and only sees them as tools to use during investigations. Though he used to be best friends with Enforcer one. The reason being that their father was a latent criminal, despite being a detective and was killed.

【Inspector Two】Reserved by FuyuHana
The newbie inspector fresh out of the academy. They were assigned to squad 1 with Inspector one since they graduated at the top of their class. They are quite shy in reality, though courageous when it counts. Unlike Inspector one, they want to get to know the enforcers, and actually treats them like people instead of dogs.

【Inspector Three 】【Geoffery Allens】【Homesick Angel】
Quiet, calm, and collected. This Inspector is rarely seen with emotion written on his face or reacting for that matter. They are quite proficient at running crime scenes, and usually doesn't bat an eye at the most gruesome bodies. Toward Enforcers...They tend to be closer to them, but not as close as Inspector two is. His enforcer is a criminal they caught. Partnered with Inspector four.

【Inspector Four】【Shouichi Byakurai】【Spottedclaw59】
One of the Inspectors that are in danger of falling to an Enforcer level. They tend to be a very pleasant person to be around, but lately they have become obsessed with catching the Artist. One of their close friends fell to the Artist's killing spree, and their Psycho-pass level has shot up to almost an Enforcer level.They are partnered with Inspector three.
[More roles will be added based on interest]

Enforcers are the "dogs" of the police force. Their Psycho-passes themselves would make them criminals; but criminals with freedom. They work for Inspectors as the ones who do the dirty work of the job, which means attacking as the first force. There crime efficient activates the paralysis feature on the gun, so if they disobey orders, Inspectors are allowed to shoot them. On the field, their code names have "hound" and their number.


【Enforcer One】【Seiren Torai】【Ever】
A former detective that fell to the Enforcer title when their crime efficient went up due to the death of their enforcer. As an Inspector, they were highly respected, and known to be friends with the enforcers. This Enforcer is known to be friendly, yet have a few dark moments of wanting to kill people. They were best friends with Inspector one.

【Enforcer Two】【Takeru Kazami】【Famishedpants】
A latent criminal. This enforcer has no qualms about killing and speaks to it in a light and airy tone. This Enforcer has been known to disobey direct orders, and have been shot with the paralysis feature on the gun sometimes. Their old inspector was killed on duty, and now he belongs to Inspector two. They tend to be flirty toward the opposite gender.

【Enforcer Three】【Tera Reed】【Havoc】
Compared to Inspector three, this enforcer is a whirlwind of energy. They usually have a smile on their face, and its hard to believe this person is an enforcer. Though on the field, they have been known to become a cold and ruthless person. They become quite dark, and shows no mercy.

【Enforcer Four】 Reserved by Keen
A grateful criminal, given the chance at some freedom. They are highly loyal and protective of Inspector four, going along with what they usually say. This enforcer is one of the better ones, they follow orders, and are overly serious about everything.
[More roles will be added based on interest.]
---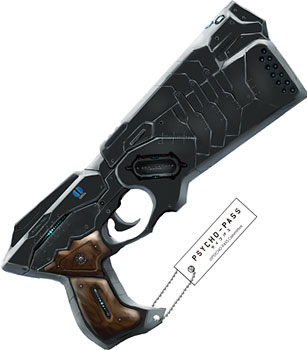 The Portable Psychology Diagnostic and Suppression System aka "The Dominator" is a special handgun carried by Inspection and Enforcement officers on assignments. The gun is able to assess exactly who is holding it and will only work for "valid users." The gun can also only be heard by its holder.

By aiming the gun at anyone, its system can instantly calculate the level of criminality the subject possesses. When this value exceeds certain levels, the gun will then be able to fire. If the level does not exceed fixed levels, the muzzle will not open and a safety device will be activated to prevent the user from pulling the gun's trigger.

Before the gun fires, the muzzle opens up to reveal a complicated mechanism inside, part of which is used to read the suspects criminality. When the gun does fire, it lets out a bullet the color of sky blue.

The gun has four modes: The Paralyser, Eliminator, Disintegrator and Lethal Decomposer.

Non-Lethal Paralyser (Level 100-199)
An officer uses the paralyser to stun and capture a suspect, before sending him/her into custody to be evaluated; however, if the suspect is on something like stimulants, the paralyser doesn't have any effect.

Lethal Eliminator(Level 200+)
The most lethal feature of the gun. When the gun goes into this mode, its muzzle changes into a larger form. When the officer fires the fatal shot, the Eliminator's powers causes the person who was shot to bloat until he or she explodes. When the suspect is no longer in the gun's range of fire or is deceased, it goes back to normal.

Destroy Decomposer (Machines)
The gun switches to this mode to eliminate non-living things, like drones. When an officer uses this mode, the Dominator emits a massive discharge that will cause disintegration on contact.
---
-In this day and age, calling for the police force is no longer done by walkie talkies or phones. Communicators take the form of silver bands that are worn by each inspector and enforcer. The silver bands function, once a call is made brings up the callers information and vice versa.
-Another thing that is new is Enforcers wear tracking devices on their ankles so Inspectors can watch their every location. The enforcers never take them off, even if they are off-duty.
---
Profile Layout
Code: Select all

[center][color=][size=200]|| INSERT NAME HERE ||[/size][/color][/center]
[hr][/hr]
[hr][/hr]
[center][color=colorhere][size=150][i]INSERT QUOTE HERE[/i][/size][/color][/center]
[hr][/hr]

[center][img]INSERT IMAGE URL HERE[/img]
[b]|| Theme Songs ||[/b]
Normal||[url=link]NAME[/url]||
Fighting||[url=link]NAME[/url]
Emotional||[url=link]NAME][/url]
[/center]
[hr][/hr]
[left][img]URL HERE[/img][/left]
[b]|| Full Name ||[/b]

[b]|| Age ||[/b]
(20+)
[b]|| Gender ||[/b]

[b]|| Sexuality ||[/b]

[b]|| Role ||[/b]

[b]|| Face Claim ||[/b]

[hr][/hr]

[right][img]INSERT IMAGE URL HERE[/img][/right]

[b]|| Hair Color ||[/b]

[b]|| Eye Color ||[/b]

[b]|| Skin Tone ||[/b]

[b]|| Height ||[/b]

[b]|| Weight ||[/b]

[b]|| Appearance ||[/b]

[hr][/hr]
[hr][/hr]

[left][img]INSERT IMAGE URL HERE[/img][/left]
[b]|| Personality ||[/b]
(1 Paragraph)

[b]|| Likes ||[/b]
(4+)

[b]|| Dislikes ||[/b]
(4+)

[b]|| Weakness ||[/b]
(At least one)
[hr][/hr]

[right][img]INSERT IMAGE URL HERE[/b][/right]
[hr][/hr]
[b]|| Personal Strengths ||[/b]

[b]|| Personal Weakness ||[/b]

[b]|| Usual Psycho-Pass Level||[/b]
(Inspectors are between 30-70)
(Enforcers are between 100-190)

[b]|| Biography ||[/b]
[/right]

[hr][/hr]
[hr][/hr]
[center][img]URL HERE[/img][/center]
[center][color=][size=150][i]INSERT QUOTE HERE[/i][/size][/color][/center]
---
Rules
*Profiles, when submitted must look neat, and actually look like effort was put in.
❖ Please try and post at least once every 3 days. Let's not have this RP die!
❖ Lack of activity after the first week will earn you a warning. The 2nd week will get you a PM. If you don't reply to the PM after a week, your character will be removed, or turned to an NPC.
❖ Don't make your text color hard to read like this or too small so we have to zoom in to see it
❖ Make your "Speaking text" and normal text different colors to more easily distinguish between them.
❖ Use italics for thoughts and "quotation marks" for speech
❖ Try not to make any Out of Character comments in your post. One sentence max, if you really need to, and at least keep it at the end of your post like such (OoC: TEXT TEXT TEXT). However, try and keep it to the OoC thread
❖This is Semi-lit. to Literate, so 9+ sentences
❖Romance is allowed, just keep it under PG-13, according to the rules.
❖Reservations will only last for three days. If the character is not up by then, it will be cancelled.
❖When reserving a character in the OOC, give me a random sentence about unicorns.
Arcs are bundles of posts that you can organize on your own. They're useful for telling a story that might span long periods of time or space.
There are no arcs in this roleplay.
There are no quests in this roleplay.
Here's the current leaderboard.
There are no groups in this roleplay!
Welcome home, Promethean. Here, you can manage your universe.
Arcs are bundles of posts from any location, allowing you to easily capture sub-plots which might be spread out across multiple locations.
You can create Quests with various rewards, encouraging your players to engage with specific plot lines.
Settings are the backdrop for the characters in your universe, giving meaning and context to their existence. By creating a number of well-written locations, you can organize your universe into areas and regions.
Navigation
While not required, locations can be organized onto a map. More information soon!
There are no groups in this roleplay!
By creating Collectibles, you can reward your players with unique items that accentuate their character sheets.
Once an Item has been created, it can be spawned in the IC using /spawn Item Name (case-sensitive, as usual) — this can be followed with /take Item Name to retrieve the item into the current character's inventory.
Give your Universe life by adding a Mob, which are auto-replenishing NPCs your players can interact with. Useful for some quick hack-and-slash fun!
Mobs can be automated spawns, like rats and bats, or full-on NPCs complete with conversation menus. Use them to enhance your player experience!
Current Mobs
No mobs have been created yet.
Locations where Mobs and Items might appear.
You can schedule events for your players to create notifications and schedule times for everyone to plan around.
Add and remove other people from your Universe.
The Forge
Use your INK to craft new artifacts in Gunpoint Justice. Once created, Items cannot be changed, but they can be bought and sold in the marketplace.
Notable Items
No items have been created yet!
The Market
Buy, sell, and even craft your own items in this universe.
Market Data

Market conditions are unknown. Use caution when trading.

Quick Buy (Items Most Recently Listed for Sale)
None
The main HQ for all inspectors and Enforcers
Discussions
Topics

Replies
Views

Last post
Most recent OOC posts in Gunpoint Justice
There have been no posts in the OOC topic for this roleplay!