---
---
"Here's an idea...Shut up and let me do my job."
---
|| Theme Songs ||
Normal||
What I've Done|
Fighting||
I'm Right Here
Emotional||
The Lost of Resolution
---
---
|| Full Name ||
Hayato Itsuya

|| Age ||
27

|| Gender ||
Male

|| Sexuality ||
Heterosexual

|| Role ||
Inspector 1

|| Face Claim ||
Ten Year Later Hayato Gokudera (Katekyo Hitman Reborn!)
---
---
|| Hair Color ||
Greyish-Silver

|| Eye Color ||
Olive Green

|| Skin Tone ||
Ivory

|| Height ||
6'0"

|| Appearance ||
Hayato is fairly intimidating when you meet him. He usually has a scowl painted on his face, and honestly with his sharp eyes when he glares at you some other officers say like satans come for you. He's always dressed formally in a suit and tie, though on the field he wears the blue uniform jacket that all inspectors wear. He does have a "punkish" look though, since he's known to wear multiple rings on his fingers, and also chains. When staying late, he usually has a cigarette in his mouth.

Despite wearing a suit, he is by no means the type of business person that can't fight back. He is strongly built, and has muscles under the coat he has. He is actually very tough, and can take a lot of hits before going down...though with his strength he'll make sure they leave with a few broken noses or teeth to remember him by. When he was younger, he would get into fights all the time.

His eyes are very expressive, usually it shows emotions that he tries to hide.
---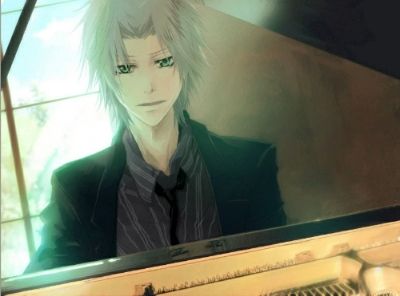 ---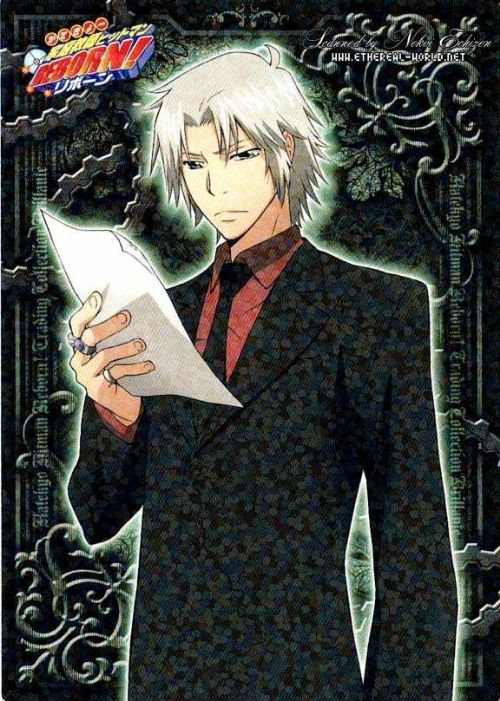 || Personality ||
Strict. If anyone has anything to say about him, its strict. He does everything by the book, and by the system. Hayato is the type that wants everything done fast and efficiently. He absolutely despises waiting, and is the type to lash out at people if they do something wrong, even for a simple mistake. On the field,it isn't uncommon to see him shooting some enforcer if they disobey the simplest order...though is quite reluctant too when a certain person comes into view.

He speaks in a rather rough way, since he could never break the habit as a teenager. Hayato has nothing against swearing to get his point through, and of course threatening if needed. He's rather harsh, and speaks in a blunt and cold manner. He's normally seen with a scowl or a cool facade on and hardly ever smiles towards things or people for that manner. He isn't the type to show much emotion besides annoyance and anger. Though he's known to smoke after hours in the office if he stays late which he usually does.

Despite his rough and punkish nature, He's calculating and smart. He has the IQ of 210, which is of a genius. He's an excellent strategist, and in catching people in their own thoughts. He's observant, easily recognizing signs of distraught, panic, and anger. Hayato has been known to hide his emotions extremely well, and appears apathetic...though in his mind, he does feel something which usually reflects in his green eyes.

|| Likes ||
✰Coffee
✰Smoking
✰Puzzles
✰Short Cases
✰Dominator

|| Dislikes ||
❇Dogs
❇Most Enforcers
❇Being told to rest
❇Work being interfered with
❇Orders not being followed
❇Long Cases

|| Weakness ||
Work-a-holic || Health is a last priority for Hayato. Sleepy? Just drink some coffee. Stressed out? Have a smoke. Unless ordered to, he probably wouldn't even go home. He's never taken any day offs in the whole time he started to work.

A certain someone || Although he hates to admit it, a certain someone will always affect him. He tends to get more annoyed when a certain someone is introduced into the conversation.
---
---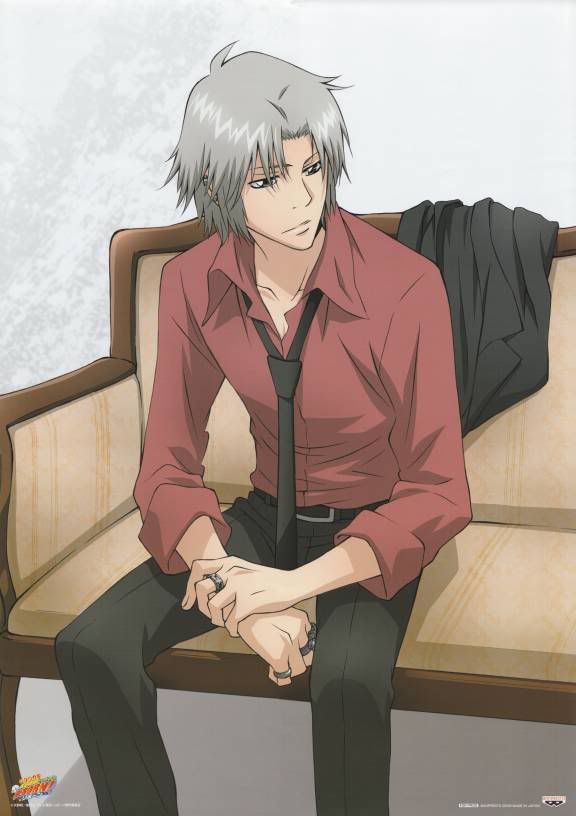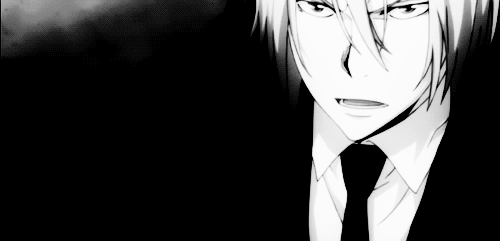 || Personal Strengths ||
+ Martial Arts || Unlike most inspectors, he can fight on his own. He's very well built, despite it being hidden in the suit he wears. Hayato has a black belt in Tae Kwon Do, Akido, and Karate.
+ Adaptable || When something goes wrong, he can easily adapt to the situation.
+ Solving || He's excellent at puzzles, solving crimes...anything that involves thinking, he's good at it.
+ Cooking || Hard to believe? Totally. He's good at cooking, and cleaning since he dislikes dirty areas.
+ Work || He always puts work first. He'd probably marry work if he could.
+ Piano Playing || His mother forced him. After awhile, he learned to like it.

|| Personal Weakness ||
-A Certain Someone || He still feels mad when a certain someone comes into play. Despite how often he ignores the feeling, it never goes away. If someone would hurt that certain someone...it wouldn't end well for that person or him.

|| Usual Psycho-Pass Level||
40, though the highest its gone up is 67.

|| Biography ||
Hayato was born an only child to two loving parents. Both his parents were a fairly happy couple. They hardly argued, and got along perfectly. His mother was a grade school teacher, and a Inspector. He didn't have any problems, except for a few temper tantrums he threw, mainly because his mother made him learn how to cook...clean..and...play the piano (That girly instrument)...but that was it. His father though made him learn physical things and martial arts, saying he would need to protect himself and his mother while he wasn't home.

His parents were friends with another couple, who had a daughter. His parents were good friends with the girl's mother so they met a lot. He met with the girl, and for some reason the girl-whose name was Seiren followed him around a lot. Whenever she saw him, her new goal was to follow Hayato around like a puppy. Though he was only a little irritated at this, and he played a few pranks on her. It was natural, after all to play pranks right? It was only minor things, like hiding from her and scaring her or spooking her out.

Years past, and in his last year of middle school a bump in the road was hit. His father had become a latent criminal. One of the inspector died on his team, and he had slowly been rising is Psycho-pass level up, throughout the days the killer was loose. When they had found the killer, he had snapped, and soon killed the criminal. His father had killed a criminal, shouldn't he have been honored?

Not in this day and age.

The criminal's psych had only been "Paralysis" according to the system- his father had ignored this, and defied the system. He snapped the man's head in a fist fight. His father was soon brought down, and made an enforcer...of course the press gobbled this up and published it everywhere. His father had been a well-respected inspector after all. In middle school, he started to get picked on because of that. They all said he would end up like his dad.

Hayato began getting into fights. It was normal for him to be seen with a few bruises, and scratches (Though he made sure the victim was worse). Though he stopped beating people up when one of the boys said something that hit him.

"See?! You'll End up like HIM! Just watch!" Before running off with the rest of them.

It was that moment, that he decided to become a inspector with the police. To show that he could do something important.

And also to show he wouldn't end up like his father.

In the last year of his high school. His father was killed. He had acted out during an investigation, then was eliminated. He was supposed to be stunned, but when the dominator released the blast it instead killed him, since his father had gone off the deep end. His mother followed after, killing herself while he was at school. He came home to her dead body,hanging from the roof.

He was to be put under foster care, but he was already a legal adult. His parents were buried, thanks to his relatives and he used the life insurance to first; sell his old house, second buy a small apartment, and lastly put himself through the academy. There he met with Seiren again. She apprently was trying to be an Inspector like him, and was able to skip a couple of grades. It was slightly comforting to see a familier face. They were able to graduate together, when he was 22.

They both got a job at the police station, and everything was fine. They worked together often, and were really good friends...until that case came up.

He wasn't assigned to that case, but Seiren was. Hayato had been at the office lounging around when the request for back up had appeared to his division. Seeing Seiren's name was enough to get him to spring to action, driving like crazy he got there with the other officers and a few inspectors and enforcers. But, when they got there he had expected to see some sort of stand off... but instead he saw two dead bodies...With Seiren standing over them, clearly not in the right mind.

He pointed the dominator at her. It was past what an inspector's psycho-pass would be. He could feel despair grip at his heart. She had fallen...she wouldn't be the same again.

Just like his father.

As he aimed the dominator at her, he couldn't look. It targeted her, and switched to the stun mode. He looked down on the ground.

Then he pulled the trigger.

She fell to the ground. And she was arrested. As the other inspectors rushed to get her before the paralysis wore off, he stayed in place as his hand dropped the dominator to the floor. He didn't know what happened next, as it passed in a blur. All he knew was that his Psycho-pass level had spiked to a 67. It had never done that before.

It was after that when he became colder, and more ruthless in cases. Hayato threw himself in work, and attempted to escape the reality. The reality?

His best friend had become a latent criminal.

And also his enforcer.

Hayato began to ignore the enforcers assigned to his team, after all they were all the same to him. Just tools. Tools and dogs they used to catch more dogs. His best friend had became nothing but "that certain person." It was sad, but he had to live with it...yet why did he not want to on the inside?


---
---
"No matter where you run...Judgement always find its way..."