---
---
"Eh? What am I supposed to put here?"
---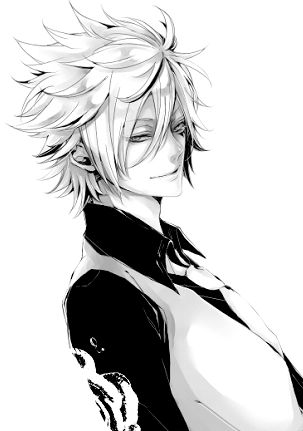 || Theme Songs ||
Normal||
Monster
||
Fighting||
Kakugo
Emotional||
Litre of Tears
---
|| Full Name ||
Shouichi Byakurai
(He prefers Shou-kun)

|| Age ||
28

|| Gender ||
Male

|| Sexuality ||
Heterosexual

|| Role ||
Inspector Four

|| Face Claim ||
Byakuran (Katekyo Hitman reborn!)
---
---
|| Hair Color ||
White, but has a lavender tint in bright lights

|| Eye Color ||
A deep purple, but lightens up to a Lavender

|| Skin Tone ||
Ivory

|| Height ||
6'1"

|| Appearance ||
Shouichi can remind one of a child. He always has a smile on his face, and happiness is almost always shown in his lavender colored eyes. he has a mop of white hair on his head, which is naturally spiky for some unknown reason. Seriously, his hair could be wet and it would still stick up like nothing. His most noticible feature is a tattoo under one of his eyes, shaped like triangles. He got it when he was 16, after he lost a bet with one of his friends. Though it suits him just fine, as its the same shade as his eyes. His face is enough to standout in a crowd thanks to these features.

Shouichi normally wears a simply button down shirt, and colorful ties. He does sometimes wear a normal t-shirt but has a black coat over it. His wardrobe is fair simple, and semi-formal. He dislikes to wear the full suit, deeming it as a pain to wear, and usually ditches formal events if they are required to wear one. He does work out just to keep in shape but hardly shows off since he dislikes fighting.
---
---
|| Personality ||
Shouichi is normally a very happy person. He's always seen with a friendly smile on his face that resembles almost child-like. He has a certain charisma that draws people near him, to which he happily responds. He's very selfless, taking time to get to know people, and listen to them completely. From that, he knows what people wants to hear, which he gladly says if it makes them smile and cheer them up. Shouichi is even known to give small gifts to people who have a bad day, namely flowers with meaning attached to them. He is hardly ever seen with a frown, and it's rare to see him have any other facial expression.

He's a very good listener, which makes him a great interrogator, which he usually plays as. Shouichi can notice small movements a culprit does; nervous tendencies all humans tend to such as biting their lip, or clenching their fists. It's often very scary for the suspects,since in walks a completely smiling man and it stays that way throughout the whole thing. Shouichi can often catch people in their lies of webs, and see through it easily.

Though despite being a generally happy person, lately he's been having darker moments. A darker look has been forming on his face throughout random times, namely when he's alone. Darker thoughts have been coming out of his normally happy mouth, and it is becoming more common.

|| Likes ||
❤Marshmallows
❤Parfaits
❤Sunny Days
❤Mornings
❤Flowers
❤Smiles
❤Giving people Nicknames
❤Napping

|| Dislikes ||
✗ The Artist (More like a seething hatred that could burn his mind to crisp if not checked.)
✗ People Frowning
✗ Therapist (Crazy shrinks who think he needs help.)

|| Weakness ||
The Artist || Even mentioning that person's alias is enough to put Shouichi in a horrible mood. He loses sight of his happy self, and instead gets to distracted to revert back before his psych gets permanently damaged. If a lead is mentioned about the Artist he would be the first to go off on his own recklessly.
Lover || He declares himself "A lover, not a fighter." he doesn't like using force,but will if necessary for..certain jobs if it leads him to the Artist.
---
---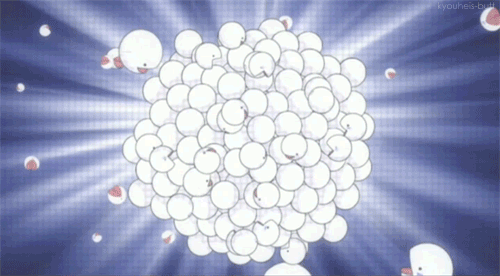 || Personal Strengths ||
◆Excellent Listener || When speaking to people, he gives them his full undivided attention.
◆Happy || Giving a smile to get a smile. He can usually smile all the time, rubbing it off on people and giving them something to feel happy about when their down.
◆Observant || Watchful, despite a happy facade on. He's always paying attention to his surrondings...even if he doesn't seem like it.
◆Fighting || As mentioned before, he doesn't fight, and would rather talk things out.
◆Persuasive || "Flattery gets you nowhere?" More like everywhere. He's a very good negotiator usually, an can get what he wants, whether it be more information, or something personal. His speech and light attitude toward things allow him to be very persuasive when he wants to be.
|| Personal Weakness ||
❉Bonds || He values every person he meets. He feels very strong emotions, especially when it comes to close friends. When one is gone, he feels as if a part of his world crumbles down with it...which explains why he's like this now.
❉Sickly || Shouichi tends to get sick easily, so he's known to wear face masks when outing the field, but he is known to push himself a lot more lately.

|| Usual Psycho-Pass Level||
50, though the highest it went was exactly 70. Every time the Artist is mentioned, it tends to shoot up to around 60.
|| Biography ||
When he was born, he was born really weak. Shouichi was always a sickly child, when he was little. He mainly stayed in his house most of his childhood, getting home schooled, and not being able to go outside since he got sick if someone even sneezed on him. He was originally supposed to have a nice chestnut brown hair, but it turned white due to the stress the body took while he had a high fever. It stayed white ever since then.
Since he didn't get a lot of time to play, most of the time he studied things with his mother. His mother loved flowers, and taught him the meanings of flowers ever since he was little. He learned a lot of girly kind of things, since his mother was home with him all the time. Though, later when he was around ten years old, his doctor started to prescribe him some medicine that actually was able to strengthen his body's system, at least to allow him to go out. He had to take it for a whole year though, and by the time he was eleven, he was able to enroll in school.
You wouldn't believe the fun he had! He could actually run and play like the other kids could, which was great! He developed his happy-go-lucky attitude that he still has today. Shouichi couldn't be more happy.
Well, then came high school. Wasn't that fun, but then again, when is high school fun? The only thing fun about it was hanging out with friends studying, or just fooling around. After he graduated high school, he moved out of his house, renting an apartment. The apartment was good enough for him. He could use the money he saved for college since he was able to get a scholarship enough to pay for it. He was 19, and while meeting his neighbors, he came across a girl who lived in the building who was only 12 years old. She was crying by the stairs while he was coming home one day. He smiled and talked to her for awhile, finding out some boys had stolen her doll for fun. They had called her a crybaby, and other mean insults.
What was with boys now days?
Shouichi smiled at her, and helped her up. He took her too the nearest toy store, and let her pick out a new doll, saying that he'll buy her a new one. She smiled, and picked out a nice fluffy pink bunny. He took her back to her back to her apartment, where her mother was worried sick. The girl called said her name was Rie, and she called him Nii-san before she went inside. He looked at the name plate. It said "Kamichi." Her mother thanked him, to which he just smiled before leaving.
When he got back from his classes the next day, the little girl was waiting for him by the steps again. When she saw him, she jumped up happily, asking if she could play with him. Shouichi blinked once, then smiled, nodding and responding happily. But of course, he went up to her mother first and asked permission. With that out of the way, he took her to the park, where they did their homework before playing with the other kids that were there.
Well, after that Shouichi was accepted into the police academy he wanted to get into when he was 20. He juggled his schoolwork, academy, and babysitting Rie for the next year, until he was certified as a Inspector, graduating at 21, a bit earlier then most people would. Rie was fourteen, and throughout work, and her he was perfectly content, having a "little sister," despite them not being related. He tutored her when she needed help, helped her through boy troubles, and it stayed like that, an almost perfect sibling relationship. Then her graduation came.
He remembers her just smiling, as he awarded her. He had called in sick to attend the graduation with her mother, who had divorced her father a few years earlier. She was already accepted to be enrolled in a university, so life couldn't be better at that moment. She wanted to be a doctor. The last photo he took with her was of the graduation, in her cap and gown.
That was when he got called into the field. It seemed like an unusual one too. As he walked in the church, he saw a blood splatter, no doubt from the lethal mode in the dominator. As he looked up at the ceiling where some Inspectors were getting down the body, that's when he saw her.
Rie was murdered.
He was devastated. Destroyed. His precious little sister was gone? He hadn't broken down on site, that would be horrible to do. Instead, he left the scene without a word and grieved when he got home. He told Rie's mother, and they both grieved for what seemed like a days, weeks, months... in reality it was only three days before the official release of her death to her mother. They both buried her, and as the casket closed, a shadow began to form in his mind.
"Rie-chan...I'll make him pay...if it's the last thing I do...Fine... I'll kill him slowly...making sure he suffers...I swear it..."
[/font]
---
---
"When I find the Artist...I'll kill him in the most painful way possible...I'll cut him up alive, piece by piece...then slowly burn him and his sins to hell...if I fall, so be it...it's all worth it in the end...