---
---
"What delightful suffering we shall inflict."
---
---
---
|| Full Name ||
Takeru Kazami
|| Age ||
26
|| Gender ||
Male
|| Sexuality ||
Heterosexual
|| Role ||
Enforcer 2
|| Face Claim ||
Light Yagami (Death Note)
---
"There ain't no rest for the wicked."
---
|| Hair Color ||
Chestnut Brown
|| Eye Color ||
Brown
|| Skin Tone ||
Fair
|| Height ||
5'10"
|| Weight ||
177lbs
|| Appearance ||
Takeru appears as a fairly handsome young man. He has a nice head of medium-lengthed hair that reaches to his ears in the back, but not the front of his head. It is often combed down and does not see any spectacular hairstyles, giving him more than a bland appearance considering his personality, which wholeheartedly contradicts this. His eyes have no problems with his hair, able to be seen clearly on his face, the same color as his hair. They seem to invite you to the man, and can appear warm and calming. One could almost get lost in them.....
Although he is much, much mightier than he seems to be, Takeru has but an average appearance supported by an average build. He has no fine muscular detail, but instead has practical muscles you wouldn't see unless he flexed. Thusly, he does not naturually give off an intimidating air, and this - more often than not - leads one to underestimate his physical abilities. It also further refines his 'normal' look, and adds to his harmless appearance.
Takeru enjoys wearing clothes that would seem more fit for a teacher, or maybe a student. He loves wearing ties and suits, or anything else that covers a vast majority of his body. He dislikes anything that exposes his legs or his arms, even in warmer weather. However, he does not mind being shirtless in public, nor does he care much for any sense of fashion. This must be simply because it is more comfortable for him to wear.
---
---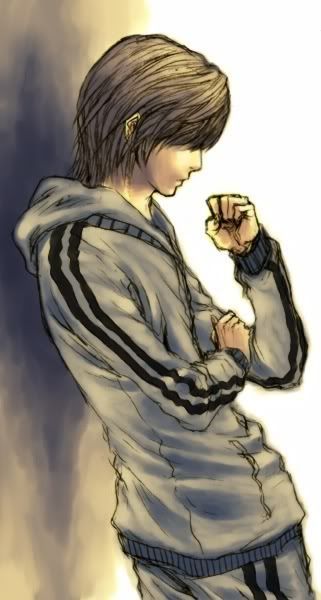 || Personality ||
Childish. This one word might be used to describe Takeru, albeit in an extreme sense. Takeru is immature and possibly crazy, never considering the dangers of any of his acts, nor paying attention to anything he deems 'boring', no matter what the importance of the subject is. His definition of fun is 'anything that gets the blood pumping, or keeps ya busy'. For him, this involves violence, explosions and murder. He, much to the dismay of anyone and everyone, would much rather blow something up or kill someone than sit down at a desk and work on taxes or the sort. In a sense, he acts much like a kid who forgot that videogames weren't real, and is simply doing stuff that entertains him.
Takeru will pout and be upset if things don't go his way, but he will also laugh and smile like a little boy if he sees something funny or destructive (Which are basically the same thing to him). He has a very crooked way of keeping himself happy, and he does not care what or who it affects, so long as he's enjoying it. Because of this, he can be called selfish. And he is. While he might not mean to cause anger or sadness, he does not put any effort into adjusting his speech for anyone, and should not be near when sensitive topics are mentioned. His way of speaking is very blunt and to-the-point. If he dislikes something, he'll tell you immediately and truthfully. People who take things to heart probably won't do too well with him.
But as childish and innocently destructive as he may seem, there is something about him that keeps the sharpest of Inspectors on edge near him. Every so often, he hints at cunning and manipulative behaviors. Furthermore, he picks up on things related to the Artist, and seems much more focused when anything about said case is mentioned near him. For most, it is only when the aforementioned murderer is mentioned that his silly little smile twists and turns into something much, much more frightening. Normally childish, many are surprised and shocked that the most scary thing they've ever seen was the glare of absolute hatred and malice that such an 'idiotic' young boy emitted. And somehow, he's able to seem so stupid minutes after. If anything, this might mean that letting your guard down around him or otherwise passing him off as a violent idiot may be a fatal mistake.
---
"So as not to waste the blood that has already been shed, I will shed more blood."
---
|| Likes ||Carnage
-
Woo! Bodies and blood fascinate the young man so much! He doesn't do anything weird like lick the blood of a dead person or the sort, but if he sees a clean decapitation, don't be surprised if he admires it.
Fun
-
The absence of boredom. Who doesn't want to have fun anyway? His definition of fun happens to be explosions, murder, and otherwise illegal activities, but.....
Dogs
-
Man's best friend! Takeru has implied on a few occasions that he had once owned a dog. And boy does he love them! He can't help but talk silly and pet a dog if he sees one, and they tend to let him for whatever reason.
Explosions
-
Boom! Bang! Explosions are the most magnificent things in the world to Takeru, who appreciates the spectacular display of lights that occur when one dies. Plus, doesn't your heart jump each time one goes off? His does!
Fighting
-
Say what you want, but shooting someone can be boring, repetitive. Why not beat them up? So much more challenging and fun! Blood gets pumping, and the adrenaline feels so awesome!
Flirting
-
Oh, how he'd love to meet the woman of his dreams! Yes, that would be lovely! That woman, that beautiful, blonde woman sitting on the bench! Yes, she must be the one! If not her, then the next! If you try one thousand times, you're sure to find someone! Although, it can be depressing sometimes....
Children
-
If anything besides his hatred for the Artist can get him to thinking about what he's doing, it's children, or something that reminds him of them. He manages not to do anything that he knows would directly affect or harm a child, and he tends to be just a bit more relaxed speaking to them. It might be for this reason that he tends to not be AS harsh on his newest Inspector as his last.
Strawberries
-
These delicious red fruits will effectively get you anything you could want out of Takeru, were you to bribe him with them. Well, save his background. But otherwise, give him some of these and it would be a lot simpler to get him to be obedient. A must-have for new Inspectors, or ones he hates.
|| Dislikes ||Rules
-
Weren't they made to be broken? So many restrictions! If he listened to rules, he wouldn't be a criminal now, would he? Well, he is, and rules would keep him from doing stuff he likes, so he doesn't often follow the important ones - and never the small ones. Discipline does not seem to change his mind on the matter any which way.
Cats
-
ACHOO! Wooah! Stupid cats! Takeru has a problem with cats, and even hisses back at them. That's on top of being allergic to the point where his eye swells shut if he's near one for too long.
Rejection
-
Who likes being rejected? Not Takeru! While he may ask at random, it doesn't feel good to hear 'no' every time he asks. He'll be upset. At least if only for a little while.
The Artist
-
For whatever reason, Takeru tends to turn sour at the mention of his name, and while he doesn't ever show the same courtesy, it'd be best not to ask him about it for the sake of not pissing him off.
History
-
There are some things better left unsaid, and as far as Takeru is concerned, this is it. He has the same approach towards this subject as he does with the Artist, so don't ask him.
|| Weakness ||Obedience
-
Takeru does not typically listen to his Inspector. Pain does not seem to change this much, if at all. He, however, becomes increasingly obedient at certain points and does not explain why.
Immaturiy
-
Good luck trying to get Takeru to take anything seriously. Well, save the Artist....
Intelligence
-
Considering Takeru has talked lots and lots about how 'fun' it is to kill someone, he was never really 'caught'. It is not simple to commit crimes and get away, and certainly if he were to actually have done these things, he would have been caught, right? This points to either him lying about it, or being able to cover it up. If he could do that, then he must be really damn intelligent. But then... he does shit that makes people sigh out of frustration. Whether this is an actual weakness or not remains to be seen.
Cats
-
He can't deal with cats for too long or his allergies will get to him, effectively swelling his eyes shut. Dear god, does he complain about that.....
Strawberries
-
Exploit this for profit, enough said.
---
---
|| Personal Strengths ||Tenacity
-
It.. might not be possible to beat him with normal means. He can take punishment as much as he can deal it, and when he's laughing through each kick, punch, and throw you land on him, it makes him seem invulnerable. It's almost unnatural how he can keep standing much longer than he should after a non-lethal shot hits him. He won't stay down simply because he's in pain.
Resourceful
-
Maybe a part of his craze, but he can use whatever he has near him as a weapon - if he even needs one - pretty effectively. They do say being a genius and being insane are pretty much the same thing. Just don't count him out until he's out. Oh, and just hand him any weapon and he should do fine. He seems proficient with whatever you give him.
Streetfighting
-
His fighting style suggests he has had training at one point in his life, but he's unorthodox as well and performs erratic and daring moves as well. If you go into a fight expecting something from him, then you're not exiting it as the victor. But then again, getting into a bare-knuckled fight with someone as resilient as he is to pain is borderline suicidal anyway.
|| Personal Weakness ||Instability
-
Takeru is not in the best mental health after the loss of his father. His acting, once superb, is always cracked but a little each time the Artist is mentioned. Whereas he used to be impossible to be seen before, he cannot hide his rage towards the person or subject. One can only think of the disastrous consequences of he and the Artist ever meeting face to face.....
Infighting
-
He is quite aware of the state that his own, personal group of criminals is in after he lost his dad. He hasn't much time before they get fed up and decide he is not worth any risks, especially in his condition. Besides, his father was most of his influence in the group to begin with, and with him gone, he might not have enough left to make use of them.
|| Usual Psycho-Pass Level||
You'll get used to a high 188 each and every time you scan him.
|| Biography ||
When Takeru entered this Earth, his fate in the criminal underground was set. His parents, both part of a large criminal group his great grandfather started, decided he would be the heir to their own positions, and as such, he grew up much differently than your average civilian boy. It should be mentioned he was not given a relaxed childhood, but one filled with expectations and responsibilities that he had absolutely no saying in whether or not he was taking them up. Takeru had to learn how to read, write, and speak as quickly as possible, so that he may invest those basic skills in the group and actually be worth the food he was given. He had to earn his keep. While he was not physically abused (much), he was most certainly told how useless and pathetic he was whenever he failed, as well as how happy he made his parents whenever he succeeded. Takeru grew up confused and conflicted about his emotions towards his parents, but he grew up believing this is why he was born.
Naturally, muscle was abundant in criminals, so Takeru's mother decided that he would not grow up without a good head on his shoulders, and he was given a unique 'position' for his group, one that would define him as a man. He was chosen to be an 'Inflitrator' who was to use social skills in order to blend in with any given crowd or group and obtain information that his mother and father could use. There is no difference between this and a spy. The training to become such a person was difficult, even for a child who knew not but life as a young, solitary boy. Much of his training involved rigorous studying of a broad range of subjects. Anything from weapons manufacturers to companies that made pencils. Even fast-food joints were covered, and obviously any group they knew were affiliated with criminal acts as well. When he had learned a great many things that most people would certainly think was useless, he moved on to developmental social skills, and within a few years, he could effortlessly talk to anyone with utmost respect, beaming confidence, glooming sorrow, and undying anger. Emotions became task, nothing more. Like a robot, he would often answer, "Yes, ma'am" in a dull monotone when ordered and then he would carry out his job without a single complaint. He was then made to learn how to defend himself, as being incompetent at self-defense in the criminal underworld was something you could not do so long as you wanted to live. This training focused more upon endurance and resilience than it did at actual technique, at least for the first half of it. He was put in a room with a fellow member of his own group and told to fight, even though he had no prior experience. "Smurf" was the nickname people called him for a few days after receiving quite the beating that day. Grueling, inhumane, and taxing to his body, he continued again and again until he did not quite feel the punches and kicks. Much like his emotions, he shut his feeling of pain off, and that's when they decided to move on to technique. He was not taught by some ancient Kung-fu master, but a man who grew up fighting for scraps on the streets who happened to be a boxer at one point. He learned motions for punching, blocking and swaying, and this would be enough to get him through a fight. Most people neglected close-range combat anyway, so if he were to get that close to someone, it was probably over to begin with.
In comparison to his emotional and physical training, learning how to wield a weapon was relatively easy. He was shown the basics of holding and handling a gun, as well as what weapons used what ammo. As far as his experiences go, learning about grenades was probably the most 'fun' he had ever had, and he can remember every time he pulled that pin, his heart started beating at a rapid pace, his blood pumped through his veins swiftly, and he couldn't help but smile - one of the rare times he ever did actually feel a real emotion since after his pysch-training. When he was entirely done with any sort of training, he was nearly a grown man, at the age of 17.
Even though Takeru's whole life led up to this point, he was still nervous when he was told to infiltrate a front for a drug-smuggling operation. Who could blame him though? His whole life up to this point was just 'training' in a sense, and although he could shoot somebody or break their neck, he had never actually committed such crimes before. Even so, he listened and did as he was told with a "Yes, ma'am" and slowly wormed his way into the workings of the corporation, past the guise of a normal shipping company and into the drugs. It tooks a few months, but eventually he was talking and helping some people who directly reported to Shirogane Matsuda, the CEO and head of the organization. Takeru did meaningless tasks for them. Sometimes, he would drive a man to a location with little to no details besides the destination. This was probably his most common job during this mission. Other times, he was asked to go to a certain location, pick up a certain vehicle, and drive it somewhere else. This continued on and on for a while, until Shirogane himself decided to talk to him.
"Ah, I am glad to see such productive youths in this day and age!" was among one of the first things Takeru heard from the man. During his entire stay in Matsuda's office, he did not move his lips, but he had the biggest smile on the inside. For, you see, that was what he wanted to come off as - some new, aspiring criminal boy. They would assume he was a clean slate, fresh, and easily manipulated, and as long as they did, he would secretly use them as they believed they were using him. Unaware of who he really was, and who he worked with, they assisted Takeru's mother and father by giving their son many details, including how they got their product and where it would be delivered. However, for the longest time, this information was never used. In fact, Takeru felt like he was doing Matsuda a favor, and not his parents. After all, he spent two years with them before the first and only move was made.
Takeru's presence was called by his very own mother, whom he hadn't gotten the chance to see since he had initially gotten deeply involved with this company. For some reason, he felt relief and happiness when he met up with her, but knowing she'd be disappointed and possibly angry with him if he could not hide his emotions, he never let it reach his surface. His mother, when they met up, gave him a simple task: Kill Matsuda Shirogane at a specific time, and any witnesses of the act. Then return to his old 'home'. When the time came, Shirogane was smiling. He was so happy that his 'company' was thriving and successful, and he even complimented Takeru for his hard work.
Nobody says you have to die scared, sad, or alone.
Takeru completed the mission without much difficulty, this event marking the beginning of his casual relationship with corporate espionage and death. He learned that, to reduce friendly losses, Matsuda's death was to create confusion and chaos within the group, while they made an assault on a rather large shipment of drugs, and like Takeru, that side of the operation performed flawlessly, securing a big strike against Shirogane's group and killing the man himself. Not too long after, the corporation fell apart, and he supposedly' died' in order to cover his trail.
His missions would consist of similar things, and when he finished his job, it was as if he was never there to begin with. In absolutely no cases did he ever leave people who knew him while he was there alive. They were all either killed in 'accidents' or perhaps during the initial confusion (By him, if they made a move on the places he was assigned to spy on). His life would be summed up by the numerous places that made the mistake of trusting him, but the older he got, the harder it became for his words to not sound right, for him to not seem to be trustworthy. His tongue was of the devil, and he was doing the devil's deeds. 24 years of his life was dedicated to helping his father. Almost all of his life, every last second, was to be useful enough to prove he was worthy for the right to claim his father's spot when he passed on. Many people died to help him reach this spot, including the very people who taught him to punch, kick, and shoot. Takeru was, of course, supposed to burst onto the scene only when he was to take over. He did not exactly exist to anyone but his mother and father, in order to make things go smoothly, like they always did.
But every good thing must come to an end. Under the guise of new possibilities, the worst day of Takeru's life approached him. Sometime after his 25th birthday, Takeru was called in by his father. This was very strange. He never really saw his mother much even when she gave him things to do. His father? He almost forgot what the man looked like. Takeru met up with him as quick as possible, expecting nothing. So, when he was immediately embraced by the old man who had never shown any real fatherly emotions towards him, he was unsure what he should be thinking.
"I've done it! Years of work, damned hard work, and I've done it!" he nearly shouted, almost excited as a little boy. Well, a normal little boy.... "You, my son, have made this old man so proud!" he pushed Takeru back to arms length, smiling as he held out his arm. The silver bracelet displayed something Takeru did not quite comprehend initially, but his father explained. "Nothing anybody else will ever do can top this, and it is all because of you, my boy. You have ensured our place in history, and as the soon-to-be greatest criminal group this world has ever seen!"
He recalls upon this night frequently, as it was the first and only time he really saw his father in a happy mood. He remembers his initial shock when he learned that every single job he has ever done since after murdering Shirogane has led up to this moment. These weren't just moves to upset his enemies, they were moves to acquire the funds, items, and intel to develop a virus that could disrupt the Sybil System, if only for a little while. Takeru never exactly figured out WHY his father wanted to, but he knew that the damage caused by doing so could be grand. He also knows... someone else did too. He remembers two weeks after being called in by his father, when everything in his life nearly crumbled before him.
Something's strange... Why is he not answering? I've knocked countless times.

My hand moves down to the doorknob to my father's office and I twist open the door. With a gentle push, it slides open and I immediately cover my nose. Death. Yes, that's the stench. It permeates the air can nearly gags me as I'm caught off-guard. Did father kill someone in here? I wonder. I can't imagine anyone being idiotic enough to disobey him, but maybe they said something stupid. Good thing the only people I know are mother and father, so I shouldn't have to worry about who dies from pissing dad off.

I take one step into the room, the smell thickens.

...

What?

I can't believe my eyes.

....Mother....

I rush into the room, forgetting everything else. Mom's the only thing important now. Why? Why? What happened? Who did this? Father didn't.... no, he didn't.... impossible!

Mother sits on a table, her hands striking various poses, much like a statue. This would have maybe caused me to chuckle - after all, mom and dad have been a lot nicer to me lately. They even seemed to smile and laugh themselves - but it's her skin. She's pale. Much too pale, and her eyes aren't showing any signs of life. I know she's dead, I do. I've seen many dead bodies, more than I can count, but I just can't believe it. What is going on?!

"Mother!" I cry out, afraid to touch her as if she might crumble into pieces if I did. Why is she like this?! I can't simply deduce what happened here, and I'm not sure if I'm just not able to think rationally, or if it is the situation itself. She's in a pose, but dead. I just can't figure out why, or who did this! But now that I think about it, I came to see Father.....

And just then, I catch it. It hangs just in the corner of my peripheral vision, and I hadn't noticed it until now because I've been looking at Mother.

In a position similar to the 'The Thinker', I find my father.

.....No.......NO!

He's dead?! No!No!No! He can't be!

I drop to my knees instead of running to his side, as I realize, mentally, that it is futile. I know he wouldn't break or anything, but I can't disturb him either. I just... I sob. I lose it. I've learned what real relationships between mother, father, and son are, and I know what we had was not even half as meaningful or decent as that. I know I was frightened as a small child of both of them, worrying that they'd figure I was worth nothing and I did not want to be exposed of. I know up until recently, I had never seen either of them smile but.....

It doesn't matter.

The only two people I loved, liked, or who could acknowledge my existence without being murdered... they're gone now.

The rest is just a blur....

...

...

...

I myself think this is stupid. He was really smart, knew how to keep these men busy, and even kept us profiting for so long, but what does this mean? I still can't figure out. Why the hell am I supposed to be married before I take over?! We're still trying to pick up these damn pieces after you die, and the only mentionable thing you leave in your will is for me, your surprise son, to get married?! Tamase can keep us going for a while, but if I wait too long, well... whose to say that they'll even listen to your will? Wouldn't they much rather listen to someone they know, rather than this man who just popped out of nowhere, claiming to be your child? I guess you weren't planning on dying just yet... yeah, that makes sense. You would've changed that if you knew you weren't longed for this world. Father... I'll see to it that you are avenged, and that this 'company' our family started thrives. Just you watch.

Now then....
"I'm here to turn myself in, kay?"
---
---
"Even if everyone else has pain in their hearts, I have but the smallest amount of time - time wasted on anyone but myself. I will make him atone for what he has done, whether or not it results in the same happening to myself. Because if I don't, who will?"