---
---
Innocent. Guilty. None of that means a damn thing. Only survival.
---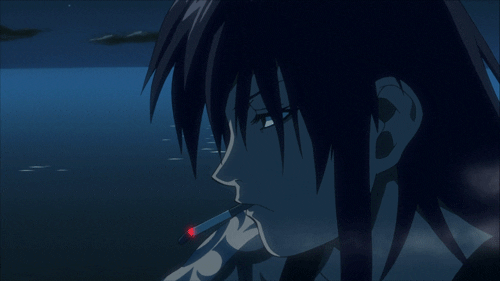 || Theme Songs ||
Normal||
Great Day to be Alive
||
Fighting||
Tear Away
||
Emotional||
Shout
||
---

|| Full Name ||
Tera Annabeth Reed

|| Age ||
27

|| Gender ||
Female

|| Sexuality ||
Bisexual

|| Role ||
Enforcer Three

|| Face Claim ||
Revy | Black Lagoon


---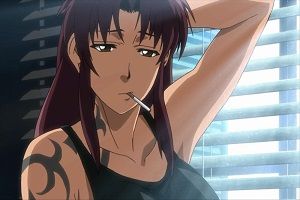 || Hair Color ||
A dull black that is not in any way special. It does not change tints when the light glances off it from any direction; in fact, there is not a single poetic thing about it besides how utterly plain the hue is.

|| Eye Color ||
Emerald, but her eyes tend to dull to jade when she is on the job.

|| Skin Tone ||
Olive

|| Height ||
5'11"

|| Weight ||
159 lbs.

|| Appearance ||

It is fair to say that Tera stands out in a crowd. Not due to beauty, but because of how exotic she looks compared to others around her. Being from an American-Greek descent, she looks nothing like the people around her and tends to only share their black hair. Her light olive tone skin, hard emerald, almond up-turned eyes, wide shoulders and hips set her as a foreigner despite the fact that she was born and raised in the slums of Tokyo. Her olive skin is far from unblemished as numerous scars litter the surface from small slashes on her legs and arms, a large cut that runs down the side of her thin neck, to a bullet wound that is only half an inch to the right of her spine and exits three inches to the left of her naval as well as a large tribal tattoo that stretches across her right arm and up to her neck.When the initial shock of her general appearance sets in people can appreciate the certain wild and rough nature to her looks, well, the few people that can appreciate such things. Tera is by, no means, a classic beauty nor is she the dainty woman that is the rage of Japan, no, she is the very much opposite. She tends to stand taller then most women, and many men, and her body is heavily toned with muscle that ripple under her olive skin when she moves. She cannot tear shirts by flexing, but she looks anything but soft and dainty.

Tera's hair adds to her wild look as it tends to be frayed and frizzy barely contained in a loose ponytail that allows thick strands of black hair to fall along the side of her face leaves no guess that brushing it is not something she tends to do. Her face would be considered comely with her softy, plush pink lips, sharp thin nose, high arching brow, and high thin cheek bones, but they are overshadowed by her strong jaw and the hard look in her eyes that take away from the beauty of her large smile. It is a shame that her wild beauty can never be appreciated as despite her large, friendly smiles which would light up any face; her unfathomably deep emerald eyes tend to draw in and crush the spirits of most admirers.

Her figure matches her large statue as she is blessed with curves, one cannot say soft curves, but curves. Her large breast and wide hips make for the highly sought after voluptuous hourglass figure; however, even then Tera finds a way to make even that pale. Despite her figure that would fit perfectly on any seductress or mistress, Tera comes off more as a wild predator.


---
---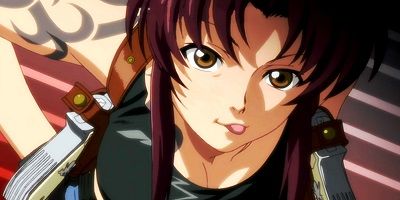 || Personality ||

Tera is not an easy woman to understand. She is energetic and friendly, yet harsh and uncaring. The prime thing to understand is she cares only about herself. She has always taken care of herself, always defended herself, and has only ever had herself. Everyone else, no matter who, means nothing to her. She can smile with them, laugh with them, share a cigarette with them, but when it comes down to it; she has no qualms with putting a bullet in their head or a knife in their spine because that is the way the world is. Tera is not an idealist who believes in, 'Peace and Love!', 'Justice!', or her favorite, 'True Friendship!'. People are vain, selfish, and greedy. They are rotten at their core, and Tera knows this better then anyone as she has seen it, lived it. One could almost say she is paranoid because she doesn't think in terms of, 'Would they betray me?', but rather when they will.

Despite that, Tera does like being around other people. She likes to laugh with them, share things such as ice cream with others, because she is still a human being. She is a social creature who craves conversation and human interaction. She doesn't want anything deep just something light and fun that she can enjoy without it coming and biting her in the ass, but no one should ever confuse her friendliness with true friendship. She doesn't have friends. She has never had friends, and she doesn't believe she needs them, in fact, she prides herself on her self-reliance. Tera considers herself to be strong while most others are weak people hiding in the shadow of those who are strong enough to do what they are too cowardly to do, and this leads her to despise, and even hate, the average Japanese citizen. They are so quick to roll over, so quick to do what others want them to do or expect them to do; it sickens her. She takes pleasure in ruining their lives in any way she can, heaven forbid they grow spines.

Death is something Tera is very familiar with, and to be honest, she is terrified of death. She is not the one to make the sacrificial play. She cares nothing for the lives of others because she deeply believes that only her own matters. Everyone looks out for themselves, and if she didn't do the same she would already be dead. People are nothing to her... Killing them, ending their lives, doesn't mean a single thing anymore. She is numb to it all and understands, on a primal level, that it is them or her, and she will always choose herself. Men, women, children, it makes no difference to her. Pulling the trigger and ending a life has become so easy that if she ever truly thought about it; it would probably frighten her.

|| Likes ||

Ice Cream
Smoking
Drinking
Jokes
Swimming
Violence
Movies
The Stars
Knives
Compliments
Trying out new food
Pigging out
Meat
Sleeping
|| Dislikes ||
Being Touched
Snow
The law
Being talked down to
Being watched
Idealist
Tomatoes
Reading/Writing
The 'Innocent'
Her birthday
Most 'common' Japanese people
No Smoking signs, she tends to ignore them.

|| Weakness ||
Pride | Tera is a proud women and will never ask for help nor does she take insults well.
Touching | She hates being touched which includes: Handshakes, hugs, essentially, any physical contact.
Distrust | Despite her friendly, happy nature, Tera trusts no one.
Ignorant | Tera has no formal education, and so is not nearly as book smart as even the average citizen. She tends to have to read aloud and prefers to avoid it all together.


---
---


|| Personal Strengths ||

Coldhearted | Despite her extremely friendly and hyper behavior, Tera has absolutely no concern for the lives of others. Men, women, children, none of them truly concern her. "A total disregard for the lives of her fellow man." Is what is written in her files, in her mind, shooting a hostage to kill the target is a viable solution. She will never hesitate, so it is a good thing that those decisions aren't usually left up to her.

Weaponry | Having used to run a, very large, weapon smuggling operation Tera is skilled in the use of various firearms from the dominator to older models of firearms to even various explosives. She has a particular fondness for knives.

Knife Fighting | While not formally trained in hand-to-hand combat, she has a lot of experience in brawling, but her true expertise in close range lies with knives. She considers knives to be weapons and tools. She considers them particularly useful in interrogations.

Street Rat | Tera grew up in the back alleys and slums of Tokyo. She knows the underworld like the back of her hand, and more importantly, knows where to go and who to squeeze for information.

Smuggler/Thief | Despite being 'out of the game', Tera still has ways of acquiring goods. Legal and otherwise. She generally employs this to get herself cigarettes, but if the circumstances call for it or her inspectors tells her too; she can acquire various items and goods given time. She is also competent in picking locks and picking pockets; however, she is by no means an expert as she is a little rusty at both.

|| Personal Weakness ||

Addiction | Tera is addicted to smoking cigarettes and drinking. She tends to get extremely cranky and rather unbearable to be around as she enters withdraw. If her withdraw goes far enough; she will be able to do little more then shake and convulse.

Herself | Caring nothing of the lives of others, she values her own very highly. She will not sacrifice herself for anyone, nor will she risk her life if there is no reason to, no matter how important it may be if she does not believe she could get out alive.


|| Usual Psycho-Pass Level||

Tends to be around 168, while rather high, her Psycho-Pass is incredibly stable and rarely rises or falls by any large amount. She is known for her brutal efficiency and disregard for human life.

|| Biography ||
Keeping it as short as I can. Don't want to blind someone with a wall of text.

Life isn't easy for an immigrant. No matter what era or nation, the life of an immigrant is generally one of destitute and shame, and it was just so with Tera. Tera's mother, Adonia, fled America, particularly, a wealthy American business tycoon by the name of Arnold and ended up in Tokyo, Japan. It was not the original intended desire as Adonia had planned on going to China and then fleeing to one of the various southern Asian countries to disappear, but two things stopped her: her pregnancy was starting to make it difficult to travel, and her 'patron' a captain of a freight ship was tiring of her company, and so she was forced to disembark in Tokyo. What hopes Adonia may have had were dashed by the cruel truth of reality. Adonia had no skills, she could not even speak the language... there was only one real profession a beautiful woman with no job skills or ability to speak the national language could preform, that of prostitution.

Prostitution, generally, does not allow for a nice suburban home or cozy apartment. Adonia, and the newly born Tera, lived in a run down roach hotel in one of the worst parts of Tokyo. A place where murder, rape, human trafficking, and even organ harvesting took place. It was not the place to raise a daughter, but there was no other choice, and Tera can't complain. She can't miss what she never knew, and so this is where she spent her early childhood being home schooled as, understandably, Adonia never let her roam the streets. Tera can't say to have many fond memories of her mother as most of the time her mother was working, and when she did come home she tended to be badly beaten and bruised, but they survived. Somehow. Until a week before her tenth birthday. It turns out her mother was pregnant, and her mother was fairly certain it was her pimps, but her 'provider' was having none of it. On that night, three men broke into their shack, beat, raped, and killed her mother as she hid in her closet trying to ignore the screams and whimpers... but worst of all, was the silence. After the men had left... the silence that hung in the air broken only by the occasional pleas of mom.

The next five years Tera spent on the streets as a thief, pickpocket, and informant for various gangs and thugs. It was a hard life which usually had her sleeping alone in alleys under what cover she could find or hiding in dumpsters from angry thugs. Tera started to believe her life was turning for the better when she was invited to join a smuggling ring; she assumed it was because of her skills, but she was wrong. In those five years she had started to fill out, and while she was a street rat; she was a pretty young thing, and a small group of men took notice of that. Once she entered the meeting place she was attacked, beaten down, and taken on the concrete floor of an old abandoned factory. What little innocence she had left was taken from her not three blocks down from where she and her mother used to live, but the men did take her in if only to continue to use her. Years of self-loathing followed, as she hated them, hated everyone, and she hated herself, but while working with the small group she learned the art of smuggling. Tokyo was changing. Technology was rapidly advancing and the police were cracking down which cut down on the supply of already illegal guns but raised the value and demand of the few ones that remained. The leader of their small time smuggling ring was Agato, a filthy old man with missing teeth. He had been her first kiss and her first kill. He is one of the few she can remember, Tera can close her eyes and still remember the look of surprise on his face when he came to her room, sat down, and had a rusty pair of scissors slice through the flesh of his neck. In that moment, Tera felt alive. As if all her life she had been wandering as nothing more then a shell, empty and hollow, but now she had purpose. This pathetic mans life... by taking it, it gave her own meaning. Drunk on vengeance, hatred, and a new purpose she hunted down the rest of the members that raped her. The ones that had taken 'care' of her for the last three years... and let their blood flow.

Over the next eight years Tera built a smuggling empire. Drugs, people, weapons, if it was illegal she was smuggling it. The police dubbed her group the, "Blood Packers", because of how they smuggled many of their weapons and drugs in. They would hire homeless people, the poor, and even children and then slice them open hiding small parts of hard plastic guns or small bags of drugs inside of their very own bodies until they got to certain drop sites where they would be once again sliced open and the parts would be removed and then assembled and sold. Many times the surgery would not go as planned, or the item would move around inside of them making them bleed profusely, many of them did not survive, but there was never a shortage of people willing to do what they had to in order to get food. Another, less creative, means was to have ships drop wooden crates off the coast with a GPS tracker and then pick it up. Of course, there were risks with this as they could be intercepted, or occasionally, the crate would spring a leak and sink. Many times Tera would purposely sacrifice a base and some of her men just so that they would be busted and the police would back off a little believing they had dealt a major blow to her operations, but everyone was sacrificial to her.

Tera Reed, the leader of one of the largest smuggling rings in all of Japan, was finally caught by an inspector, but not in the manor most criminals were caught in. She wasn't cornered or out-smarted, she was betrayed. Her second in command, Kyo, had always been ambitious, but he had also been a coward which was why he was always her number two. Smart enough to get the job done, too much of a pansy to take her position. A major Yakuza family approached him and gave him the backing, and courage, he needed to bring her down. When unloading a new shipment of, 'human resources', her men turned on her. Luckily, it turned out that a certain Inspector had been hot on her trail for a long time and had finally found where she was currently at. Due to the unforeseen interruption, Kyo was rushed and had to make do with only shooting her once in the back and fled, falsely believing he had killed his former boss... For some reason that Tera can still not fathom the Inspector saved her... granted she now works as an Enforcer which is little more then a slave; it is far better then being dead.

She has been working as an Enforcer for a little under a year, but most of it was 're-education'.



---
---
I am so going to need another cigarette after this.