---
❝Perhaps.. it is time for you to die.❞
---
---
---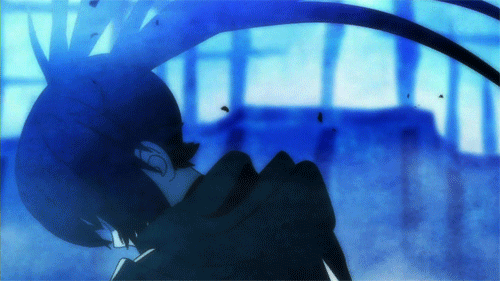 | Full name |
Seiren (pronounced: Say-ren)
| Gender |
Female
| Age |
16
---
---
---
| Eye Color |
A brilliant shade of cerulean with navy blue shading in the form of "rings".
| Hair Color |
A cascading waterfall spun from shadows, an absence of any other color quite noticeable.
| Height |
4'8''
| Weight |
78 lbs
| Skin Tone |
A glowing alabaster
| Distinct Markings |
A jagged scar that winds downwards on her left side from her collarbone to her mid-thigh
| Physical Description |
If someone was filling a blank canvas of vibrant hues, all shades of the rainbow, but had accidentally, right in the middle of their artwork, created a black smear, then that smear would mar and taint the work. On the face of society, much like that ruined piece of art, is also a smear, a flaw, an imperfection. That smear is known as Seiren. Throughout her whole 16 years on this planet, Seiren has always been quite noticeable. Whether it be in appearance or academics, personality or power, family or fortune..she never seemed to quite blend in with the "normal" crowd. Though.. one look and many see the reasons why. Reaching a petite height of 4 foot 8, Seiren is far shorter than most of, or near, her age.."doll-sized" as her height is branded. From the back perspective; this cyborg's appearance looks to be beautifully similar to that of an Oriental China-doll; a delicate silhouette outlined with a cascading, low-back reaching waterfall of an ebony-hue that, when caught in the sunlight in the most perfect of ways, shines with a brilliant inky-blue tint. However, when facing forwards is when one glimpses her true beauty.

The stark bangs have been styled, rather bluntly, to lay strewn across her small forehead. With the longest bit brushing the bridge of her delicately shaped nose, an air of constant maintenance radiates off this teenager as clear as heat rising from asphalt during the days of summer. Moving onto her facial features, Seiren is your stero-typical doll-esque luminous pale, not a single blemish or rash pigmentation, save for the opaque rosy blush gracing her cheeks, marring the porcelain surface. However, the tone is paled to an alabaster due to the stark contrast those midnight frames provide. Overall, every last detail on this cyborg's face holds remarkable similarities to that of a doll: flawless, crafted and inhumanely perfect. However, there is one distinguishing feature that sets Seiren out from others of Oriental descent; her pair of large doe eyes. Framed by a thick curtain of dark lashes, this particular cyborg's eyes are mesmerizing in their varying shades bright cerulean...it's almost as if someone had placed droplets of the Caribbean sea on those orbs to provide color. Almost always, they seem to be unblinking.. staring into your soul and right through your facade. Often described by those who has made the misfortune of locking gazes with this embodiment of a doll, they are frighteningly entrancing. Coupled with high cheek bones, a delicate jaw-line, a petal-pink mouth, and perfectly shaped eyebrows; Seiren holds an ethereal and captivating appearance.

On the note of her form, the cyborg possesses a rather fragile yet tempting shape. It, just as her facial features, mimics a china doll's body perfectly; equal proportions and flawless curves. The shoulders are slim, not too wide yet, at the same time, not too narrow, the neck of sloping beauty and grace. The bust is of satisfying suppleness, not too large for her form, and is harmoniously paired with a nipped and delicate waist. Overall, Seiren's body is one of sensual feminine pull that often attracts those of the opposite gender.
---
---
| Specialties and Weaknesses |
✔ Extreme agility/flexibility/stamina
✔ Hand to hand combat
✔ Outstanding tracking skills
✔ Stealth
✖ Can not work well with weapons other than her own.
✖ Often misplaces crucial items (ex: ammo, directions, etc)
✖ Hardly has any reserves of sheer strength.

| Weapons |
✔ A gun, very much resembling a cannon, that can fire up to 20 rounds without reloading. When Seiren uses it, the machine reaches well past her elbow.
✔ A katana made of re-enforced steel. With ease, this blade can cut cleanly through metals of various types, as well as bullets.
✔ A simple, yet slightly large, hand gun that fires 7 rounds before needing to be reloaded.
| Likes |
♥ Cats and Snakes
♥ The sight of blood
♥ Violence and fighting (be it a lethal or playful manner)
♥ Dimly lit areas
♥ Going on missions
♥ Training
♥ Her Handler (it's a love/hate outlook)
♥ Sushi
♥ Sweet foods
♥ Red meat (namely steak or jerky)
| Dislikes |
✖ Dogs and Birds
✖ Pacifists
✖ Human emotions
✖ Weak, soft, or narrow-minded people (more like people in general)
✖ Crowds
✖ Vegetarian foods
✖ Spicy or bitter foods
✖ Being confined
✖ Brightly lit areas
✖ Her Handler
✖ Brussels sprouts
---
---
| Personality |
Generally speaking, Seiren is a very stoic, solemn-looking individual with a distant, almost disturbed, look gleaming in her eyes..but that's not to say that she's unfriendly (to her comrades that is). Sure, she may be plotting someone's demise or imagining a scenario that would curdle most's stomachs, but even she is friendly (at times) Unlike most reserved people, this particular girl doesn't fully mind the other cyborgs members.. in fact, she'll even try getting to know them for their mind and not their looks. Unfortunately, while she does manage to hold a conversation, Seiren is usually fairly awkward to speak with. Unless the other party excels with their words, chances are there will be more than one uncomfortable pause or an abrupt subject change.

Another interesting point about Seiren is that she tends to suddenly flip personalities on whim. Especially when angered or prodded by someone else's stupidity (yes, this includes her Handler). Her mindset is quite the ambiguous one; for the most part she is a blunt, observant and withdrawn female...but this is all quickly masked and forgotten by others when they see her darker side. The personality of her flip is that of a ruthless, merciless and calculating psychopath who has little, if any, problem in using others for her goals or for pawns. Without a shred of hesitation, Seiren will resort to using her skills to end another's life, not caring the gender, condition or age of her target.. in fact, she much enjoys the rush it provides.

On the note of her intelligence, this cyborg may appear to project an aura of "definiteness", of self-confidence. This self-confidence, sometimes mistaken for simple arrogance by the less informed, is actually of a very specific rather than a general nature; its source lies in the specialized knowledge of the world and how she was treated as a child. When it comes to her own areas of expertise -- and trust me, Seiren has several -- she will be able to tell you almost immediately everything about that certain topic, to the extent of being ridiculously precise. Yet, despite this fountain of knowledge in her, she knows this important rule; She knows what she knows, and more importantly, she knows what she doesn't know
| Theme Songs |
It's All Over - Three Days Grace
Getting Away with Murder - Papa Roach
Stricken - Disturbed
Last Resort - Papa Roach
In for the Kill - La Roux Skrillex Remix
Kill Everybody - Skrillex
Scary Monsters and Nice Sprites - Skrillex
Expectations - Three Days Grace
Midna's Lament - dj-Jo's Remix
---
---
| History |
Conditioning erased memory
|Thoughts on Other Characters|
Max: She is... a peculiar girl. She really seems to be obedient and in love with her Handler. Though I will admit that it does annoy me that she is taller than I am.. but then again.. everyone is. Anyways.. I view her as a younger sister in an odd sorts. I just hope she doesn't do anything stupid in the future.
Wes: Since he's Max's Handler, I see him every now and then. I don't really know that much about him..but I feel like he is a tad bit too laid back. To be quite honest, my distaste for him is above the normal.
Beth: Very.. energetic. Constantly smiling.. she's the ray of sunshine in our world I guess. However, I can sense she is scared of me.. yet she still talks to me. I find it to be quite.. intriguing.
Chris: My opinion on him is neutral. I find it odd that he is the complete opposite of Beth but then again.. it helps that girl wake up to reality. Though I know he doesn't like my clothes.. it's not my fault. This is what I was assigned. Anyways, he doesn't seem to be a Handler that holds distaste for my interaction with the other cyborgs.. that's refreshing.
Natasha: No opinion. I don't know her.. and as far as I am aware, she doesn't know who I am either.
Alice: Perhaps she is one of the cyborgs that, one day, will be able to be the most normal. Though, for the time being, I like to spare with her sometimes. She likes to hang around me for some odd reason... personally, I don't think some of the other Handlers likes the idea very much. Though I do hate it when she hugs me.. human contact is not my idea of a pleasant interaction.
Samuel: I adore his machete... it's quite beautiful. Anyways, he seems to be comfortable around me and more accepting... which, in a way, is refreshing. Out of the Handlers, I believe I like him the most.
Walter Even though he is my handler.. I don't get him. He's cold towards me yet his actions are anything but. However... I get the feeling he regrets getting paired with me.
|Anything Else|
---