---
❝So, who wants to kill some terrorists? I'm game!❞
---
---
---
| Full Name |

Wes Thornton
| Gender |

Male
| Age |

44
---
---
---
| Eye Color |
Blue
| Hair Color |
Black
| Height |
6'0
| Weight |
183 lbs.
| Skin Tone |
Tanned Caucasian
| Distinct Markings |
Wes has no real distinct markings on his person.
| Physical Description |
Wes is 6'0 and in peak physical condition for a man of his age. He does his best to keep in shape, and exercises whenever he has the chance.
---
---
| Specialties |

✔ Hand-to-hand combat
✔ Marksmanship
✔ Being charismatic
| Weapons |

✔ SIG Sauer P226 Pistol
✔ M16 Rifle
✔ M40 Sniper Rifle
| Likes |

♥ His partner, Max
♥ Most of his fellow colleagues in the SWA
♥ Protecting America from various threats, foreign and domestic
♥ Completing a mission successfully
♥ Seeing Max smile
| Dislikes |

✖ Using child soldiers; even if they are more cyborg than human now, they're still kids
✖ Harming civilians, both intentionally and by accident
✖ People and organizations that threaten the United States of America
✖ Failing a mission
✖ Seeing Max get hurt
---
---
| Personality |

Wes is an amicable and jovial person. He's rather laid-back, and knows how to have a good time. Overall, he's a nice guy, and acts like it. When he's on a mission, however, he becomes a completely different person. He becomes much more focused and serious, brushing away his normal persona for one that is much more strict and cold. When he's like this, Wes is much more formal and demanding.
| Theme Song |

Anthem of a Tyrant - Jack Wall
---
---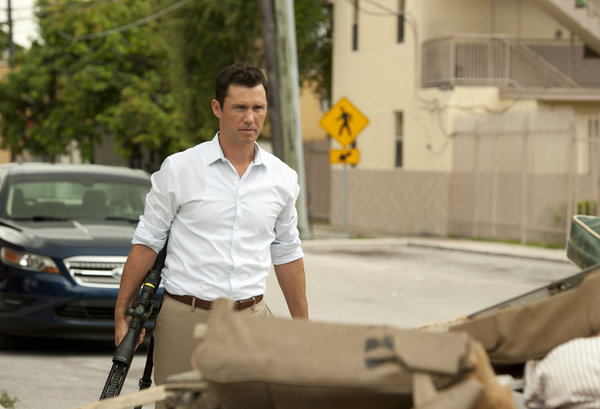 | History |
Wes lived a largely average childhood, raised by a good and decent family. Eventually he ended up joining the CIA, and over time became a great and oustanding spy. Due to his impressive career, Wes was offered a chance to join the American version of the Social Wellfare Agency; Wes thought the deal over, and eventually accepted. He doesn't like the fact that the Agency is essential creating child soldiers, but since most of the children they've gathered come from horrible backgrounds or suffered from otherwise incurable illnesses or injuries, he doesn't mind as much. It gives the kids a second chance of life, after all. Though it still leaves a bad taste in his mouth, that the government has resorted to training child soldiers.
|Thoughts on Other Characters|
Max: Wes is very friendly toward Max, and thinks the best of her. While she's pretty much an assassin now, he still views her as a kid. She might be emotionally hardened, but that doesn't stop Wes from caring from her any less. Overall Wes views Max as a wonderful girl, and always encourages her to be less serious about things, and smile more. It is also his secret hope that one day he can give her a life outside of the SWA.

Seiren: Wes considers Seiren to be a major threat and very much unstable. Her psychopathic tendencies and her split-personality make him believe that something went horribly wrong with her conditioning. Wes has filed numerous requests with the hierarchy of the Agency to have her brought back in and either be reconditioned again, or forcibly retired altogether. Such requests, however, have been denied, as the Agency apparently wants to take a 'wait and see' approach with the mentally unsound Seiren.

Such a response has frustrated him to no end, but for the moment he's decided to abide by the Agency's choice. Whenever he interacts with Seiren and her handler, he makes sure to display none of his concerns or fears to either of them; especially to Seiren, he acts as he normally does, laid back and serene. Wes is quite sure that Seiren will have some sort of psychological breakdown in the near future, due to her unstable nature, and thus is keeping as close an eye on her as he possibly can, without rising undue suspicion.

He also sees Seiren as a negative influence on Max, but he hasn't taken any measures to try and keep them apart, least he trigger any unwanted suspicion or anger from the unstable cyborg.

Beth: Wes considers Beth to be a very nice girl, in stark contrast to his feelings on Seiren, and overall thinks well of Beth. Admittedly her cheery persona does unnerve him at times, especially when they're on a mission. He suspects that she also has some sort of psychological defect. However, any problems Beth has are minor in comparison towards Seiren's, so Wes doesn't let whatever issues Beth has bother him. He also sees Beth as a good influence on Max, and encourages his charge to hang out with the older cyborg more often.

Chris: Wes views Chris as an alright person, more or less. He thinks he's a good handler for Beth, and that he is a good colleague overall at the Agency. He's a bit of a quiet person, but Wes doesn't really care about that. He is a bit surprised that someone so young is on the team, but that hardly matters in the heat of battle. It does make him feel old, though...

Alice: Out of all the girls, Wes considers Alice to be the most well-adjusted and....normal of them, or as normal as a cyborg assassin child can be. She's a good kid, and Wes is more than happy to hang out with her whenever she seeks him out. She does talk back a bit much, though...to her handler, to the Agency in general. That sort of attitude might get her killed one day, but for now, Wes is content to let her be. Overall Alice seems like a great kid and is a good addition to the team.

Samuel: He's a bit quiet, like Chris, but that isn't bad. Samuel seems like a good guy, and a good handler for a kid like Alice. Though something seems a bit...off, about him. What, though, Wes isn't sure.

Walter: Walter's a bit of an odd guy, but he's an adequate and good partner to have in the SWA. He seems to be a good handler for Seiren, oddly enough. Wes doesn't know much about him, but he can tell that Walter is a man of many faces. Still, despite his many mysterious qualities, Wes considers Walter to be a good guy, overall, and a reliable partner in the Agency.
|Anything Else|
He submits works for writing anthologies now and again; so he's a bit of a writer.
---