━━━━━━━━━━━━━━━━━━━━━━━━━━━━━━━━━━━━━━━━━━━━━━━━━━━━━━━━━━━━━━━━━━━━━━━
When I'm fucked up, that's the real me
━━━━━━━━━━━━━━━━━━━━━━━━━━━━━━━━━━━━━━━━
♦♢♦♢♦
♦ NAME⋮

Greyson Ross


♢ ALIAS⋮

Grey


♦ OCCUPATION⋮

Dancer


♢ AGE⋮

24


♦ ETHNICITY⋮

Scottish/English


♢ SEXUALITY⋮

Homosexual




♦ EYE COLOR⋮

Cyan Blue


♢ HAIR COLOR⋮

Caramel Brown


♦ HEIGHT⋮

6'1


♢ WEIGHT⋮

160



━━━━━━━━━━━━━━━━━━━━━━━━━━━━━━━━━━━━━━━━━━━━━━━━━━━━━━━━━━━━━━━━━━━━━━
♦♢♦♢♦
I only love it when you touch me, not feel me
━━━━━━━━━━━━━━━━━━━━━━━━━━━━━━━━━━━━━━━
PERSONALITY
WORDS
WORDS
WORDS
━━━━━━━━━━━━━━━━━━━━━━━━━━━━━━━━━━━━━━━━━━━━━━━━━━━━━━━━━━━━━━━━━━━━━━━
♦♢♦♢♦
Drugs start to feeling like it's decaf
━━━━━━━━━━━━━━━━━━━━━━━━━━━━━━━━━━━━━━━
xxx
x
x
x
x
xxx
x
x
x
x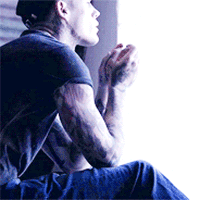 xx
♢
LIKES
♢
♦ VODKA ♦ COKE ♦ WEED ♦ BODY MODS ♦ BDSM ♦ CIGARETTES ♦ TATTOOS ♦ FELINES ♦ BREAKFAST FOOD♦
xx
♦
DISLIKES
♦
♢ QUIET ♢ BEING ALONE ♢ BRIGHT LIGHTS, INCLUDING DAYTIME ♢ WAKING UP TOO BEFORE HES READY ♢ PUSHY AUTHORITY ♢ SHARING ♢ CANINES ♢ COFFEE SHOPS ♢
━━━━━━━━━━━━━━━━━━━━━━━━━━━━━━━━━━━━━━━━━━━━━━━━━━━━━━━━━━━━━━━━━━━━━━━
♦♢♦♢♦
Tryna keep it up, don't seem so simple
━━━━━━━━━━━━━━━━━━━━━━━━━━━━━━━━━━━━━━━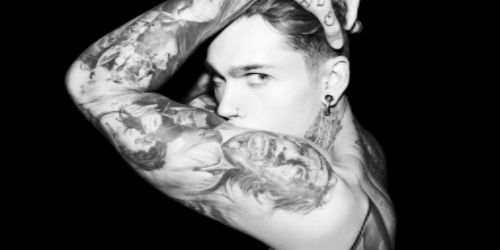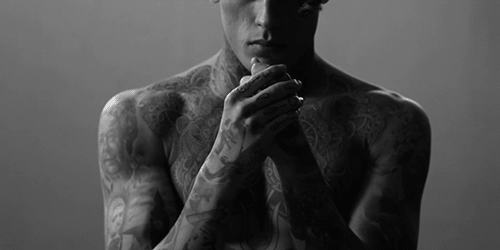 QUIRKS | HABITS
♦ STARES ALOT, USUALLY WITHOUT REALIZING ♢ SMOKING ♦ HOLDING EYE CONTACT FOR TOO LONG ♢ OVER EATING, AND THEN UNDER EATING ♦ DISAPPEARING WITHOUT EXPLANATION ♢ TAKING UP THE MOST SPACE ON THE COUCH ♦ NOCTURNAL, FOR THE MOST PART ♢ LISTENING TO RULES AND DOING THE OPPOSITE
TALENTS | STRENGTHS
♦ SEX KINK ;
As most people that have chosen the life of a sex worker, Grey's addicted to arousal just like any of his drugs. He needs it and is glad that he can use his addiction to earn him money. Grey usually prefers the jobs that give him a little more- toys, ropes, whips, and sensory play are his true passions in the bedroom. He doesn't really find much interest in vanilla sex and only takes clients that are willing for a bit more fun.
♢ PERSUASIVE AS FUCK ;
Need someone to talk you into something? Grey's your guy. Theres little he can't entice someone into, whether thats a sexual act or trying some crazy foreign food. Grey loves the control that gives him, adores that it makes people want him more, and uses his ability as much as he can. He's charming about it, with his dark hair and light light eyes, people are drawn to make him happy.
♦ DANCING ;
Maybe because he gives zero fucks what people think about him, but Grey is an exceptional dancer. Though he takes almost as many clients to bed as the rent boys, Grey chose to also be a dancer cause he fucking loves it. Captivating people, forcing their eyes on him and only him, sliding his body against someone else and feeling it pulse for more. Almost as good as convincing someone there life can be saved if they buy one more packet of coke.
FLAWS | WEAKNESSES
♦ ADDICT ;
Anything and everything that Grey likes, he wants more of. Moderation isn't really a thing for him. He's good at managing it until he suddenly isn't- he likes to pretend he knows what he's doing, that shit is in control, until the floor bottoms out below his feet. But Grey's a cycle and always pulls himself back up from below, only to start all over again.
♢ DOESN'T UNDERSTAND 'NO' ;
Only reason anyone would say no is because they need to be convinced to say yes, right? Grey can and will spend all his energy fixing that 'no' issue if it bothers him enough. Sometimes he lets it slid, sometimes he ticks away at his brain and he gets obsessed with changing it to a yes.
♦ BIPOLAR ;
Clinically diagnosed, Grey used to take medication. He left that shit a while ago and fixes his issues by self medicating with his addictions and vices. He gets bad sometimes, but strangely always managed to pull through. It used to be the tight nit family of Hale's that made his problems manageable, but now its the drugs.
♢DEPENDENT WHILE BEING INDEPENDENT ;
He needs people while not needing them. Its not that he wants to be taken care of or loved, but he wants to be touched. He finds people to fill his bed, spreads his legs wider on the couch to brush a knee against his neighbor, seeks out groups where he knows boys will be pressed together. Maybe its the electricity that passes between people, or maybe Grey is really just afraid to be alone.
━━━━━━━━━━━━━━━━━━━━━━━━━━━━━━━━━━━━━━━━━━━━━━━━━━━━━━━━━━━━━━━━━━━━━━━
♦♢♦♢♦
And all these motherfuckers want a real love
━━━━━━━━━━━━━━━━━━━━━━━━━━━━━━━━━━━━━━━━━━
xx
x
x
HISTORY
For the dingy, street rat neighborhood Grey grew up in, his early upbringing was almost normal. He had two parents, both of whom were married a year before his birth. They'd been high school sweet hearts, best friends since diapers, two people that literally had never experienced life without the other. Their romance was one for the big screen, but like most intense loves it burned too hot. They screamed at each other constantly, threw objects across the living room and slammed doors. No fists were ever involved but it always looked like the hovered right on the brink. Grey was used to a household of swearing and cursing, following by long drawn out silences and the banging of bed post on wall. They loved each other and kissed constantly, sometimes even forgetting he was there. Though he was their proudest achievement, Grey was more object then human, something they could bring out to play with when they saw fit.

He figured out early on that his dad was sick, something that made him ecstatic one moment and then disappear for days the next. His mom took care of him, doted on him, and Grey learned to do the same.

Sometime around his fourteenth birthday his dad disappeared. He'd do that from time to time, nothing knew, but it lasted. And Lasted. Three months went by, three months of his mother sobbing herself to sleep, shooting up to stay calm, and harassing the police for information. But they lived in a shit neighborhood of Chicago, the place where disappearances were the norm and mentally ill citizens were treated like trash.

Without his dad there to take care of, Grey's mom lost her sense of self. They'd been together since high school and she'd spent most of her life looking after him. Drugs, alcohol, days left alone to take care of himself. He thought maybe she was looking for his dad, but knew deep down that she'd probably given up. When the heat stopped in the middle of winter and his mom hadn't shown for two weeks, Grey took off.

He spent the next couple years of his life hoping from couch to couch. He kept going to school, mostly because it was the easiest way to find a new place to crash. It wasn't really a surprise when he started selling, cause a fourteen year old kid living on the streets needed an easy way to feed himself. Thing is, he was good at it. His boss would say it was his god damned eyes, or maybe just cause he was a white kid in a black neighborhood. Either way, Grey quickly became one of the top sellers in the area.

After that its pretty easy to see where his life went. His influence grew, but he kept with selling and never moved further up the ranks. The people he sold to wanted him, and fucking loved the power it gave. The money was an upside as well- he was able to get his own apartment, car, and spent an atrocious amount on filling his entire body with tattoos. Sex, drugs, and money made him feel like he was king of the world and he wanted more.

Grey's downfall was greed, a sin that probably should have landed him with a bullet to the brain. Upselling and stealing clients, because Greys need for more overshadowed any of the consequences. Maybe it was his age that got him out relatively unharmed, or maybe his boss had a soft spot for the kid with no where else to go. At nineteen he was cutoff from all contact with his suppliers, given a short a sweet beating with a bat, and dumped at the hospital with nothing to his name.

Thats when Oliver found him, a bloodied up kid arguing with the nurses over his inability to pay his hospital bill and obvious track marks dotting his tattooed arms. He must have looked as pitiful as he felt, cause the older man payed for his charges and took him out for a burger. Explained his business, made it clear drugs weren't allowed. Grey would have to get clean and leave all that shit behind him, but he could belong somewhere.

Grey excelled. More then excelled, Grey made dancing and fucking his passion. He had one of those one-track-mind mentalities and he threw himself into his new job. The biggest issue was the drugs- he'd been on them since he was fifteen and five years of addiction was hell to clean up from. Val was there for that, Val that had already been through getting sober and new all the shit that it caused. He had Max as well, who somehow became a distraction when he might have slipped up. Grey wanted to stay- actually liked the life he was building at Hales- but there was also the issue of his mental stability. Because of the coke and various other drugs, Grey's inherited bipolar disorder had been relatively masked as side effects of usage. He hated himself off his addictions and didn't want to be clean, didn't want to know how much like his father he was underneath. He hated Debbie for making him get clean. Hated Val for understanding and hated Max for being there. Sometimes even hated Oliver for giving a fuck about him. Mood swings were one thing, but a pissed off Greyson Ross looked like a demon on a rampage. They were invested in making him fix himself, but someone that doesn't think they are broken can't be forced into it.

He a bit over a year at Hales before he disappeared. He was there one night, entertaining his normal guests, and then gone the next. No note, no notice, just vanished exactly like his dad had.
━━━━━━━━━━━━━━━━━━━━━━━━━━━━━━━━━━━━━━━━━━━━━━━━━━━━━━━━━━━━━━━━━━━━━━━━━━━━━━━━━━━━━━━━━━━━━━━━━━━━━━━
━━━━━━━━━━━━━━━━━━━━━━━━━━━━━━━━━━━━━━━
OTHER
FACE CLAIM ; STEPHEN JAMES
PLAYED BY ; IVISBO
CS CREATED BY ; VERIX