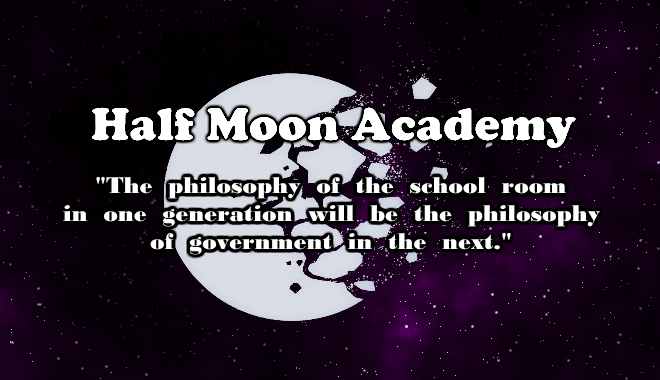 On the world of Kerectus, thousands of years ago, a great war was waged between the mortal creatures of the realm and the Dark Lord Shadowscythe. When the ash and dust settled, and Shadowscythe lay in defeat, it was agreed that humans, who had lost the most in the war, would be given the choice of remaining as a part of the larger world, or retreating to a new land unburdened by the knowledge that any other intelligent life exists, whether that be demons, elves, pixies or half-lings.
And so by the power of the worlds greatest wizards, and with more than a little help from the heavens themselves, Aerth became shut off from the rest of the world.
So it has remained for thousands of years.
Over a hundred years ago, on the site of one of the wars greatest triumphs, Half Moon Keep, somebody decided to build a school. They called it Half Moon Academy, and decided it would be a place for the supernatural creatures who lived silently alongside the humans to learn. A sanctuary within a sanctuary. And so it was until ten years ago, when Ryan Cidium, the current owner and principal of the academy, decided to open the school's gates to Humans. He is part of a group that believes it is time for the people living in Aerth to open their eyes, and finally be re-introduced to their kinsmen.
Today, Half Moon Academy's newest students arrive at the gates in preparation for the school year, many eager to get started on the biggest adventure of their lives, a single piece of parchment clutched in their hands;
Dear [student name].
I am pleased to inform you that you have been accepted into Half Moon Academy.
This school has long been a symbol of prestige and learning, even amongst it's peers, and I am glad you have chosen us over other schools such as Solar Eclipse Academy, Niveo Highschool, or Wulfhurdst Academy.
As I hope you will learn during your time with us, Half Moon Academy is a place of much historical significance, and it brings me great pleasure to say that many famous musicians, scholars, writers, doctors, etc. have been a part our school, and I hope you will soon find yourself amongst their ranks.
But what is most important right now is that you enjoy your first year with us, and, hopefully, those to come.
Sincerely, your principal,
Ryan Cidium
This RP is set in the nation known as Aerth, which is on the planet called Kerectus. Aerth is the only nation on the planet where humans are basically the same as they are on Earth, except they can use magic. I.E they don't believe in dragons, elves, dwarves etc. All things that exist.
Kerectus is a disc shaped planet carried on the back of a giant space travelling, god-like wolf. The gods are also different, because Christianity and Judaism and what-not don't exist. It should also be noted that symbols like the cross are still recognised, and people still say 'Oh god!'
The world is in a semi-futuristic setting. I.E You should consider it a modern world, but occasionally I might mention some sort of Sci-Fi tech. Magic and swords & bows and stuff are generally considered more useful than guns, because bullets are far less useful for dragon slaying. It's also worth mentioning that guns are much harder to enchant than more traditional weapons.
Finally, on Kerectus, the religion I have mentioned is 'true' meaning all the gods of the Kerectian religion are 100% confirmed to exist, but again, the denizens of Aerth treat it much the same as we do; Speculation and belief.
In case I missed anything, check the totally disjointed Kerectus Universal Wiki. (linked below)
Prologue - The students become accustomed to their new surroundings.
I'm a furry/dragon/very-obviously-have-a-non-human-physique, how am I not exposed?
Basically every non-human will have some kind of trinket or magical force that makes them appear human. As for minor appearance differences like strange eyes, pointy ears, or fangs, etc, mutants aren't entirely unheard of. They're rare, certainly, but they make good cover for the odd non-human.
Character X is 13, and I'm 17, so why are we in the same class?
OOC, this is for the sake of simplicity. IC, it's because HMA accepts people who may not have any former education, and thus throws them into first year. You are all first year students.
Do Day class students know that the Night class students are non-human?
No.
It's in a bit of a sorry state, but the Kerectus Wiki can be found here:
http://kerectusportal.wikia.com/wiki/Kerectus_Universal_Wiki
. One you've settled in a bit with your character it would be swell if you could make a page for them there.
~~~~~~~~~~~~
"And above all, watch with glittering eyes the whole world around you because the greatest secrets are always hidden in the most unlikely places. Those who don't believe in magic will never find it." ~ Roald Dahl
#1 - Player killing is not allowed, unless discussed beforehand.
#2 - Put 'equality for dragons' somewhere in your character application so I know you read these rules.
#3 - Please keep OOC dramas as far away as possible from the thread.
#4 - No metagaming (using information your character shouldn't know) or powerplaying (controlling the actions of somebody elses character)
#5 - You are free to create your own races and lore for this world, as long as it doesn't blatantly conflict with anything else.
#6 - Ignore rule 2. Putting 'equality for dragons' in your character profile will get you denied.
#7 - Instant romances annoy everybody who isn't you, so don't you dare.

Information required for your character profile:
CloudJhi: "And before I forget, avoid monster orgies that result in 1/2 vampire, 3/16th Germans, 1/17th Demon Lord Overspawn, 5/7th Nosferatu, 3/4th cups of flour, and 1/19th soul of the damned."
-Name
-Age (Should be between 12 and 17)
-Race
-Appearance (pictures preferred)
-Day class/Night class (Day class is for human students, night class is for non-humans.)
-Powers: (most characters, even those from the day class, posses some kind of power)
-Inventory
-Backstory
18 posts here • Page 1 of 1
18 posts here • Page 1 of 1
Arcs are bundles of posts that you can organize on your own. They're useful for telling a story that might span long periods of time or space.
There are no arcs in this roleplay.
There are no quests in this roleplay.
Here's the current leaderboard.
There are no groups in this roleplay!
Welcome home, Promethean. Here, you can manage your universe.
Arcs are bundles of posts from any location, allowing you to easily capture sub-plots which might be spread out across multiple locations.
You can create Quests with various rewards, encouraging your players to engage with specific plot lines.
Settings are the backdrop for the characters in your universe, giving meaning and context to their existence. By creating a number of well-written locations, you can organize your universe into areas and regions.
Navigation
While not required, locations can be organized onto a map. More information soon!
There are no groups in this roleplay!
By creating Collectibles, you can reward your players with unique items that accentuate their character sheets.
Once an Item has been created, it can be spawned in the IC using /spawn Item Name (case-sensitive, as usual) — this can be followed with /take Item Name to retrieve the item into the current character's inventory.
Give your Universe life by adding a Mob, which are auto-replenishing NPCs your players can interact with. Useful for some quick hack-and-slash fun!
Mobs can be automated spawns, like rats and bats, or full-on NPCs complete with conversation menus. Use them to enhance your player experience!
Current Mobs
No mobs have been created yet.
Locations where Mobs and Items might appear.
You can schedule events for your players to create notifications and schedule times for everyone to plan around.
Add and remove other people from your Universe.
The Forge
Use your INK to craft new artifacts in Half Moon Academy. Once created, Items cannot be changed, but they can be bought and sold in the marketplace.
Notable Items
No items have been created yet!
The Market
Buy, sell, and even craft your own items in this universe.
Market Data

Market conditions are unknown. Use caution when trading.

Quick Buy (Items Most Recently Listed for Sale)
Welcome to Half Moon Academy!
None
Discussions
Topics

Replies
Views

Last post
Most recent OOC posts in Half Moon Academy
This is the auto-generated OOC topic for the roleplay "
Half Moon Academy
"
You may edit this first post as you see fit.