~Booker Pryce~
~Theme~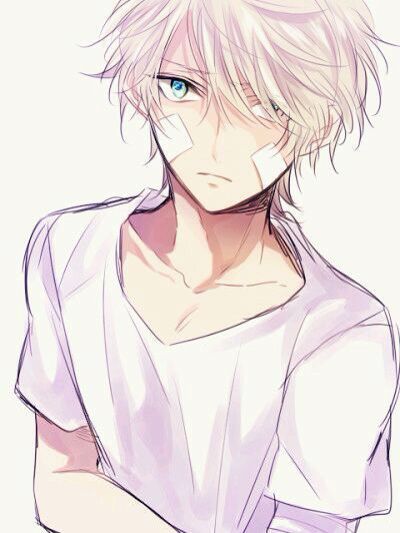 Ignore the bandages. He has a faint scar on his right cheek, and a blue hand-print on his left shoulder. He's 5'5
15 | Male | Human | Day Class
Powers
Booker can peer through reality, enabling him to see other planes of reality, reflections of our world. When viewing other planes, he can exert a tiny amount of influence over them, which manifests as phenomenon often associated with ghosts, such as chill winds or objects moving slightly.
Backstory
Booker was born in Niveo City, where he led a rather normal childhood. His mother was an artist and his father owned a theatre; two passions that Booker inherited. Though his parents were both middle-class, his fathers investments ensured that they were never light on cash. Booker's earliest memory is watching the Pirates of Penzance in his fathers theatre, which would become one of his favourite shows.
At the age of six, Booker first discovered his ability to see through reality on Halloween. Dressed in the first of many pirate costumes, he knocked on the door of his neighbours house, only for the door to open into a vast nothingness. Perturbed, he turned to see the entire street was filled with crumbling houses that appeared to have been abandoned for years, black vines weaving their way through the street. As he looked around, confused, a grotesque beast rounded the corner, it's eyeless face looking directly at him. And then, it was gone, and his parents led him back home. It wasn't until another year and several more strange occurrences that his mother realised he had inherited her gift, an unfortunate family curse.
Booker was already considered odd by his class-mates, but his 'episodes' made him feared and despised by the rest of the school, making primary school even more of a trial than it already is. Rather than give up, Booker made an effort; inviting other kids to his dad's theatre. As he gained control of his power he was able to turn into a parlour trick; telling people about the other realities and the creatures within. Most people assumed it was made up, but regardless, Booker had found friendship.
In his first year of high-school, Booker had an excursion to a train station. During the excursion he got into an argument with another boy who teased him for 'making up stories'. Booker pushed him, and he pushed back; pushing Booker directly onto the tracks, right into an oncoming train. He closed his eyes, and everything went silent. He looked, and before him was a train, old and decaying, covered in black vines. Booker could feel that something was different: he wasn't just seeing, he was really there. He explored the train, but he couldn't find anybody. Over the next few days, Booker explored the desolate city. He could feel something watching him; things crawled and moved in the shadows. The thick black vines that were everywhere shifted at his approach, even the air seemed to be against him: it was thick and smokey. Through the constant, thin mist he made his way back home. It was there that he came face to face with that old beast that had haunted him since Halloween so long ago.
It chased him through his house, but it was faster, stronger, smarter than he was. It caught him and left a scratch along his face, because a glowing silhouette grabbed him and dragged him to safety. Suddenly, he was back at home, his parents staring amazedly. Where his mysterious saviour had touched him a blue hand-print was left behind. Shocked by the entire ordeal, Booker was pulled out of school. He spent the next few years at home, his parents urging him not to tell anyone of what he saw, or where he went. He passed the time by learning archery and playing various instruments with his mother, until a letter from Half Moon Academy finally convinced his parents to return him to school.
Inventory
-A compound bow.
-A flintlock pistol (without a firing pin.)
-Ye olde timepiece
-Ye olde record player
-Ye modern music playing device (and phone)
-A fine naval themed chess set.
-Clothes and other essentials. Booker mostly wears band tees and cardigans with cargo pants. He also has a large collection of hats.