Name: Alexander Raines
Picture: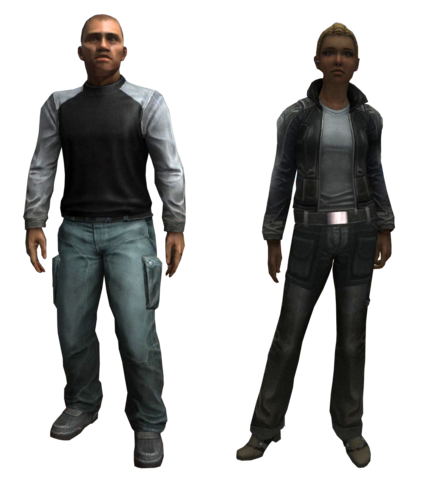 * Physical Description: Obviously, he is the character on the left. It is the only picture I found that fit the simplistic nature of the character. Aside from that, he wears a black tank-top instead of the shirt shown, but the pants are the same. His hair-cut is very short, lined up. Strapped to his ear, is a lone crimson feather, sort of like a pirate captain's hat.
Age: 23
Sex: Male
* Rank: N/A
Birth Place: Earth
Birth Date: 12/04/2521
Current Residence: Genesis outskirts, in a small apartment shared with an ODST buddy.
Height: 5' 8"
Weight: 140 lb.
Hair Color: Black
Eye Color: Bright Hazel
* Complexion: Scar on his face in the half shape of a small cog (lower left side of his face)
Skin Tone: Light brown
Body Type: Light-Medium (Not entirely skinny, but not muscular enough to really be called "fit"
Blood Type: Type AB