Name:
Morgan Lea Roman
Age:
13 (3rd year)
House:
Ravenclaw
Appearance: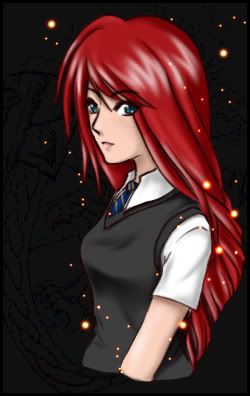 Quidditch Position:
(None, but she's thinking about it. Seeker.)
Wand:
Ash – Ash is slightly associated with the Dark Arts, as the ash tree is said to 'strangle' the plants around it. It does excel at Dark magic, but is also good for Transfiguration. They also tend to bond to good Diviners.
Fwooper feather(s)
Fwooper feather wands are said to be a mark of ill omen for the wizards they bond to, as, like the birds they come from, they are rumored to slowly drive their wielder mad. Despite their poor reputation, they do well with Charms and Care of Magical Creatures. However, they have a near-inability to cast Quietus. They are commonly combined with another feather core, such as the phoenix for health or the hippogriff for stability.
Hippogriff feather(s)
Hippogriffs are noble animals with a reputation for not taking a slight. These wands require constant respect, and if the wielder does not give it, they can watch its formerly stable and versatile magic backfire on it. It is not the strongest core, but it is one of the most adaptable. These wands are most common amongst Gryffindors, but they are rare overall.
9 1/4"
Pet:
A small tabby cat with one blue and one green eye called Zues.
Personality:
To Be Revealed
Crush:
TBA