Name:
Scorpius Hyperion Malfoy
Age:
13 (3rd year)
House:
Slytherin
Appearance: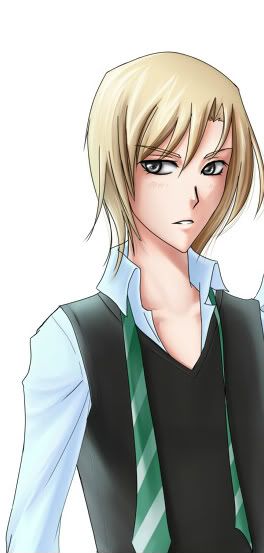 Quidditch Position:
(Father wants him to be in it, him well, he's not that into it. So no, no position.)
Wand:
Cypress – Cypresses have long been associated with the Greek god of the underworld, Hades. This wand has subtle power, and is good at Transfiguration and Dark Arts.
Doxy wing(s)
Doxy wings, like the creatures they come from, can be unmanageable and mean-spirited. They are second only to basilisk wands in their abilities with the Dark Arts, and as such these rare wands are most often found in the hands of stubborn Slytherins without the familial connection to obtain a basilisk core.
11"
Pet:
A particularly regal looking barn owl, with a fierce temper named Hera
Personality:
To Be Revealed
Crush:
Rose Weasley