Welcome to Hawthorne Grove!
Welcome outsiders to Hawthorne Grove, a small, lush green town in pennsylvania where everyone knows everyone but don't let the friendly faces deceive you, this town has it's own secrets that even the humans that live here have no idea about. The town is divided into a half but the humans don't know of course because the people here who divided the small town are the werewolves and vampires. The Kastner pack has claimed the east side of the forest which includes the east side of town while the Vaughan Coven claimed the west side of the forest and town. The two groups are not allowed to cross each others territory or the treaty will be broken and there will be war against the two supernaturals. The center of the town is neutral grounds where both vampire and werewolf roam because it's where all the stores and the high school is located. Let's face it though the grudge between the two supernaturals are clearly visible since the more young, hot headed teens are always going at it but what happens when a mysterious teenage female werewolf strolls into town to stay with her uncle who happens to be the leader of the Kastner pack and falls in love with a vampire girl?
---
The Kastner Pack
The Kastner pack has been Hawthorne Groves oldest residents, the pack was here way before the vampires and humans arrived and made this into a town. They descent from British and Spanish blood and are a strong and clever pack. The werewolves of this town reside in the East side of the forest where they live in a mansion that is right by Black Pine lake. They have a natural hate for the Vampires but they also have the same rule as they do. Do not let humans find out about what they are, the two supernaturals already have each other to deal with, they do not need the humans on their asses too. The pack consists of 6 members plus the lone wolf who joins their pack.
Ways To Be Killed/Harmed
~Decapitation
~ Wolfsbane
~ Silver
---
The Vaughan Coven
The Vaughan Coven was the second and last supernatural creature to settle down in Hawthorne Grove. True they have not been here for long, to their standards that is but they lived here long enough to be considered ancient. This Coven descents from Romanian and Irish blood and are quite the witty bunch. The coven resides in the west side of the forest where they too live in an old looking mansion but the inside is good as new but it does have that victorian age feel to it. The vampires use their wit against the werewolves who are hot headed by nature and it quickly causes an uproar. The coven is currently made of 5 members including the leader of the coven.
Ways To Be Killed/Harmed
~ Staked In the heart
~ Silver
~ Garlic
~ Sunlight
---
---
Characters
Name || Age || Sexuality || Role || FC: || Reserved for
Kastner Pack
Name || Age || Sexuality || Alpha || FC: Charlie Hunnam|| Reserved for Ivisbo
Name || Age || Sexuality || Beta 1 || FC: Bianca Lawson|| Reserved for Gril2Fine2
Name || Age || Sexuality || Beta 2|| FC: Josh Hutcherson|| Taken by me
Jack Witte
|| 20||Bisexual|| Beta 3 || FC: Tatiana Maslany|| Reserved for ShrimpMayo
Name || Age || Sexuality || Guardian 1|| FC: Tyler Posey || Reserved for
Alexa Reyes
|| 17|| Bisexual||Lone Wolf ||FC: Selena Gomez ||Taken by Me
---
Vaughan Coven
Name || Age || Sexuality || Leader || FC:Jaime Murray|| Reserved for Dumisa
Name || Age || Sexuality || Vampire 1/Lone Wolf Love Interest|| FC: Jennifer lawrence || Reserved for KOKIA
Name || Age || Sexuality || Vampire 2 || FC: Oliver goodwill || Reserved for TheSpaceInBetween
Name || Age || Sexuality || Vampire 3 || FC: Zooey Deschanel|| Reserved for Immayahoka
Name || Age || Sexuality || Vampire 4 || FC: Max Irons|| Reserved for
Maisie Linford
|| 17|| Heterosexual/Panromantic|| Vampire 5|| FC: Jenna Louise Coleman||Taken by CyberGlowfly
---
Humans
Name || Age || Sexuality ||English Teacher || FC: Joanne Kelly|| Reserved for
Name || Age || Sexuality ||Student || FC: Arden Cho|| Reserved for SizzlerZ
Name || Age || Sexuality ||Student || FC: Daniel Sharman || Reserved for Gril2Fine2
Charlie Tyrann
|| 16|| Homosexual||Student || FC: Dylan O'Brien||Taken by Amythi
1. Reserve for a Character please in OOC & if you want to change FC tell me who you want in the OCC but keep in mind I will not change everyone!
(」゜ロ゜)」.

2. Blood, Gore, Violence strongly encouraged. ᕙ(⇀‸↼‶)ᕗ

3. Romance is also aloud! Just..keep it somewhat pg.13, or a little rated R. =^● ⋏ ●^=

4. Curse away~ just not in every line..please don't take it overboard (҂`з´).っ︻デ═一

5. I know most of you might be busy but please try to post 2-3 time a week.(〜 ̄△ ̄)〜....〜( ̄△ ̄〜) I will love you for life if you do ~

6. Please no one liners (ノ ̄д ̄)ノ like why would you ruin my life like that?! anyway more than a paragraph please! ☆*:.。. o(≧▽≦)o .。.:*☆

7. Make your character unique!┬┴┬┴┤(・_├┬┴┬┴

8. You will have 48 hours to get a wip in that is decently finished.
Taking place in...
---
---

In truth, Tiffany was surprised that Clayton listened to her and proceeded to squash the arising conflict before it could begin anew. If he had chosen to stay and actually fight, she would have followed him and the rest of their pack. Instead, they were heading away when the cupcake frosting incident occurred. Tiffany only glanced at the perpetrator, mildly interested. It was no true harm and her scent did somewhat remind Tiffany of Josh's, though it was barely there. And even more interested in the fact that Clay didn't do anything to the girl. Sighing about the spectacle of the night, Tiffany was just about to walk away when she heard the blonde female vampire - did they share the same name or something? - make some retort.

She didn't do anything. It wouldn't be Tiffany if she did. But she did glance at the vampire over her shoulder, a shadow fixed over her face and her eyes piercing. There had only been rare moments on neutral grounds had Tiffany's face ever gotten like this, had she intentionally set out to show some of the darkness in her spirit. But this one vampire - a child at that, if the way she acted dictated her mental stage - irritated her for no apparent reason. Her eyes even bled red for a moment and on the inside, the wolf in her howled to be released, ready to sink its claws into this vampire's face and rip her mouth off. But she didn't and turned away anyway, sighing again.



"Normally, I would take the high road,"

she said softly to Clayton as they walked away. At this point, they should have been a few feet away, allowing her to speak hushedly with him without wariness towards the possibility of the vampires hearing their conversation. "But if we ever have to fight them, I want that one to myself. The festival's just started and she already has me ready to leave." Tiffany hadn't even gotten to see Stephen, but at this point, if the vampires made one wrong move, she didn't doubt there would be chaos on such a beautiful night.
---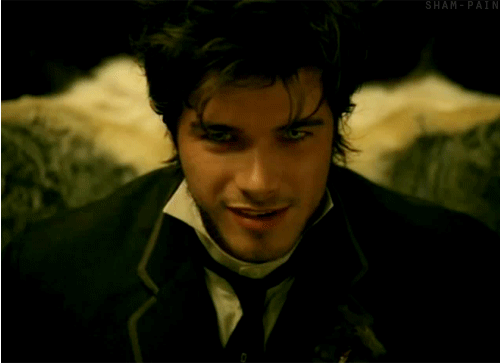 Arturo's intent stare was still in force untill his sister spoke.
"Arturo, non c'è lotta qui. Queste persone pregiati e io stavamo avendo una piccola discussione. Non c'è niente da preoccupare più. Io sto bene, così come il resto dei nostri amici."
Arturo could never believe that werewolves could be reasoned with although he supposed that werewolves felt the same about vampires.
"Fratello, ho già disperso la situazione"
Her hand reached up to his shoulder triying to pull him back, and of course. Athena being who she was Arturo backed away slowly but only when the werewolves began to disperse. Turning to Athena, Arturo spoke his hand tapping his heart. "Atena, Ogni volta che fai il mio cuore fermarsi quando si fa qualcosa di simile." ( Athena, you make my heart stop every time you do this)
Looking over to the coven leader as she approached sending the werewolves away with a few harsh words, Arturo nodded his head and spoke, encouraging them to have a good time. " Si, let's enjoy the night. Come, Athena I will win you a goldfish as long as you don't eat it" Arturo nodded his head to his sister to follow him.
---
---
---
---
---
Louise ignored that Leech Queen comment, simply because she had been around for a long time and has heard it all. Nothing really bothered her that much but if you mess with the members of her Coven, there was going to be hell to pay. Her eyes went to Tiff, who was the first to say that she was enjoying the festival and that they should enjoy the rest of the night.

"Oh, yes, we should enjoy it."

She smiled while her clutch purse was clinched underneath her armpit.

"Alright everyone, try not to suck anyone dry."

She winked towards them but wasn't encouraging them to do anything.

"Come Tiff, I want to ride the Ring Of Fire."

She grabbed Tiff by the hand and basically dragged her over towards the ride. If she allowed herself to be dragged, they would standing in line as Louise talked.

"It's been awhile since I been here."

Her mouth turned a little bit then her eyes fluttered towards Tiff.

"Also, off topic, I think one of those werewolves want to rip my face off."

One of her delicate eyebrows rose up then her shoulders shrugged.

"Anyways, why were you guys in such a rush to get here tonight?"

She asked while moving along with the line.
---
Arcs are bundles of posts that you can organize on your own. They're useful for telling a story that might span long periods of time or space.
There are no arcs in this roleplay.
There are no quests in this roleplay.
Here's the current leaderboard.
There are no groups in this roleplay!
Welcome home, Promethean. Here, you can manage your universe.
Arcs are bundles of posts from any location, allowing you to easily capture sub-plots which might be spread out across multiple locations.
You can create Quests with various rewards, encouraging your players to engage with specific plot lines.
Settings are the backdrop for the characters in your universe, giving meaning and context to their existence. By creating a number of well-written locations, you can organize your universe into areas and regions.
Navigation
While not required, locations can be organized onto a map. More information soon!
There are no groups in this roleplay!
By creating Collectibles, you can reward your players with unique items that accentuate their character sheets.
Once an Item has been created, it can be spawned in the IC using /spawn Item Name (case-sensitive, as usual) — this can be followed with /take Item Name to retrieve the item into the current character's inventory.
Give your Universe life by adding a Mob, which are auto-replenishing NPCs your players can interact with. Useful for some quick hack-and-slash fun!
Mobs can be automated spawns, like rats and bats, or full-on NPCs complete with conversation menus. Use them to enhance your player experience!
Current Mobs
No mobs have been created yet.
Locations where Mobs and Items might appear.
You can schedule events for your players to create notifications and schedule times for everyone to plan around.
Add and remove other people from your Universe.
The Forge
Use your INK to craft new artifacts in Hawthorne Grove. Once created, Items cannot be changed, but they can be bought and sold in the marketplace.
Notable Items
No items have been created yet!
The Market
Buy, sell, and even craft your own items in this universe.
Market Data

Market conditions are unknown. Use caution when trading.

Quick Buy (Items Most Recently Listed for Sale)
None
Discussions
Most recent OOC posts in Hawthorne Grove