The Devil Within || Digital Daggers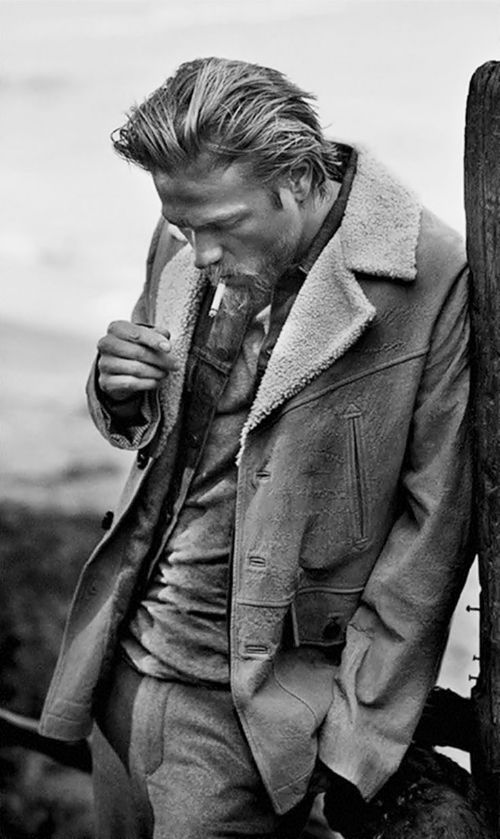 || 28 || Alpha of the Kastner Pack ||
---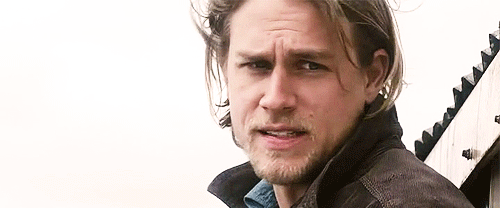 |Gender|
Male

|Sexual Preference|
Pansexual

|Species|
Werewolf

|Ranking|
Alpha of the Kastner Pack
---
|Eye Color|
Ocean Blue
|Hair Color|
Sandy Blonde
|Body Type|
Thick, muscular, and tall
|Skin Tone|
Bronzed
|Height & Weight|
6'1 at 170 lbs.
|Clothing Style|
Clayton wears clothes that he is not afraid of ruining if he needs to Change in a moments notice. Thin t-shirts or wifebeaters under a fur lined jean jacket. He wears the jacket with every outfit, although he will ditch it in the summer heat. He likes dark jeans pants and dark boots- though occasionally he wears a pair of slacks is he hasn't done his laundry. Because it takes so much nicotine to affect is werewolf body and because there is no chance of cancer, Clayton smokes almost two packs a day on average. He constantly has a cigarette in ear, in his hands, or he is fiddling with an empty container.
---
|Wolf Appearance|
Clayton's wolf form is massive compared to the others of the pack. A lot of the size comes from his thick, off0white almost blonde coat which hangs in shaggy layers off his muscular body, much like his hair does in his human form. As a wolf, Clayton's light blue eyes become deep russet orange. Though he is not the fastest in the pack, due to his size and long legs he can easily keep up with the others on pack runs (though they are usually behind him as he is Alpha). Although as a human he may seem carefree and a little relaxed as a leader, as a wolf Clayton's instincts to dominate are brought forward. He is not afraid to use his power as Alpha, though he does not abuse it. The pack knows that when the claws and teeth come out, it means they need to be in order.
---
"I've always wondered what goes on in that moment when someone looks at you and draws all sorts of conclusions."
|Personality|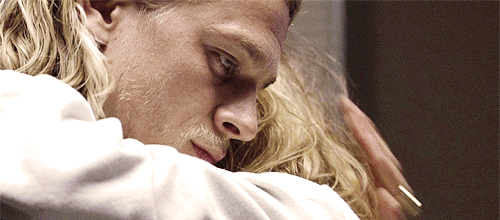 [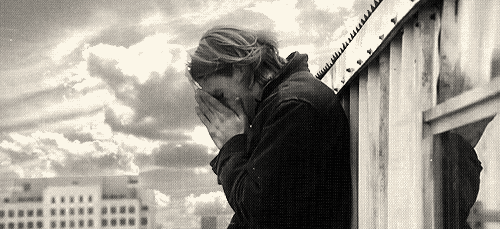 Clayton is an instinct driven man. He is the sort of man that screams predator to every human around him, even if they have no idea what he actually is. To those who don't know him, Clayton's light blue eyes are a steely harsh blue, vindictive and judging with every intense stare. He stands with his shoulders back, his head held high, and his arms crossed- not an inviting appearance to the smaller humans around him. Clayton screams 'different', which is why he usually stays away from the general public. Its not that he likes the scared glances and whispered voices that usually accompany him on his outings in the human towns; so he keeps to himself and the pack.
Around his pack mates, Clayton is a complete 180. He is like a happy puppy, all laughter and jokes and hugs. He loves every single one of them to death and likes to show it by using his strength to man handle them around. Clayton is the sort of alpha that will do anything for them as long as no harm will come to the pack or themselves. He lets the pack do what they want but also has a tight grip on his leadership if he needs to enforce it. He does have an anger problem though and will not hesitate to Change and use his authority over the others. Clayton has a tendency to transform into his wolf for in a split second if he feels a small amount of anger. Its not that he isn't abel to control himself, its that he would rather use his anger as a wolf then a human. The smoking is a very human aspect that Clayton adopted after he returned from his years in the the wild. The nicotine (which he must consume in coleus quantities for it to take affect) helps to sooth his anger and slow his constantly moving mind.
Clayton's hatred for the vampires makes it near impossible for him to remain calm enough to stay in his human form around them. He will always begin a Change, though sometimes he can stop it at just claws and fur. For the safety and well being of his pack- who always come first- he keeps to the treaty, but Clayton would rather have an all out war against the vampires. Ripping apart their heads and sinking his fangs into their skulls is the thing of dreams for him.
---
"Every time I have done something that does not feel right, it ends up not being right. Thats why you have to trust yourself, or the animal part of yourself"
|History|
The Kastners have been the ruling pack of Hawthorne for centuries. Leadership is handed down to the first born son when the alpha dies, which is just what happened for Clayton. He never had a good relationship with his father, he was more alpha to him then parent. Clayton's true love was with his mother. She always wanted to enforce the good in him, the human qualities that will make him a good leader someday. Unlike the Alpha, Clayton's mother saw a side of him that was sweet and loving, not the enforcer her husband was commanding their son to be. As a young pup, Clayton was a big mop of yellow curls that ran after his mother all day. He was sweet and loving just as she taught him and even the humans in town found him to be a delight where ever he went.
When Clayton's mother was killed in a confrontation with the local vampires, Clayton changed completely. He was 15 at the time, still as sweet as ever, but without his mother all the rings he instilled in him faded to the back. Anger replaced it and an uncontrollable wolf instinct to kill. He changed and was unable to change back; instincts drove him to the woods where he lived as a wild animal. The pack did everything in their power to calm him enough to change back, but eventually the Alpha forced them to leave him alone.
It took Clayton five years to struggle out of his wolf form and back to the pack. By then, he had traveled across the country and into northern Canada and had to hitchhike back to Hawthorne Grove. When he arrived, he discovered his father had died of wolfsbane infection from another skirmish with the vampires only a few months ago. The pack was leaderless, but coping, waiting for their lost alpha to find a way back or for another wolf to step up. Clayton took over as Alpha just as his father had intended, but the pack could see a difference in him now. He was pure instinct, a wild animal turned human rather then the other way around. It took him years to open up to them and laugh like he had as a child, but he was still withdrawn. Clayton wants to go back to how his mother wanted him to be, so he struggles everyday to uphold her ideals for him.
---