Default Location for Hawthorne Grove
---
---

In truth, Tiffany was surprised that Clayton listened to her and proceeded to squash the arising conflict before it could begin anew. If he had chosen to stay and actually fight, she would have followed him and the rest of their pack. Instead, they were heading away when the cupcake frosting incident occurred. Tiffany only glanced at the perpetrator, mildly interested. It was no true harm and her scent did somewhat remind Tiffany of Josh's, though it was barely there. And even more interested in the fact that Clay didn't do anything to the girl. Sighing about the spectacle of the night, Tiffany was just about to walk away when she heard the blonde female vampire - did they share the same name or something? - make some retort.

She didn't do anything. It wouldn't be Tiffany if she did. But she did glance at the vampire over her shoulder, a shadow fixed over her face and her eyes piercing. There had only been rare moments on neutral grounds had Tiffany's face ever gotten like this, had she intentionally set out to show some of the darkness in her spirit. But this one vampire - a child at that, if the way she acted dictated her mental stage - irritated her for no apparent reason. Her eyes even bled red for a moment and on the inside, the wolf in her howled to be released, ready to sink its claws into this vampire's face and rip her mouth off. But she didn't and turned away anyway, sighing again.



"Normally, I would take the high road,"

she said softly to Clayton as they walked away. At this point, they should have been a few feet away, allowing her to speak hushedly with him without wariness towards the possibility of the vampires hearing their conversation. "But if we ever have to fight them, I want that one to myself. The festival's just started and she already has me ready to leave." Tiffany hadn't even gotten to see Stephen, but at this point, if the vampires made one wrong move, she didn't doubt there would be chaos on such a beautiful night.
---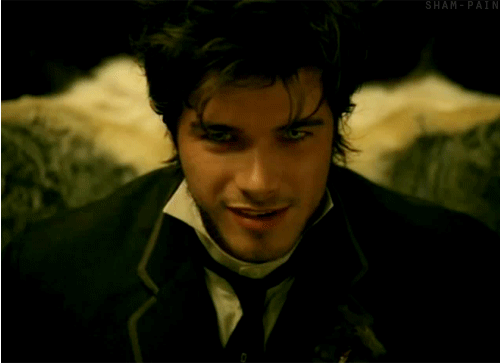 Arturo's intent stare was still in force untill his sister spoke.
"Arturo, non c'è lotta qui. Queste persone pregiati e io stavamo avendo una piccola discussione. Non c'è niente da preoccupare più. Io sto bene, così come il resto dei nostri amici."
Arturo could never believe that werewolves could be reasoned with although he supposed that werewolves felt the same about vampires.
"Fratello, ho già disperso la situazione"
Her hand reached up to his shoulder triying to pull him back, and of course. Athena being who she was Arturo backed away slowly but only when the werewolves began to disperse. Turning to Athena, Arturo spoke his hand tapping his heart. "Atena, Ogni volta che fai il mio cuore fermarsi quando si fa qualcosa di simile." ( Athena, you make my heart stop every time you do this)
Looking over to the coven leader as she approached sending the werewolves away with a few harsh words, Arturo nodded his head and spoke, encouraging them to have a good time. " Si, let's enjoy the night. Come, Athena I will win you a goldfish as long as you don't eat it" Arturo nodded his head to his sister to follow him.
---
---
---
---
---
Louise ignored that Leech Queen comment, simply because she had been around for a long time and has heard it all. Nothing really bothered her that much but if you mess with the members of her Coven, there was going to be hell to pay. Her eyes went to Tiff, who was the first to say that she was enjoying the festival and that they should enjoy the rest of the night.

"Oh, yes, we should enjoy it."

She smiled while her clutch purse was clinched underneath her armpit.

"Alright everyone, try not to suck anyone dry."

She winked towards them but wasn't encouraging them to do anything.

"Come Tiff, I want to ride the Ring Of Fire."

She grabbed Tiff by the hand and basically dragged her over towards the ride. If she allowed herself to be dragged, they would standing in line as Louise talked.

"It's been awhile since I been here."

Her mouth turned a little bit then her eyes fluttered towards Tiff.

"Also, off topic, I think one of those werewolves want to rip my face off."

One of her delicate eyebrows rose up then her shoulders shrugged.

"Anyways, why were you guys in such a rush to get here tonight?"

She asked while moving along with the line.
---