---
---
XXXXXXX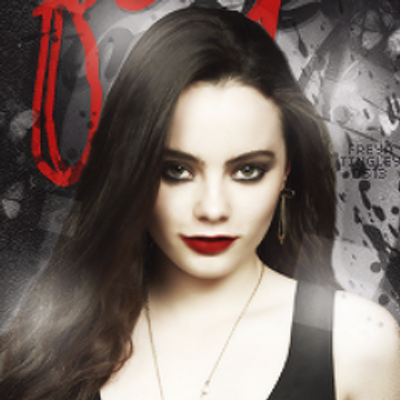 SABRINA LOOKER
FIRE MANIPULATION


TWENTY-FOUR || OMNISEXUAL || UNITED STATES OF AMERICA || #BF0000
---
---
---
XXXX
FIRE
X
MANIPULATION
"One little spark can lead to ruins."
To put it simple Flame can create, shape, and manipulate fire. She has pretty good control of her power. If she focuses enough, she can turn flames into shapes and lead them. Though, her power does dehydrate and take energy from her after too much use. Usually when she finishes using her power, her temperature drops to an uncomfortable level. Flame always manages to get to her normal temperature, but she dislikes feeling cold. Normally her body temperature runs at 110 degrees Fahrenheit.

If Flame is somewhere that lacks oxygen, she can't make big flames or even hold a small one for long. If her skin becomes wet with water, it is hard for her to make flames. She usually must dry off her hands first at least before being able to make fire. Water can extinguish the flames she makes. Lastly Flame can use her powers in the extreme cold, but it takes a lot out of her. Also, she can't produce impressive flames or do much things with them in the extreme cold.
---
---
---
XXXX
XXXX
P E R S O N A L I T Y

"Do you really want to get to know me?"

Flame is that candle that'll burn your house down because you forgot about it. After the incident, Flame discovered she had a sadistic nature. She is mean and enjoys it. Flame could care less about the world or humans. She doesn't even remember what it is like to be generous and kind. It wasn't like her generosity and kindness were appreciated before. She had been left for dead. The only person Flame cares about is herself. She doesn't believe in fairness. Flame just believes in doing what is best for herself.

As a hero, Flame was known as Phoenix. Phoenix was a kind, generous, and helpful hero. She always protected the innocent. Phoenix did everything she had to, so she could save lives. Phoenix died though. Flame has forgotten that part of herself. It is buried deep down inside of her like a tiny, squishy, and warm center. When Flame thinks of Phoenix, she sees it as one of the people she was in a past life. Flame couldn't imagine going back to being Phoenix. Even if she wanted to, it would be too late. Flame had gone and committed to the dark side.

When Flame isn't being sadistic, she is rather serious and mature. She is careful. She will always considers her options. Flame always need to think of how something may benefit or harm her. So, she needs to make sure to think things through. Therefore, it is difficult for others to anger her. She isn't one to let her anger get to her. If it does get to her and you caused it, you may just want to run or kill yourself. If Flame gets to you, she will torture you and maybe even burn you alive. If she is angry enough, she'll just burn you alive.
---
---
---
X
X
X
X
X
B A C K S T O R Y

"Left for dead."

Sabrina Looker was born to two wonderful parents in San Francisco. Her parents ran a small tea and bakery shop, Oops. She was a good student and helped her parents often. The shop was where Sabrina discovered her powers. There was a fire one day and she was able to grab the flame before it grew. Her parents, mostly her dad, were surprised. Her mom wasn't surprised as her grandmother had the same gift. They sent Sabrina off to live with Grandmother Gladys on a farm in the middle of nowhere. She trained and taught her to use her power. On the farm is where Sabrina met William, who later became Ash. He was on the farm to the left. They shared their secret of their powers and promised to become superheroes. They grew up together, trained, and went off to be heroes.

The two became Phoenix and Ash. The superhero duo. They would travel the USA to help stop villains and put them away. Mostly, they stayed in California because Phoenix had to take over the shop. They, mainly Phoenix, would help keep the forest fires to a minimum. Ash would help with planning. He had the power to suck away or give a person's life source. They always trained hard and had niffy gadgets to help them with crimes or help the people in their country. The duo was great and where often asked to help outside their territory. They even traveled to other countries. The duo broke up on a trip to Asia. There was a villain there causing chaos on Mount Everest. He caused earthquakes on the mountains that killed tourist and many others. He wanted the mountain, so he could make a statue of himself.

The villain was the most treacherous and dangerous villain they faced. In the end Flame ended up buried under an avalanche. Ash and rescuers looked for her for about a day. They had to stop looking because a bad storm began happening on the mountain. Phoenix barely survived. She woke up and moved through the snow. Somehow, she made it down the mountain. Though, she fainted, and someone found her. They took her to the hospital. When Phoenix woke up, she was heartbroken. She only thought of how her she had been left for dead. She saved the people, and they gave up on looking for her. Ash hadn't even bothered to save her, and she saved his life so many times. This was how Phoenix fell to villainy. She burned the hospital down and Flame came out of the ashes. People tried to reason with her, but it didn't work out. She went on a rampage, burning cities at a time. It was Ash who captured her and sent her to the prison.
---
---
---