Josephine "Mist" Slater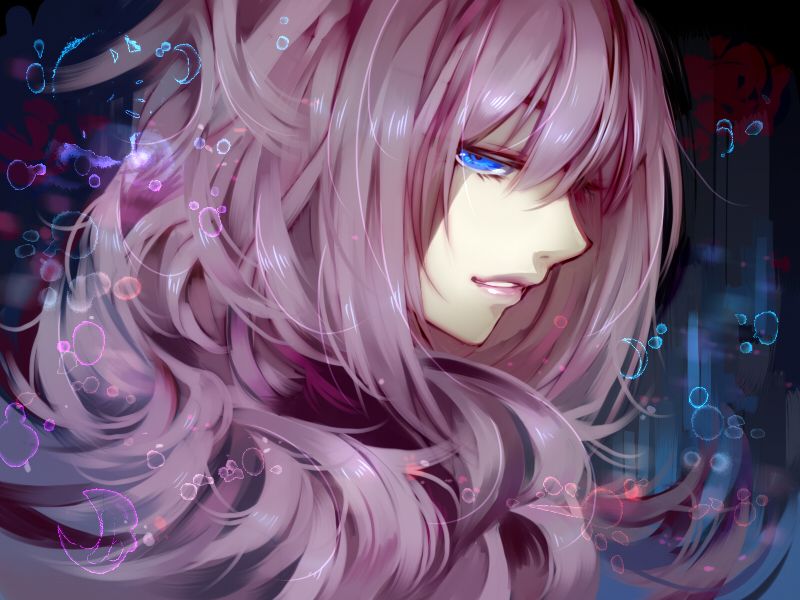 Age
20 Years Old
Gender
Female
Height
5' 4"
Weight
112.3 lbs
Appearance
Mist is a sight for sore eyes, delicate and intensely colored. Her dyed pink hair that comes flowing down her back and over her shoulders only frames her heart-shaped face. Her eyes pierce the darkest shadows as they seem to glow electric blue but that's only the effect they present as they are a rather bright color. Her lips are a dewy pink and her skin is creamy pale.Her skin appears flawless but she has scars hidden underneath her clothes. Most of the time, she seems aloof and spaced out but upon closer inspection of her face you can see that she hides many things and is quite observant as her gaze darts to each thing that interests her and has a quality of focus that is rare. Her skinny frame seems almost breakable with the way her slender shoulders and rangy form slightly bounces as she walks. Anyone hugging her would feel like they were holding glass. A rare sight that sometimes occurs when a friend is out for a walk is of her perched in her favorite place gazing up at the moon, eyes absorbing the silvery light and casting her form in shadows and light. It's actually quite creepy and moving at the same time.
Clothing
Black leggings, black lace tank top, black boots that are a mix between combat and heeled, and a pink hoodie. Her relaxed outfit is composed of an ankle-length white dress, or jean shorts and a pink tank top with a black hoodie.
Personality
At first glance, Mist seems aloof and always spaced out, with her head in the clouds somewhere. However she's an odd girl with a slightly tomboyish twist. She isn't afraid to get dirty and is rarely phased by dangerous or strange things. Some people think that her sense of danger is nearly nonexistent as she simply does as she pleases and gets into all sorts of trouble. Also, her pattern of speech is nonchalant and carefree as she often says whatever comes to mind. Some of her closest friends keep a close eye on her because of this. Although Mist doesn't mean to get herself into trouble, as she's just curious about everything that she doesn't know about. Another quirk of hers is that she gets attached to the people she's close to and trusts far too easily. She's way too innocent for this day and age. She once was teased for not knowing what kissing was when she was twenty. Although, her huge secret is that she got amnesia shortly after the incident with red stars happened but no one knows this and she continues to keep it a secret. Nevertheless, the last thing about Mist is that she does have a cruel side that rarely appears. It only appears when she feels lost or empty because of her forgotten memories because sometimes she feels guilty but doesn't remember or know why.
Other
Her Sister and Herself
Inventory
Backpack (Quarter-stuffed with minimal change of clothes)
Quartz Necklace (Unknown owner but it was one of the things she was carrying when she woke up)
Water (For Two days if rationed, Bottled form)
Small Switchblade (Decent quality, Mist is unable to use it proficiently)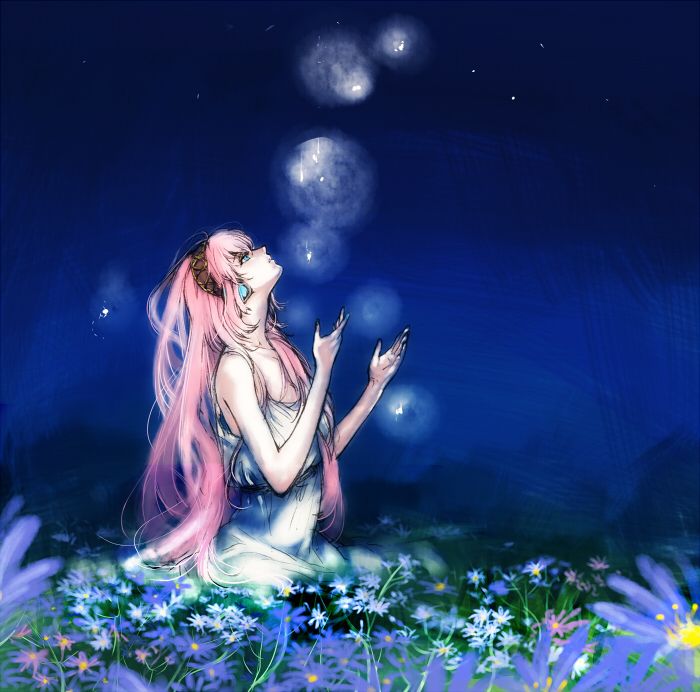 Biography
Josephine's father was a gym coach and veteran of the military and her mother was a dancer. She was their first child after they married many years before the incident and they had a second child, also a girl, ten years afterwards. Neither of them supported the idea of the red stars and their beliefs were proved when the incident happened and naturally Josephine and her sister adopted the same beliefs. Josephine, emerging in her early adult years was a well brought up young lady who had attended college and was aiming for a well-paying job as a psychiatrist. Her sister was entering middle school at the time. It was an ideal family situation. Everyone was tight-knit and the financial status of the Slater family was well off compared to most middle class families. Life was good.
That is, until the red stars began to corrupt humanity in more than just one way. Eventually, the world collapsed and the Slater family went on the run with as many supplies as they could carry. They were lucky to have gas masks for all of them, while some of their neighbors weren't as lucky to have enough money to purchase such precious goods. Her father, Samuel took charge and led them safely through the city, searching for somewhere to stow away. As the population slowly decreased, they ran into a group that was apparently leaving the city in search of better living conditions. However, at the time it struck Josephine the wrong way because they looked clean and well-groomed compared to some of the other people they would see walking around. They spoke of an empty shelter a few miles west and Samuel led the family there with haste. When they arrived, things didn't go as planned.
"Wait here." Samuel murmured, waving a hand at the three members of his family who lingered, peering over his shoulder. Josephine edged closer to him, getting a tight feeling in her chest. Something was wrong about this. They had been lucky so far and something bad was bound to happen. This situation was too good to be true. "Daddy, this is a bad idea. Let's just go somewhere else." Josephine whined. Her father dismissed it with a quick hushing sound. "Stop your worrying." She glared at him but kept her mouth shut as he edged forward into the clearing that stood before the entrance to the Clean Box. She watched him anxiously as her heart began to jumpstart into overdrive. She
really
didn't like this. Her mother and sister pressed closer to her and she slouched just slightly, allowing them to see past her taller body. "Josephine. Go out there. I don't like this either." Her mother spoke whispery soft in her ear. Josephine didn't hesitate and edged forward, letting her gaze follow the shape of her father's back. However, she wasn't prepared for the glint of silver as it flashed lightning-fast and struck her father over the head. "Dad!" She screamed and raced forward as blood spurted across the grass. The masked man stepped out of the shadows next the the entranceway and held his metal bat aloft. "That was easy, eh?" She skidded to a stop and stared at the man with terror. He continued, seemingly amused by her terror. "You guys fell for the trap. Almost like tourists." He clucked his tongue but then suddenly pointed his bat at something behind Josephine. "Nope! Let's not try anything silly. We wouldn't want your pretty daughter getting hurt, right?" Josephine didn't bother to glance over her shoulder as she slowly edged backwards. "And you! Don't move." The man took a step forward but the spooked Josephine leapt back and kept moving until her mothers hands touched her back and pulled her into the group. The man, angry now that the women weren't listening shook his head. "I warned you. I don't want you being naughty. He waved a hand and suddenly another pair of hands were suddenly on her shoulders pushing her down. Her sister's shrill scream pierced the air before silence washed over the pair of women left. A gruff voice spoke up and it sent chills down her spine. "Sorry.. I don't like screamers and she was too young anyways." The first man approached and waved his bat at his friend. "Your going to frighten them. It's not like you already don't frighten them with your hideousness." The man laughed as the second one snorted in response. Josephine held absolutely still but the first man leaned down next to her and cupped her chin, raising her face to his. "Oh wow. Your a pretty gal too. What do you say about being one of mine?" Josephine glared at him but he took this chance to press his lips to hers and she gagged. A screech started up and the sounds of struggle could be heard but Josephine's eyes were closed. The man pulled back and glanced over at her mother. "She's too old. Get rid of her. We will only really need one anyways" Josephine turned towards her mother who met her gaze. Silent communication passed between the two women and tears began to fall over Josephine's cheeks. "No. Please. Don't hur-" The words were silenced by the thud of a sledge hammer meeting her mother's skull. The red blood leaked onto the grass and wordless Josephine stared at her reflection in the crimson liquid. Her tears turned into breathless whimpers and her gaze leapt away from the sight only to meet the empty stare of her sister who lay dead, facing her, a hand outstretched as if to reach for her sister. Josephine extended her own hand and touched the lukewarm skin with a mix of feelings. "Anna. Anna. Wake up." She whimpered softly, wrapping her hands around her sisters as if to warm them. She felt as if her mind was slowly deteriorating. Eventually a slow darkness enveloped her and she fell into the pool of her families blood.
Josephine opened her eyes. She was curled up next to a dumpster in the back an alleyway. She briefly wondered why her face felt sticky and tight and raised a hand to her cheek. Red-colored flakes came off and smudged on her fingertips. "What? Blood?" She felt around and after accessing that she was okay, set away her confusion and stood up. A backpack half-full of clothes and other necessities lay in the dirt next to where she had been laying and she picked it up and pulled it onto her shoulders. However, she stood there realizing that there was a new problem. "Who am I?" She wondered aloud and glanced about the alleyway. A nasty mist hovered just above the ground more noticeable because the alleyway harbored some of the darkest shadows. "My name is Mist. Yeah."
From then on, Mist has been wandering the cities and places but has settled down finally in a suburban neighborhood within the city of Moscow, Russia.