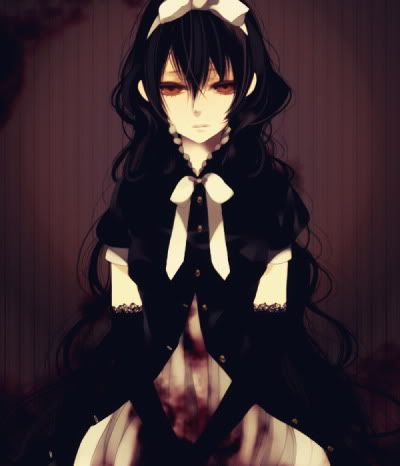 Name:
Nilda Korbachoff
Age:
19 (March 15th)
Gender:
Female
Height:
5' 6"
Weight:
130
Appearance:


Nilda Korbachoff stands at 5' 6" with a straight back, but with a face that is always looking at the ground. She is a rather skinny young lady in that she only weighs 130 lbs, and because of this she is easy to pick up and toss around. Nilda has pale skin and often wears make-up to hide the blood vanes on her face that she is very self conscience about. Nilda has rather skinny limbs that are made from a weak bone structure. She has amber color eyes that in certain light levels look bright red in color. Nilda has natural pitch black hair that flows down just past the small of her back and while it is thin in texture it lays heavy on her head making it easy to curl or straighten. She often keeps her finger nails slightly long, this way she can use them as a last resort weapon.




Nilda has grown custom to wearing Gothic and Punk Lolita style clothing and she feels most comfortable in this style. She likes the feel of the dresses and how they fit her, plus the easy maneuverability that she has while wearing them.



Nilda suffers from split personality disorder; where she has normal, sweet Nilda and then there is her sadistic protector Nana.


Nilda

is very shy and doesn't like being the center of attention at all. Only a few know her true personality, which is funny and loving. She also has a hard time expressing herself, due to her not wanting to hurt others. She doesn't say much because she has a very blunt personality, and doesn't say what she doesn't mean, which is why she doesn't talk much. However when she's in love with someone, and with them, she can open up to them and never really wants to leave their side. Also when you get to know her she opens up a bit and is willing to show you her true self. She is very protective over the ones she loves.
Nana on the other hand doesn't care who she hurts; if it needs to be said she'll say it without thinking twice about it. Nana is also very violent and temper mental. She isn't phased by killing someone like Nilda is and finds a great deal of pleasure in it. While Nilda has a great deal of control of Nana, sometimes she slips out without her permission when she feels like Nilda is being pushed around or is in danger unknown to her. Nana is very protective over Nilda and will often black out Nilda from remembering how she kills some one due to Nilda not liking the sight of dead bodies. Nana at first just wanted to get ride of the people who where trying to hurt Nilda, but as time went on she grew more sadistic and started to torture and prolong then imminent death of victims, wanting to enjoy every minute of being lose.



Likes:

[*]Reading

[*]Drawing

[*]Summer

[*]Being warm

[*]Cooking/baking

[*]Taking naps

[*]Music

[*]Her family

[*]Her friends

[*]Sweet things

[*]Tea

[*]Lilies

[*]Swimming






Dislikes:

[*]Whinny and Annoying people

[*]Sour/Bitter tasting food

[*]Being told what to do (but does it anyways)

[*]People who break their promises

[*]Fighting and killing people

[*]Winter

[*]Rain

[*]Being cold

[*]Spicy things

[*]Coffee

[*]Being sick

[*]Waking up early

[*]Roses

[*]Spiders





Hobbies:

She likes to sketch drawings of scenery, and trying different tea leaf combinations. She also loves to lay in her bed and listen to the pitter patter of rain on her roof.





Other:

Nilda also suffers from Depression and Insomnia. When she needs to escape from the world she listens to music and blows everyone off.





Inventory:

[empty slot]

Small daggers in her boots

Nano-Filter Gas Mask

A medium sized hand bag that contains:

~ A small, 8 bullet hand gun

~ A mini sewing kit

~ A compact First Aide kit

~ A make-up bag filled with make-up

~ Hand sanitizer

~ Snacks

~ A small doll of her sister's

~

A picture of her sister

[empty slot]






Nilda lived a rather normal life before the Yellow Cloud. She was the older sister of a young girl named Matilda. She was loved by her father and mother, and she loved her younger sister. A year before the haze had appeared, when the Red Stars where in development, her mother past away from stage 4 breast cancer. She was going to the local high school which was next to the middle school that her sister attend when the scientist found the large, yellow bubbles in the water. It was on a school day at that school when everything took a turn for the worse.
A riot broke out just outside her school, casing many casualties. The school board deemed it unsafe for children to return to school and that they should be taught at home. After the riots started to break out everywhere her father thought it would be best to get a Nano-filter gas mask for the three of them before things got worse. He took Nilda along with him. Him needed to make sure that no matter what happened to him, the masks got to his girls, especially because of Matilda's lung problems. On their way home with the masks they were jumped by a small, up-in-coming, bandit group attacked Nilda's father, trying to get their masks. The three men ended up killing her father in front of her, and in return Nana, who ended up killing them with the small hand gun Nilda's father carried, was born.
No more than three days later Nilda and Matilda's house was broken into. They were after food and masks. Nana shot and killed all five of them, but however unknowingly damaged one of the masks. The next day Nilda noticed that her sister was having a very hard time breathing. While they had a good ventilation system in their house, Matilda needed the extra help with the mask because her lungs were so bad from her birth defect. Nilda watched as her sister choked of the fiberglass like air, knowing that even if she gave her sister her mask it was already to late, the Yellow Cloud had killed her sister. Nilda now lives with a close family friend, that is almost never home, closer to her friends that she was before. She needed to get out of the old house, it just wasn't safe.