Name:
Ai Hinata
Age:
19
Gender:
Female
Role:
Star
Blood Type:
O
---
---
Eye Color:
Aquamarine
Hair Color:
Turquoise
Dressing Style:
Casual. She likes wearing vests and jackets, sometimes with scarves. She's almost always wearing jeans though.
Weight:
110 lbs.
Height:
5'6"
---
---
Likes:
Music
Food
Sleeping
Synthesizer
Composing
Her MISA Digital Guitar
Keyboard
Sour foods
Quiet
Reading
Video games
Cold food
Instant noodles
Dislikes:
Singing in front of people
Sweets
Whimsical people
Indecisive people
Drums
Overly energetic people
Television
Habits:
She tends to dress more like a boy when she wants to go out undisturbed.
She also has a bad habit of joining into conversations that have nothing to do with her.
Personality:
TBA
---
---
History:
TBA
Family:
Mother: Ritsu Hinata
Father: Aomine Hinata
Younger sister: Ui Hinata
Elder brother: Yu Hinata
Younger brother: Sion Hinata
Elder brother: Sano Hinata
Instruments:
Synthesizer, a MISA Kitara digital guitar, vocals, and keyboard.
Genre:
A little bit of everything. She seems to angle towards electronic music and rock, though.
Voice:
(
Knocking on the Mind
)
---
---
Gallery: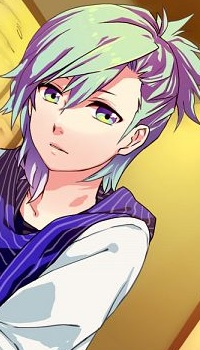 ---
---
---
Extra information you don't have to read if you don't want to.
BASICS:
Handedness: Right
Eye color: Aquamarine
Hair color: Turquoise
SCHOOL / WORK / HOME:
Education: High school graduate
Vocation/Occupation: Musician
Employment history: N/a
Own or rent: She lives in a dorm.
Living space: Her room is incredibly neat. Mostly because she's only ever in there to sleep or compose, but she still manages to keep her papers confined to her desk.
PSYCHOLOGY:
Fears: Heights, needles, thunder, and lightning.
Eating habits: She's actually quite a messy eater,
Food preferences: She won't eat seafood or anything she considers 'weird.'
Sleeping habits: She stays up late and sleeps in as long as she can.
Book preferences: She likes to read fantasy novels and books by various musicians.
Music preferences: She's especially fond of rock and electronic music, though she enjoys pop every now and then.
Groups or alone: Small groups.
Leader or follower: Follower.
Planned out or spontaneous: A bit of both.
How do they relax: Reading, composing music, playing her instruments, playing video games, and singing.
What excites them: Finishing a song, concerts, finishing a book, and learning a new technique.
Ambitions: To become the best.
ASTROLOGY/PHISOLOGY:
Birth date: September 2nd
Time of birth: 1:59 pm.
Western astrological sign: Virgo
Chinese zodiac: Rooster
Handwriting: Very neat and elaborate.
General health: Extremely healthy.
OTHER:
Drugs/alcohol: She doesn't approve of either, but seems to be fine with it so long as no one is getting hurt.
Prized possessions: Her MISA Kitara digital guitar and a gold charm bracelet with a charm from her parents and each of her siblings (the charms are a guitar, keyboard, a treble cleft, a heart, and two charms that spell out her initials; AH).