---
Nickname:
Isa
Age:
16
Gender:
female
Appearance:
Has somewhat long brown hair, brown hair, and pale skin. Is usually seen wearing either the school uniform or some form of workout clothes, and rarely anything else.
---
Personality
Very energetic. If given the choice between the hard way and the easy way, she'd take the hard way every time, no matter how tired she was. She has full confidence in her athletic abilities. She often over works herself, much to her classmate's and teacher's worry. But she always pulls out of it by the next day by sleeping an extra hour. She is pretty bad at class, and often looks for help from her classmates.
Background
Born in a large city, Isamato was popular in her old school. She wasn't very good in class, but had the body and personality that most guys want. Everything was going great, until Yodamachi Kataro enrolled two weeks late. He caught Isamato's eye, and he seemed friendly enough, so they started going out. Two weeks in, he tried to take advantage of her, but she ran away. He got very angry, yelling that he will ruin her life if he doesn't get what he wants. She still ran away. They didn't even look at each other the next day, but rumors started floating about that she tried to seduce him, and many other twisted things. She tried to tell everyone the truth, but it was too late, and the school turned on her. Her family heard what was going on, and got her into a small town school with an apartment close by, hoping to save her career as an athlete. She was allowed to live on her own under one condition: that relatives moving through the town be allowed to stay the night. Seeing nothing wrong and everything right with the deal, she accepted, taking only things she thought she couldn't live without, including her cat, Henry.
---
---
---
Athletic
Being very good at most sports and just physically amazing, most guys and even girls can't keep their eyes off her.
Hairstyling
Not even Isamato herself knows why she got into it, but she got really good at it!
---
Horrible at schoolwork
She's just really bad at it, and will look to others for 'help'. (To copy homework, barely passes tests.)
Energetic
She's just really, really jumpy, and is always willing to go out and do something. (Who does homework, anyway?)
---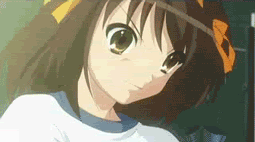 ---