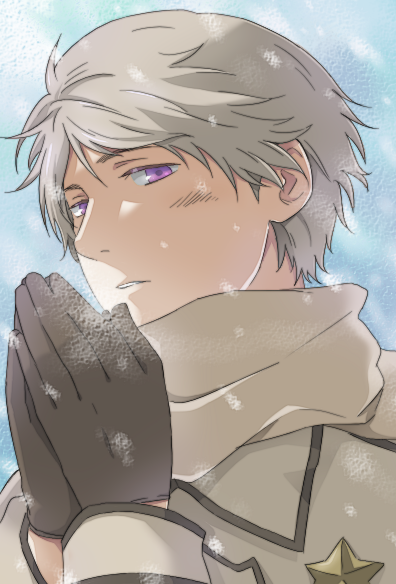 Name:
Ivan Braginski
Age:
20
Gender:
Male
Sexuality:
Bisexual
Description:
Ivan isn't gorgious, but he isn't ugly either. His skin is a pale ivory, scars from his childhood scattering across it. His hair is a pale silver colour, and falls across his face because of it's length.
His eyes are a piercing purple colour, framed by long eyelashes. His look can be intimidating at time, but warm all the same.
He is 6'2, and weighs 142 pounds.
Personality:
Ivan puts up a friendly act, smiling constantly and being -what he believes- friendly towards others. But on the inside, he is practicaly insane from his childhood (Which he hates to talk about). He's cruel, heartless, blood-loving, and untustable on the inside (Though he doesn't want to believe it). He wants to believe he is a sweet, loveable, cuddly guy. But he just...isn't. He has a hard time trusting others, and has very few friends, as he scares off most people before they can get to know the reason he acts the way he does. He isn't very talkative, but when he does talk, his voice has a strong Russian accent.
He is quite morbid and pessamistic, and is constantly stressed over the smallest things.
Romantic Interest:
Nobody...Yet.
Theme Song
Zombie-The Cranberries