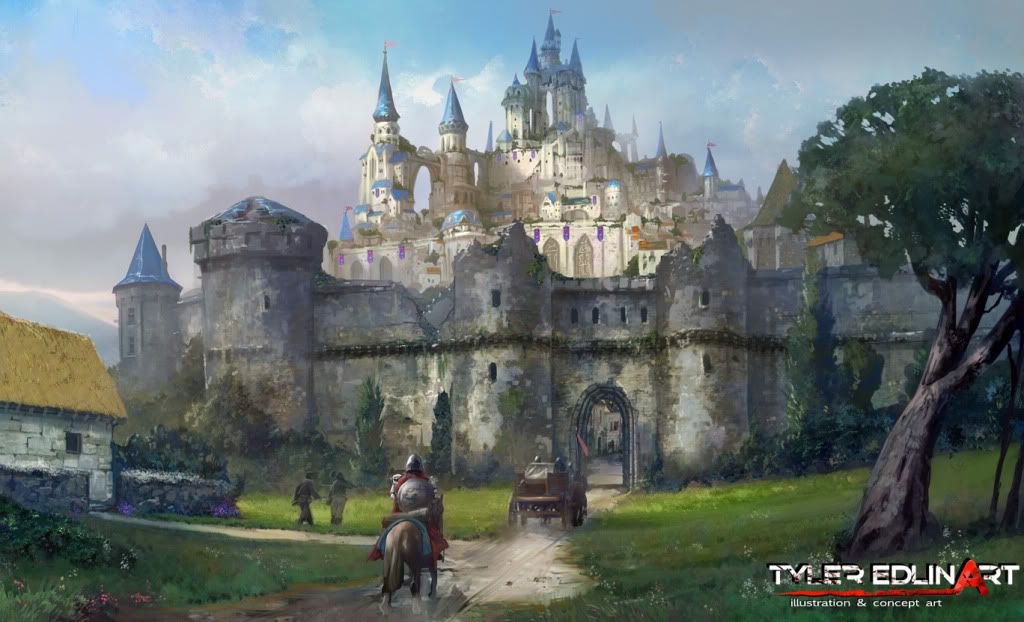 Lets get this started off the RP takes place in the super continent of Forenth inside of the continent each race has created it own kingdom or form of government. Of the races Humans have the largest and most powerful kingdom mainly because of their high population and the fact that Human are quick to adapt. The Human kingdom is ruled by King Fredrick Derak. King Derak is known as the most progressive and productive human ruler in history King Derak strives to unite the Kingdoms peacefully so that every race can be equal which is why he is loved by most Non-Humans that live in his Kingdom. The only group that seems to oppose the king is his lords who will lose most of their power if the races unite to create a Republic of Races. At this moment the different races are finally getting ready to join together for peace.
First of we will Role-play through the prologue I thought it would be a easy way for everyone to have their characters meet each other before they join up in the quest.
There are a couple of Characters that are NPC for the most part.
King Fredrick Derak- Ruler of the Human Kingdom
The poisoner- The person who poisoned the king (He will only be in the prologue for after he poisons the king he no longer matters)
The Dark Puppeteer(Dark Mage)- He is the one who hired the man to poison the King so he can have control over the Kings mind and body the Mage is under the order of some one but who is the real question.
Character Sheet:
(Picture Please)
Name:
Age:
Gender:
Race:
Appearance:
Clothing (Fantasy/medieval only)
Occupation:
Likes:
Dislikes:
Skills (up to three or more):
Weaknesses (at least two):
Magic:(Very exclusive only mages know how to use magic although every now and then a mage will teach the public a spell such as healing)
Weapon(s):(If you have one put a picture here)
Personality:
Background :
1. Be active post three to five times in a two week period
2.You can be any race you want. If you want and I encourage you to create a kingdom name for your race as well as form of government and a leaders name.
3.I have final say as GM
4. This is a three strike rule RP
5.If you are going to fight someone PM them ahead of time first so you two can decide the winner as well as what the both of you do. Then contact me with results.
6.AT least have correct spelling I have bad grammar but I at least try to have correct spelling do the same.
7. 200 word minimum posts it seems like a lot but it isn't
8. Have fun
21 posts here • Page 1 of 1
21 posts here • Page 1 of 1
Arcs are bundles of posts that you can organize on your own. They're useful for telling a story that might span long periods of time or space.
There are no arcs in this roleplay.
There are no quests in this roleplay.
Here's the current leaderboard.
There are no groups in this roleplay!
Welcome home, Promethean. Here, you can manage your universe.
Arcs are bundles of posts from any location, allowing you to easily capture sub-plots which might be spread out across multiple locations.
You can create Quests with various rewards, encouraging your players to engage with specific plot lines.
Settings are the backdrop for the characters in your universe, giving meaning and context to their existence. By creating a number of well-written locations, you can organize your universe into areas and regions.
Navigation
While not required, locations can be organized onto a map. More information soon!
There are no groups in this roleplay!
By creating Collectibles, you can reward your players with unique items that accentuate their character sheets.
Once an Item has been created, it can be spawned in the IC using /spawn Item Name (case-sensitive, as usual) — this can be followed with /take Item Name to retrieve the item into the current character's inventory.
Give your Universe life by adding a Mob, which are auto-replenishing NPCs your players can interact with. Useful for some quick hack-and-slash fun!
Mobs can be automated spawns, like rats and bats, or full-on NPCs complete with conversation menus. Use them to enhance your player experience!
Current Mobs
No mobs have been created yet.
Locations where Mobs and Items might appear.
You can schedule events for your players to create notifications and schedule times for everyone to plan around.
Add and remove other people from your Universe.
The Forge
Use your INK to craft new artifacts in Hezenattin the Leaves of Fate. Once created, Items cannot be changed, but they can be bought and sold in the marketplace.
Notable Items
No items have been created yet!
The Market
Buy, sell, and even craft your own items in this universe.
Market Data

Market conditions are unknown. Use caution when trading.

Quick Buy (Items Most Recently Listed for Sale)
Newest
Short Man skilled with a bow and arrow, doubles knives(throwing knife and saxe knife) and skilled in unseen movement
Trending
Short Man skilled with a bow and arrow, doubles knives(throwing knife and saxe knife) and skilled in unseen movement
Most Followed
Short Man skilled with a bow and arrow, doubles knives(throwing knife and saxe knife) and skilled in unseen movement
The events that took place before and a little after the King is poisoned
None
Home land of the Werecats ((Look at OOC for more info))
Discussions
Topics

Replies
Views

Last post
Most recent OOC posts in Hezenattin the Leaves of Fate
There have been no posts in the OOC topic for this roleplay!