FC: Elle Fanning
Speech Color:

#FFBF00
---
---
Name
Sally Amelia Monroe-Smith
Age
17
Gender
Female
Sexuality
Heterosexual
Fame
Actress
Relationships
---
---
Height
170cm
Weight
57kg
Hair Color
Light blonde
Eye Color
Blue
Sally is very pretty. Her large blue eyes, wavy blonde hair and round features all suggest a natural beauty. A sort of easy charm and attractiveness. Despite the manufactured nature of Sally's image it never comes across that way. Her stylist works tirelessly to manufacture outfit after outfit that feel natural and make Sally appear nothing more than a stylish teenager blessed with natural beauty and grace.
Her hair and makeup are always done in a way that looks natural. It's a delicate balance, on one hand having to always look beautiful and stylish and on the other hand having to look like she doesn't care about her looks. Sally's stylist always manages to pull it off though, when looking at Sally no one sees the hours of work. They only curse her luck at being born beautiful.
---
---
Likes




Pineapples:


A delicious fruit for all occasions


Running:


Despite being more of a forced hobby


Water:


Forget juices and soft drinks


The Beach:


Ocean, sand, sunny days? Perfect


Reading:


Even if she doesn't have time for it


Reading:


Even if she doesn't have time for it


Swimming:


Not competitively, but floating around is still fun


Long Walks:


Just getting lost and being anonymous for a bit


Acting:


She'd better like it a little


Her Stylist:


Not having to worry about what to wear is relaxing


Blueberries:


Her favorite fruit


Silver Jewelry:


Sally's never looked good in gold
Dislikes




Calorie Counting:


Not once has Sally tasted McDonald's


Appearances:


Sally knows more than most how fake they can be


The Dark:


It can be scary


Blood and Gore:


Sally scares easy


Horses:


She was thrown from one while filming


Tabloids:


They'll completely bend the truth to sell copies


Rumors:


You wouldn't like them if they were all about you too


Gossipy People:


Really who needs to hear who kissed who last Friday night


Paparazzi:


They're just trying to catch you stuffing up


Manual Labor:


Yeah, leave that to the hired help


Dirt and Mess:


Sally like cleanliness and order


Tiny Purses:


Just why? They can never hold anything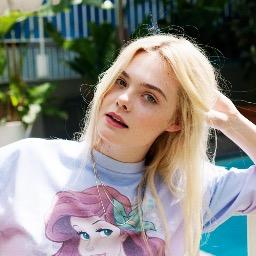 ---
Sally is naturally a reserved person. So many press interviews and public appearances have taught her how to keep a large part herself hidden away. Instead the Sally most people get is an act, a show. A very controlled set of reactions and niceties. Image is always in the forefront of Sally's mind. She always has to talk right and act right. Always doing and saying exactly what she's been instructed to. Sally has to be polite to everyone and seem like the perfect, kind person that the public want her to be. She spends weekends volunteering to build on this image. Sally has to be friendly, inclusive to everyone and never seem annoyed with all the attention she has been known to receive. So she smiles and is sweet and kind to everyone. Humble of her success and never look to splashy with her money. She always talks up everyone she works with and wouldn't be caught dead bad mouthing anyone. To the world she projects a sweet, hard-working girl without a drop of rebelliousness.
Everything she does is all for image. It can get a bit exhausting but being that way is all Sally has ever known. Which makes it tough for Sally to separate the image from who she really is. She's never really been allowed to be herself. Sally has always been in front of camera and in the public's eye so in a way her entire existence is something manufactured. Sure, Sally knows if given the choice she'd rather brush some fans off when she's in a bad mood, and she'd love some more time to spend curled in is quiet areas with a book. However Sally doesn't
really
know where the image she projects ends and she begins. Not that she'd ever get the chance to find out.
Sally has never really experienced anything. Her dedication to her image meant that she's never really had a chance to experiment with teenage rebelliousness. Drinking, sneaking out to parties or even just staying out late have been things Sally couldn't do. She could risk the press finding out. She has an image that she has to keep clean.
---
---
When the famous pop star turned activist, Linda Smith started dating the famous hunky actor, Thomas Monroe it made headlines around the world. When they got engaged it was all anyone could talk about. When they got married it was the event of the year. So when they announced the birth of their baby girl Sally, her fame and life in the public's eye was already predetermined. Both of Sally's parents had clean images and worked hard to keep up it that way. They were a power couple adored by all and seemed to unable to do wrong. So Sally naturally was also adored by everyone.
The three of them with the help of some publicist magic were the perfect family. Sally grew up knowing how to appear and look in public. Keeping up appearances was something she learnt from a very young age. For Christmas' they'd be out feeding the homeless, and giving present to the needy. At school her parents would take time out from the busy schedules to help out with bake sales and managing school plays. All in front of cameras and other people of course. Sally can't tell you confidently whether or not she would have received that much love and attention from her parents in the cameras hadn't been on and people hadn't been around. However everyone who had any contact with this family would all tell you how sweet, loving and wonderful they were.
Sally took singing and acting classes since before she can even remember her parents waiting impatiently on the sidelines to see which one she'd best emulate and follow. Sally chose acting, though she's been known to do the occasional musical. So she graduated to high school already as a successful child actor, smeared across magazines and tv. Everyone knew her name. Which is when she started dating ___. Practically on their first day of high school they hit it off, and having a high school sweetheart is a cute story that was good for image and kept most rumors at bay. However being with him is kind of like being with her parents, they always are happy and act lovey-dovey around other people but they don't spend that much time just the two of them. Though Sally loves him and its perfect for her since that's that type of relationship she's used to. She's hoping now that she's taking time off for her senior year now that she'll get to spend more time with him.