FC: Colton Haynes


Speech Color: #3B9C9C

||

Thought Color: #4E8975
---
[img]1001%20Font%20that%20says%20Basic%20or%20a%20quote[/img]
---
Name
Demetrius Lenin Byers
Age
Sixteen
Gender
Male
Sexuality
Heteroflexible
Fame
Rockstar
Relationships
Actress: TBA
Male Model: TBA
Pop Star: TBA
Trust Fund/Website Inventor: Pretend Boyfriend/Secretly In Love With

---
---
Height
6' 3"
Weight
200
Hair Color
Dirty Blonde || Leaning More Towards Brown
Eye Color
Sea Foam Blue
---
---
Likes
Like 1: Music
"To me it's the window into the soul."
Like 2: Being Outside
"Nature is a bliss."
like 3: Exercising
"Staying in shape is important."
Like 4: Food
"I mean.... I kinda need it to live."
Like 5: Achieving
"Success is key."
Dislikes
Dislike 1: Lying
"It's horrible, it's even worse being the liar, all it does is put a bit in my stomach."
Dislike 2: Distractions
"Focusing on what I need to get done is first priority."
Dislike 3: Failure
"I don't like coming short of anything, I always want to do my best."
Dislike 4: Gloomy Days
"The sunshine is so nice, I hate seeing the sky all gray."
Dislike 5: Crazy Fans
"Wanting some attention is okay, but demanding all my attention is too much."
Shining, That word alone could explain most aspects of him, he chuckles at the smallest of things, Demetrius could shine almost as bright as the sun some think. He appears to never be in a bad mood, chin always up, the bright side usually in his favor. He's a happy man for the most, always radiating joy. He talks a storm to everyone, though he knows when to stop. It's not like he tries to bother anyone, but it happens sometimes. Though he likes to talk he has a silent side. There are things Demetrius can't express with words, therefore he uses song. It seems like he always has his journal in his hand, jotting down thoughts and ideas that he could use for inspiration. His passion for his music is extremely deep set, something that controls him and moves him in ways he could never explain. With such a love and passion for his music he went to the lengths of lying in order to be able to practice and write in peace, something he normally wouldn't do. He had the best intentions when he lied, he thought he could focus more on the thing he loved most, yet it back fired and put him in a desperate spot.
---
---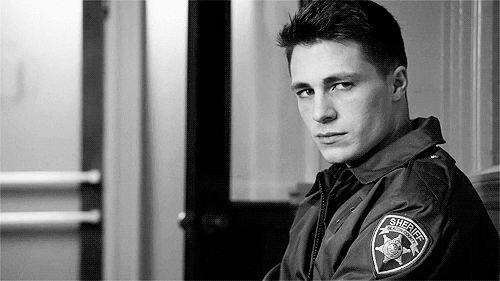 Demetrius' house hold was always lively and basically constantly full of music; with his father being a guitarist and his mother a singer it's understandable. His parents were in the same indie band, Octavia, though they were good they never became extremely popular, they typically just played at small local festivals. With his parents life style he was never placed into public school, but instead home schooled. His parents weren't the smartest, but the knew enough to teach their son.

"Uncle Ross, do you think you could play that song for me again?' Demetrius' father was the lead singer of a rock band in the 60's, the band was fairly popular but never reached its full potential. The music that his uncle played he found more enjoyable, more upbeat, it spoke to him on levels. Ross wasn't some rock star that did drugs, slept with groupies, or was constantly on the road. His songs always had meaning, had messages that inspired. people. At a young age this started a spark in the spirit of Demetrius. "Of course, kid."

At the age of fourteen Uncle Ross' band had an opening for a bass player, immediately Demetrius begged to be able to join the band; Ross couldn't say no to his favorite, and only, nephew. For five months he played the bass. The gigs were small since the band no longer had the popularity it once had, though the fun never truly seemed to end.

"You''re really good, man." A brown headed boy came over to Demetrius, patting him on the back and continued to compliment him. At the end of the conversation he offered him a position in the band he was starting up. Demitrius wasn't sure how to respond, but in the end thought maybe leaving his uncles band to be in his own would be a better fit. From there Iridescent Movement was formed.

Traveling across the country at the age of sixteen was unimaginable. Sharing the words he wrote with the world filled his heart with so much joy. He didn't care about the fame, no he cared about giving the public meaningful music that's lyrics had more substance than sex, drugs, and money. As time passed on it got hard for him to write music, not from writers block, but because female fans wouldn't let him be. He couldn't go out in public to write like he once did, if he were seen he'd be crowded on sight. Without peace he finally decided the best thing he could do was lie about being gay. In his mind if he did this fans wouldn't be as crazy to see him, but instead it back fired. Instead of girls swarming him men began to. All they wanted to do was talk, flirt, and be his. Out of desperation he asked his classmate, Alexander, to be his pretend boyfriend. With this idea men stopped flocking him as much out of respect for his relationship, but to his surprise he began to fall in love with his pretend boyfriend. He never expected this, but he's nervous to how it'll play out.