---
---
Full Name

:
Friedrich Carden Davis


Nicknames

:
Fred


Gender

:
Male


Age

:
20
---
---
Sexual Orientation

: Heterosexual



Relationship Status

: Single



Likes

: Reading, stargazing, tidiness, history, observing people interact with one another, hunting



Dislikes

: Excessive noise, touching and violations of personal space, dogs, intoxicating substances, two-facedness



Personality

: Without a doubt an eccentric if somewhat erratic character, Fred is abnormal socially and emotionally; lacking any real interpersonal connections or much in the way of empathy or trust. To the chanced upon observer, he appears out of place; excessively neat and polite and yet cold. To his peers, Fred is nothing short of a creepy personality and yet his tendency to belittle his presence and observe helps him disappear without too much trouble.

Fred has never experienced excessive physical harshness in his life like some of his colleges, yet somehow a pragmatist almost classical stoic view has suppressed his day to day ability to express his emotions since he was a child. None the less, he cannot deny the basic need of humans to feel, turning him to sadistic manipulations of other people in the past. Presently, Fred finds small pleasures in various hobbies and refrains from his old habits which have landed him in so much trouble if nothing else.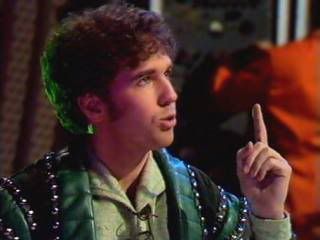 ---
---
Hair Color

:
Dark blond


Eye Color

:
Hazel


Height

: WIP


Weight

: WIP


Typical Clothing Style

: Dark & faded garments, typically ether a black or faded white shirt and a dark blue or brown vest.


Distinct Markings

: His moderately tall curly hair, meticulously clean shaven, sunglasses and his weird vests
---
---
History

: Fred's story is one of promise; the sole son of a distinguished American statesman and ambassador and the h eir to a very old and very well connected upper class family. As a child, Fred had it all; private schooling, the undivided attention of his parents and most of what he wanted; and yet he wasn't normal kid. A short yet extreme social boycott by his peers when he was young led to many unintended consequences. Prideful and anxious, the young Friedrich Davis didn't tell his parents about his problems in school for years, by the time his parents where informed of the situation by the school staff Fred had shut himself off from the world; taught to suspect offers of friendship as deceptions into his confidence and to live without relying on others for support. Fred was moved out of that school physically, but mentally he has remained as closed off as he was there ever since.

Recently while studying in an international school during his father's diplomatic service, Fred was unofficially expelled and sent back home for his part in what became a minor diplomatic incident. The details are unclear, but according to rumor Fred had manipulated fellow students into various states of emotional distress. Spreading information on false romantic affairs to couples, sending threatening messages and various cases of internet bullying. At one time, Fred is known to have sent a false ransom demand for the daughter of one of his father's colleges after stealing her phone in a party.

After returning home, a discreet psychological examination revealed little amiss with Fred but he spent a number of years in sessions with a psychiatrist none the less until the professional felt the young man was no longer liable to cause trouble; in reality, Fred had gotten all he had needed out of his social experiments and subsequent misleading and fooling of his psychiatrist. Fred started studying history in university this year, after spending a year volunteering as an aid worker to a disaster struck third world country.
---
---