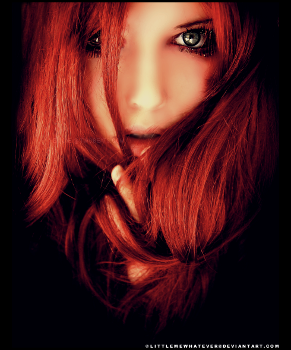 Full Name:
Dahlia Marzipan Gomphrey
Nickname:
Marzi, Doll
Gender:
Female
Age:
Eighteen
Sexual Orientation:
Heterosexual (Straight)
Height:
5"7'
Race:
Dragon Seer
Powers:
She can tell if you lie by having a vision. Dahlia is able to control whether or not she wants to see the vision or not. The vision, if she chooses to accept it, will be of what the person claims to have been doing or saying. Her job is to find a dragon emblem in that vision. If she does, the vision is a lie, and Dahlia knows that what is told to her isn't true. For example (to make things clearer for the reader), Dahlia is talking to a man. He complains how his wife is accusing him of cheating. He explains how he was clearly at his office and doing his work, being faithful to his wife and that she was just being paranoid. Dahlia feels a deep pang in her belly, the call of a vision. She accepts and appears to be spacing out. She is in the vision of the man in his office cubicle. It shows the man working on something on the computer. She can see everything around her clearly as if she's standing there watching the man. She looks around quickly, the visions sometimes end abruptly so she tends to take haste. She catches the dragon emblem pasted on his coffee mug. It looks like the coffee mug comes with the emblem on it. The dragon emblem can be anywhere at any size. If the lie was big, then so is the emblem. Dahlia has a hard time finding the emblem in half-truths since the dragon emblem could be the size of a dime. Anyway, the emblem is seen and Dahlia knows the man just lied about going to work. These visions do not show her what the truth is. She can only tell if the person lied or not. He was lying about going to work but it could mean he was just somewhere else. This is the disadvantage of her power.
Skills:
Acrobatics, Ballet, Gymnastics, The Art of Annoying/Disturbing others,
Weakness(es):
She can't tell if you're telling the truth, She doesn't know when she's going too far, She absolutely cannot lick her nose with her tongue.
Equipment:
Knapsack, Digital Camera, Ballet Gear, Sweats, Water bottle
Personal Quote:
"I am my own person."
Description:
She has dark maroon hair. It's extremely soft, almost like fur. It stoops to a long length that almost reaches her hips. Her body type is quite thin and limber for her age. However, despite her frail appearance, she still has a few curves to drool over. Her skin is the color of porcelain and her lips are an ashen cream color. Her big, fluttering hazel eyes are to not be messed with. She may look sweet and cuddly, but she's a complete ass.
Personality:
Neurotic, Perfectionist, A bit of a Slob, Good sense of humor, Insane, Flirty, Inappropriate
History:
No one knows where Dahlia came from. Except for the King of course. However, no one knows her past or why she acts the way she does. But she has been born on Valentine's day (February 14) the year of 1995.
Anything Else:
She dislikes Absent-minded people, Seafood, People similar to her (She likes to be the only one of her kind), Being Controlled, Pressured.
She likes Her Space, Pranks (On others preferably, but she can handle them on herself), Soppy Romantic Films, Reading, Being Annoying.