---
---
███████████████████████████████████████████████████████████████████████
---
---
---
---
███████████████████████████████████████████████████████████████████████
---
---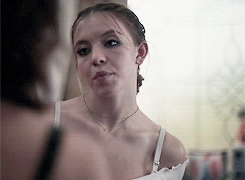 F U L L

X

N A M E
Elise Vivienne Duchamp

N I C K N A M E (S)
Elle or Ellie. Ellie is usually the most common.

B I R T H D A Y
January 1st

A G E
Seventeen

S E X U A L I T Y
Unknown.

E T H N I C I T Y
100% French/Caucasian.

H O M E T O W N
Versailles, France (Moved to London, England at

H E X


#9F81F7
---
---
███████████████████████████████████████████████████████████████████████
---
---
P E R S O N A L I T Y
Ellie is the cute adorable hufflepuff you see roaming around the halls of Hogwarts. She initially seems cute from a distance but Elise is extremely flirty and promiscuous, she just doesn't flaunt it all the time. Elle is good at keeping her shit secret and good at playing it off like it is nothing. She enjoys attracting people, caring for them and loving them as she has such a natural instinct to be that figure in people's lives. Elle thinks that human touch is one of the purest gifts you can be given, and well she considers herself a fairly nice person considering she's given out that contact to quite a handful of people.

Elise is fun, outgoing, and riot to be around, but she knows how to shrink into the background and it would be as if she didn't even exist. She enjoys getting reactions from people in the best way possible and she only does things to make others feel better, or to help them heal. Her biggest passion is healing people whether that be physically or emotionally. Elise is just very pure in the fact that she wants to see people succeed or she wants to see them achieve everything they ever thought they would, so naturally she has no problem playing second string in comparison to everyone else because everything she wants to achieve is already being done.

This could probably be why the sorting hat placed her in Hufflepuff right away.

The only downside to Ellie is the fact that she has a short fuse, so once you spark it she is quick to spiral into anger and rage. She can turn into screaming fits or physical aggression. She is the last person you want to piss off because she will yell, call you names, and basically just be a moody B word to anyone who comes in her path. Part of it is fuel from being half veela, the other is purely just her personality.


---
---
███████████████████████████████████████████████████████████████████████
---
---

B L O O D

X

S T A T U S
Half Veela and half witch. (Pureblooded witch on her dad's side.)

W A N D
Holly wood, veela hair core, and 12 inches. It is a shame she has such a nice wand, because she usually loses it all the time. Watch her tear apart the common room looking for it.

P A T R O N U S
Unknown.

H O U S E
Hufflepuff (Transfer student from Beauxbatons.)

B O G G A R T
Being covered in millions of spiders that grow in size the more you swat at them.

F A M I L I A R
Netherland Dwarf rabbit named Gin.

S P E C I A L I Z E S

X

I N
Healing.

T A L E N T S
Crocheting, cross stitching, fluently speak two languages, herbology, and dancing.

S T R E N G T H S
Defensive battle, healing, care taking, and endurance.

W E A K N E S S E S
Loud mouth, not quick on offensive, loyalty to her friends and family, strength, and being slightly gullible.

---
---
███████████████████████████████████████████████████████████████████████
---
---