---
---
███████████████████████████████████████████████████████████████████████
---
---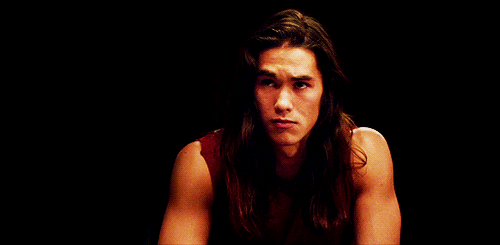 "Looks can be deceiving..."
---
---
███████████████████████████████████████████████████████████████████████
---
---
F U L L

X

N A M E
Shane Xavier Montgomery

N I C K N A M E (S)
Shay, Monty, Xavi

B I R T H D A Y
June 18th

A G E
17

Y E A R
Seventh

S E X U A L I T Y
Omnisexual

E T H N I C I T Y
Japanese, Chinese, Korean, and Caucasian mix

H O M E T O W N
New Castle, England

H E X


#802e45
---
---
███████████████████████████████████████████████████████████████████████
---
---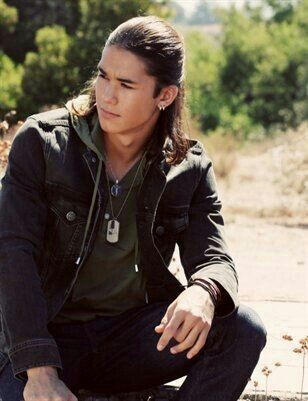 S T Y L E
His style isn't much to note, he wears what he wants, when he wants outside of classes. Anything with color, whites and grays, but more than not he can
be seen in black, patterns, especially layers such as jumpers, sweaters, jackets, and whatever else he feels like in the mood to wear. He isn't exactly one for fashion, but he does try his best, often coming off as boyish. Anything including skinny jeans and t-shirts, and jackets such as leather and pullover sweaters tend to be his go to clothing-wise. But on the occasion for a party or formal gathering, Shane is one that knows how to dress to impress.

H E I G H T & W E I G H T
5' 11" | 180cm | 154lbs | 70kg

A P P E A R A N C E
Shane's build is what many would describe as a twig with muscle, which caused many of the teachers to recommend that he tried out for Quidditch, but after adamantly saying he wasn't into sports they left it well alone. He's not very tall being around average height for his age. Much like many people his age he can eat and eat and put hardly any weight on, hence his rather small frame, except for his arms and legs which is where most of his natural muscle is found. His dark mousy hair contrasts against his darkened toned skin with his even darker eyes, almost highlighting the dark and sunken rings under his eyes. He in a sense is highly and conventionally attractive, full lips, strong jaw, and bright, friendly eyes put him on the more attractive end of the scale.

His hair is constantly messy either when let down and passed their shoulders, or is tied up in a tight pony-tail. By the end of the day Shay's hair is constantly messy as he is normally seen messing with his hair throughout the day. As for general looks, he basically screams the stereotypical young homosexual male stigma, or at least a more masculine type, maybe a combination of either. As Shane isn't afraid of representing his sexuality or gender, as he often has a bracelet or some other apparel like a necklace or what have you, with a flag or color combination on him in some manner. If someone doesn't like the way he carries himself, then they can speak to Shane personally. He spent much of his life hating himself for how he identified, and now they aren't going to have anyone else make him feel less of a person.
---
---
███████████████████████████████████████████████████████████████████████
---
---

L I K E S
Cooking, wherever Shane is, you can be sure that he is either thinking about what to make, or is already cooking away in the kitchen in his free time // Music, singing and dancing, considering that he's one that can never stay still for long periods of time, it's never a shock that he loves all things that involve music // Shiny and fancy things, he's easily entertained and loves most things that have a shiny texture or appearance // Tea, especially the light and sweet ones that smell likes flowers // Animals, it doesn't matter whether big or small, or cute or scary, Shane loves them all especially the cute and fluffy ones // Sweets, he has a major sweet tooth and adores anything from basic sweet to cakes and muffins, as well as the sweets he can find since coming to the magical world // Chocolate Frogs // Meditating, it helps keep his head clear // Silence // Being well left alone // His personal space being respected // Being respected by others // Leadership, especially if he's in charge // Spell casting, he spends almost a concerning amount of time practicing his magic //

D I S L I K E S
| Liars, it shouldn't be shocking that he hates liars and being lied to. He has a history of people constantly lying to him, and it has caused him to be as guarded and distrustful of people unless he's known them for a long time | Authority, for the post part. He hates adults and being forced into doing something he doesn't want to do, often rebelling against orders which gets him into trouble rather often than not | Laziness, seeing as he is often working out or training or out in the field, he hates being seen as lazy or not moving for long periods of time | Shane despises being misunderstood or judged based simply off of his lack of interaction with others | Blood, he can handle some blood, but when it's an egregious amount if causes him to feel light-headed and sick to his stomach | Closed in spaces, he doesn't know why but whenever he gets locked away or forced into small spaces his fight or flight instincts kick in |



---
---
███████████████████████████████████████████████████████████████████████
---
---
P E R S O N A L I T Y

Contrary to popular belief, Shane is very much so a massive introvert and his people skill is severely lacking in every sense of the word. He doesn't really know how to talk to people despite how he was raised and how high of a status he was born into, he doesn't do well when pressured or being bothered by most people he meets, choosing to remain silent and in the corner when in a crowd of people, or enough people to where he can blend in easily in the background. While most people would consider him an arrogant, selfish asshole, those who can break passed his barriers and walls that he's guarded himself with, they can see that he is actually rather kind and caring, but just chooses to keep himself walled off from most people as a way of keeping his circle of people small as well as keeping others safe as he finds himself to be a burden and a bad omen.

When it comes to people that he ends up having feelings for, either platonic or romantic, he will gladly protect them with his life and make sure they have a roof over their head and a full stomach and a warm place to sleep for the night. He refuses to get into other people's business and drama, as nothing good ever comes from digging into things he doesn't belong, he wouldn't turn away someone that truly needs help. Once people can see that he isn't a total ass, he can be rather caring and good to keep around as he is genuinely caring and wants what's best for people, just that he finds himself as too much of a danger for others to be around.

Shane is one that is quick to anger and being all too easily pissed off if one says the wrong thing, or seems to be nothing but trouble. When he is angered even by the littlest thing such as something being out of place or lost he will usually take a few minutes to calm himself down and recollect his thoughts. It is usually best to simply walk away and let him be when he is angered as touching him or trying to talk to him can usually be the last thing that one would want to do as he tends to physically lash out which can end with someone getting hurt and when his mind is cleared he would feel terrible and after making sure the person was okay that they should just leave and never see him again. While in reality he simply wants someone to tell him that he isn't really a monster or cursed, all that he really needs is a guiding hand that can help tame the darker side of him that he feels constantly brewing deep inside of him.

He isn't exactly sure why, but part of his past is entirely unknown to him and everyone else. He can only remember so much, and it's typically to only a few years when he first arrived at Hogwarts. He's tried everything to get his seemingly lost memories back but nothing has been able to summon what time he's somehow lost. He can't help but feel like part of himself is missing and he doesn't entirely know how to feel about it, like something important of his life was robbed from him and he'll never be able to find out what it was. Even if it is something he shouldn't uncover, he can't help but try to figure out what he's missing from his memory..



---
---
███████████████████████████████████████████████████████████████████████
---
---

H I S T O R Y
Not much of Shane's younger years before he first attended Hogwarts is known, at least not to him for a large part. It's almost as if time itself was snipped out of his memory and nothing remains of life before he was eleven years old. At least most thing, some are hazy, faded memories that seem like a dream to him and he often questions if anything he even remembers are real or if they were all simply dreams made up from an overactive memory. But for as long as Shane can remember, he spent the majority of his early years moving from orphanage to orphanage until he landed in a small family in New Castle, England, with his current adopted family.

Being raised by a muggle family with a middle class status wasn't a bad thing, as he had most things he could want as a child. but when his magical abilities finally began to make themselves known, his family didn't know what to do and were quite frankly scared of the new revelation that the child they adopted was somehow a wizard and could make things float and shatter simply at the will of his mind. His questions for the most part were finally answered as the answer came in the form of a letter to a school known as Hogwarts, which was a place for people like Shane. A place where he could attend school, get a proper education, and learn to control his abilities. His foster family didn't know what to think at first and thought it was simply a joke before a knock came at the door, and two figures greeted them with smiles. Introducing themselves as Septima vector and Neville Longbottom, two professors sent from Hogwarts to bring properly invite their child to said boarding school.

Shane's parents didn't know what to think at first, but after the two magic users confirmed that he would be safe and well looked after and be made certain that he would be able to learn how to control his special gifts, as well as try to help figure out who his parents were. With a promise like that, Shane had no choice but to go. To try and figure out who he was, as well as his parents, and with the truth of being a wizard, how could he say no?

Years had passed and Shane had learned far more than he had expected, but mainly in the studies he had taken in his seven years at Hogwarts. Between making friends, however few he may have made, to learning to control his powers and abilities, specifically spell casting and dueling, something he had an unnatural talent for even at a young age. Shane has excelled in his studies and plans on becoming an eventual professor at the school, if not an Auror when he graduates. But even with all of the knowledge he's gained, he can't help but feel like something is missing. Like part of himself, just as much of his history itself is missing. All he's been told is that his birth parents had been killed by former Death Eaters and that is all they were able to gather, not even knowing the identities of his parents. Something, that he feels isn't entirely true...

---
---
███████████████████████████████████████████████████████████████████████
---
---

B L O O D

X

S T A T U S
Muggleborn (Presumed) | Pureblood

W A N D
Hawthorne, Unicorn Hair, 10", reasonably springy

P A T R O N U S
A black-bear

H O U S E
Gryffindor

B O G G A R T
Himself with blackened, hallowed eyes

F A M I L I A R
Shire, his black cat from first year.

S P E C I A L I Z E S

X

I N
Spell casting, Dueling, and Transfiguration

F A V O R I T E

X

C L A S S
Ancient Runes

T A L E N T S
Dancing, he's rather good at it despite people never knowing it as he is rather shy about other people seeing him dance, unless alcohol is involved // Parkour, Shane spent much of his time running across buildings and around his home town as a means of keeping himself in shape // He knows how to play the electric guitar and even brought it with him to Hogwarts //

S T R E N G T H S
Shane is a strong spell caster and is able to cast silent spells without a wand // He has a strong sense of determination and focus, he knows when to get the job done // Reading, he spends much of his time in the library // Puzzle solving, he's able to read ancient runes and languages //

W E A K N E S S E S
The fact he gets scared easily, anything from a simple bump in the night to seeing someone get injured causes him to begin to hyperventilate and panic // Shane's natural leaning towards reckless behavior, and borderline dangerous ideas of fun, it isn't surprising for him to act on instinct instead of thinking things through first // His anger, he's prone to outspurts for no apparent reason // The fact he doesn't remember much of his past and what he does remember aren't good memories, he constantly feels like he doesn't know who he is // He can't fly on a broom to save his life //

A N I M A G U S
Due to his knack for Transfiguration and love of trickery, it wasn't a shock when he said that he wanted to learn and hone the skill as well for himself. He took on the form of a medium sized black wolf and often shifts into his animagus form whenever he goes about the grounds of Hogwarts.

---
---
███████████████████████████████████████████████████████████████████████
---
---