---
---
███████████████████████████████████████████████████████████████████████
---
---
To Die, To Sleep. To Sleep, Perchance, To Dream.
x

Monster - Walking On Cars
Never Enough - Loren Allred
Bury A Friend - Billie Eilish
---
---
███████████████████████████████████████████████████████████████████████
---
---
F U L L

X

N A M E
Skye Sakura Maeda

N I C K N A M E (S)
Mae

B I R T H D A Y
October 19

A G E
16

Y E A R
6

S E X U A L I T Y
Demisexual, Panromantic

E T H N I C I T Y
Half Japanese, half English

H O M E T O W N
London, England

H E X
speech;

#5b2026

| thought ;

#205b55



---
---
███████████████████████████████████████████████████████████████████████
---
---

S T Y L E
Skye's style seems to be constantly shifting, changing. But there's one thing that's always constant, and that's that she's a rocker at heart. Her eyes are often rimmed with dark makeup, drawing attention to those dark eyes. She loves ripped denim, leather, and dark colours. When in her uniform, she expresses this with her makeup and her jewellery, going as brave as she can get away with. When she's out of her uniform, she can wear anything from graphic band tees, ripped jeans, and leather jackets to tight, revealing tops, leather trousers, and heels.

H E I G H T & W E I G H T
5'9", 140lb

A P P E A R A N C E
Skye is a metamorphagus, meaning she can change her appearance at will. However, she tends to stick to the same appearance the majority of the time, mostly to keep the staff off her back. Skye's dark, almond shaped eyes are what most people tend to notice about her. Her skin is a light brown all year around, darkening to a bronze when she spends a lot of time in the sun. Her hair is naturally dark brown, but she frequently plays around with the colour. At the moment, she prefers to rock a blonde bayalage, but it's not uncommon to see her with pink or blue hair. When she isn't in school, she likes to make tattoos appear on her skin. She particularly likes animals but it varies depending on her mood. Her appearance can also change subconsciously depending on her mood, especially her hair and any tattoos.

---
---
███████████████████████████████████████████████████████████████████████
---
---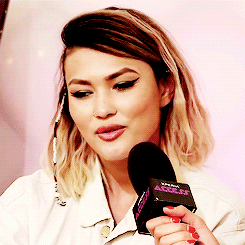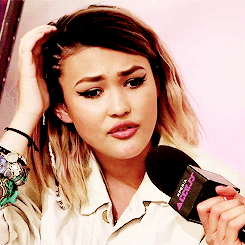 L I K E S
As Gryffindor Team Captain, it's no surprise that Skye adores Quidditch. She's frequently found listening to rock music, but also loves 80's pop. When she can get away with it, she loves her bright coloured hair. When it comes to her clothing, she sticks to black and grey. She's almost always sporting black nail polish and eyeliner. When it comes to people, she is always drawn to aftershave and perfume, that being the trait she most frequently notices about people. She likes people who are unafraid to be themselves. She loves iced coffee and has perfected her own recipe for it.

D I S L I K E S
She hates regular coffee for some irrational reason. She detests bigots and hypocrites and isn't afraid to say so. Roses are strongly overrated in her opinion, especially the smell. Fish turns her stomach. She really isn't a fan of opera or death metal. She hates being judged by her appearance, especially given how easily she can shift and change it. The pressure her mother puts her under has nearly driven her to ruin on more than one occasion.

---
---
███████████████████████████████████████████████████████████████████████
---
---
P E R S O N A L I T Y
Skye is a Gryffindor to her core. The Sorting Hat barely had to touch her head before it declared her to be among the brave of heart, and it isn't difficult to see why. Skye was the child confronting the bullies, the girl chasing away the angry dog, the student who climbed up a tree to retrieve a ball. She's got an extremely black and white sense of right and wrong, and was raised to treat everyone equally, regardless of who they are. She's bright and unafraid of hard work, but she can play just as hard, especially when it comes to Quidditch. She's loyal to a fault, and will stand by her friends until the very end.

Her biggest flaw is the mammoth chip on her shoulder. The youngest of four children, she's constantly being compared to her siblings. No matter what she does, she never seems to be good enough. She's not as brave as her eldest brother, who confronted a rogue Hippogriff and won. She's not as good at Quidditch as her other brother, who led the house team to victory in his fifth year. She's not as smart as her sister, who consistently got straight O's in her exams. Skye feels like she has something to prove, and this leads her to danger. She feels like she has to prove herself as a Gryffindor. She pushes herself far beyond a safe point. During her OWLs, she worked herself to exhaustion and collapsed immediately after her final exam. Being as good as one of her siblings is never good enough, she has to match them all.

She's stubborn and arrogant on the surface. She's stubborn and deeply insecure deep down. She's constantly comparing herself to everyone around her and to everyone in her life. Her father was her rock, the only person who believed in her, who really knew who she was. She came out to him before he died, and he's one of the only people who knows. Her mother disapproves of Skye's blatant use of her metamorphagus abilities, disapproves of her NEWT subject choices, of pretty much everything she does. Skye's fraying at the edges from the pressure. She's finding it harder and harder to believe that anyone can ever really love her, that anyone even really likes her.

---
---
███████████████████████████████████████████████████████████████████████
---
---
F A M I L Y
Rose Maeda | Mother | Alive | 48
Maeda Saichi | Father | Deceased
Hiro Maeda | Brother | Alive | 25
Hazel Maeda | Sister | Alive | 22
Arthur Maeda | Brother | Alive | 20

---
---
███████████████████████████████████████████████████████████████████████
---
---

H I S T O R Y
Rose and Saichi met at a conference in London and fell in love almost immediately. They were married within two years. They had always wanted a big family, and their careers were secondary to this lifelong dream. Both came from a rich family and both had the money to give up work. Both were at home for the early years of their first three kids. However, when Skye was three, Rose decided to go back to work. Her older siblings were in school, so Skye had lots of time with just her father. They were incredibly close as Skye grew up.

His third year in Hogwarts, Hiro dealt with a Hippogriff that went rogue and escaped without injury. Arthur was made team captain of the Quidditch Team in his fifth year. Hazel achieved straight O's in her OWLs with what seemed to be minimal effort. So by the time Skye started in Hogwarts, the Maeda name meant something. Skye had big shoes to fill; and it seemed that she didn't even fit in any of them. She was brave, she was good at Quidditch, and she was bright. But she wasn't as good as her siblings, it seemed. She was encouraged to find her own path, but it seemed that her mother wanted more. She felt that Skye was a disappointment.

But the support of her father helped her get through it. Her father took pride in everything she did. He never compared her to her siblings and cherished her as she was. A metamorphagus himself, he'd turn his hair the same colour as hers to make her laugh, he'd duel her to help her improve, he'd give her tips on her aim with Bludgers. So when she found out he was sick, she was destroyed. She spent as much time possible with him. She was doing her OWLs at the time, and this stress only added to it. She collapsed after her final exam due to exhaustion. She came out to her dad a few days before he died. This is her first year going back to Hogwarts without his steady support, and she's more worried than she wanted to say.

---
---
███████████████████████████████████████████████████████████████████████
---
---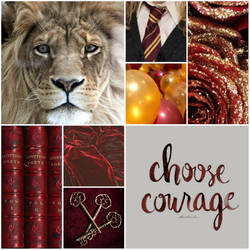 B L O O D

X

S T A T U S
Pureblood

W A N D
Ash, dragon heartstring, 11 inches, unyielding

P A T R O N U S
Lioness

H O U S E
Gryffindor

B O G G A R T
Her friends and family saying they never loved her.

F A M I L I A R
Koneko

S P E C I A L I Z E S

X

I N
Metamorphagus, Transfiguration

F A V O R I T E

X

C L A S S
Transfiguration

T A L E N T S
Quidditch | Transfiguration | Duelling | Charms | Deception | Debating | Eloquent | Multilingual

S T R E N G T H S
Quidditch | Transfiguration | Spellwork | Duelling

W E A K N E S S E S
Insecure | Hot-headed | Stubborn | Cannot read Ancient Runes | Divination

---
---
███████████████████████████████████████████████████████████████████████
---
---