---
---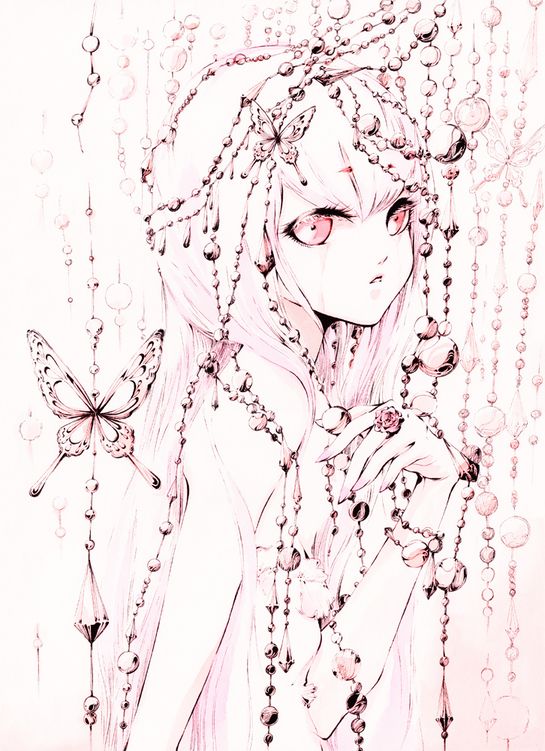 Age:
Eighteen
Year:
Seventh
House:
Gryffindor
Specializes In:
Dark Arts / Charms
Wand:
Rowan
/
Phoenix Feather
Patronus:
Unicorn
Pet:
Owl [
Remi
]
---
---
Gender:
Female
Nationality:
Caucasian / Korean
Sexuality:
Pansexual
Romantic Interest:
TBD / Open
Height:
5'0"
Weight:
95 Pounds
Eye Color:
Light Pink
Skin Type:
Very Pale
Build / Appearance / Clothing:
Lilyanna is very small and petite. She appears almost as if the find blew it would take her with it, she is a skinny little thing. She has long white hair that is slightly tinted with pink that hangs down to her ankles, the front of her hair layered and shorter hanging only to her waist. She is very fair skinned, with a perfect complexion. Her eyes are large and doll like, and pink in color, with long thick lashes. She seems to lack any kind of color in her cheeks, unlike most people, and doesn't use any kind of blushes to make up for it. Lily wears various types of dresses, all of which are usually tight fitting at the top and looser or flowy at the bottom. The colors are always white or pastel colored with various types of lace or semi transparent parts. Because she has no interest in heels she wears an assortment of flats which she usually decorates herself. In her hair you will usually find butterflies of some kind or various beads, barrettes, and decorations. She also has a tendency to wear a lot of bracelets and anklets. Half of the time they are too big for her wrist and dangle about. Lily has various piercings on her right ear, some of which are studs and some of which are rings. She changes the colors to fit what she is currently wearing. She additionally has her left eyebrow pierced.
---
---
Personality
Lily is someone people would refer to as strange or socially unacceptable at times. She is kind of awkward to most. She looks at the world as if she has never experienced it before, always seeming to find the beauty in things people seem to think aren't there. She is overwhelmingly curious and constantly is trying to think out of the box to the point people think her to be some kind of insane. She is very sporadic and can be impulsive in her actions, mostly when she wants to do something she thinks would be enjoyable. She is very timid, a generally mellow individual however, when she is excited about something it is all she can focus on and the rest of the world dissapears and she turns into another individual. The room could be on fire and she wouldn't have the slightest idea. While Lily is very knowledgeable intellectually, she is very naive and can seem quite childish. She is overly trusting and gets easily attached to people regardless of how recently she has met them. She is very sweet, and has this overwhelming need to save the world and everyone in it, often spreading herself too thin. Lily is very stubborn however, she has a hatred for authority or anyone who tells her what or how to do something. She is a repetitive and blatant rule breaker and always has been. Though her intentions are never really anything to fret about. Lily has a photographic memory with the inability to forget anything, thus she finds most classes boring unless she is engaging herself in it with hands on things. Lily doesn't seem to have any shame and isn't shy at all. She has a tendency to get into people's personal space and be touchy feely and is completely oblivious people don't like it. She also could care less about what people think about her, she believes other people's opinions about herself to be irrelevant
(or this is at least what she's led people to think)
. Though she is fragile, she is quite strong. She can be a force to be reckoned with and nobody ever sees it coming.
Lilyanna is determined to the point of almost obsessive behavior. When she has an objective she is extremely driven and this is complimented by her strong work ethic. She has a strong sense of loyalty to those that she cares about that is unwavering and often cannot be understood by others. She has a mentality that will take her to the grave with someone she considers a loved one. She generally tries to devote herself in every way possible to people she considers important. Lilyanna though she may not project this to others, is very sensitive. She does a good job of hiding this which has caused her to develop a sense of anxiety and emotional instability. While she comes off as a very strong individual (though incredibly naive), she to an extent is someone who needs to always have someone to depend on, as she ends up getting into a lot of trouble whatever it may be, and tends to not understand why people do the things that they do. Should she have no one to be there for her to pick up the pieces of her realistically fragile self, she would have lost her mind a long time ago. Usually when she feels like she is hurt and doesn't know how to deal with herself, she ends up alone raging, crying, and breaking whatever is around her. She has yet to be caught doing this, however.
History
Lily grew up in somewhat of an unorthodox family. She was a pureblood but her parents raised her not to take up the traditional pureblood beliefs and raised her not to think herself superior to others or chosen in any way. They didn't want her to grow up thinking down upon muggles and those not of pure blood, thus they alienated themselves from that society, and became outcasts to them. Though originally her mother and father were very powerful and prestigious wizards, they are both now completely shunned by their fellow purebloods. Lily was raised on a farm in the muggle world so that her parents could give her the proper morals but could educate her without being bothered by others. She grew up with information constantly being drilled into her head, and her parents dragging her about back and forth between the muggle and wizarding world. When her parents found out she had a photographic memory, they let her learn more freely as she took to information and knowledge quite naturally. Her mother was very generous and caring, very polite and well mannered, and her father was a kind man though very secretive. Her mother would say he had a death wish as he seemed to gravitate towards danger. When she got older she didn't see much of her father, and it was usually her mother and herself. She would soon learn her father was an auror and she became obsessed with learning about them, preaching she would be one someday.
In the muggle world, Lily spent a lot of her time outside 'exploring' or so she would call it. She was very at home around nature, and animals would take to her naturally. She didn't really have any friends and people tended to shy away from her, but she was usually oblivious to this. She would also spend a lot of time in Diagon Alley with her mother, where she would lose herself in Flourish and Blotts, Magical Managerie, and Eelops Owl emporium. When she finally started her years at Hogwarts she found herself engrossed in the whole environment. She absolutely loved learning, every class was interesting to her, the place was beautiful, and the creatures she came across would always amaze her. She however, began to get bored in her classes and generally breezed through every class like it was nothing. She has till this day, yet to get anything wrong on a paper or test, always having perfect marks in everything. What she excelled in was defense against the dark arts and charms. She was also very proficient in potions but her interests generally lied elsewhere.
Throughout the years Lily never made many friends though this didn't seem to bother her. She spent a lot of time trying to educate herself in various different ways. She always had an optimistic attitude towards everything in Hogwarts and thoroughly enjoyed every day there. From the start Lily found herself getting into lots of trouble, finding the need to go everywhere she was told not to, this has put her in several near-death experiences that she doesn't really talk about. The teachers find teaching her bittersweet as she is an excellent student and soaks up knowledge like a sponge but is hard to control. They say she is like her father and has some kind of obsession with danger. Some of the teachers say that they fear for her overwhelming curiosity. Though she doesn't have many friends she is often someone people go to when they want help with their work or if they need a partner for something. People otherwise have a tendency to treat her like the odd one out, but she has yet to notice this. It at some point spread around the purebloods of the school that her family had left the wizarding world to live among the muggles and wanted nothing to do with that society, and she started to get picked on often or even harassed. It would not be uncommon for an unruly pureblood to raise a wand to her. She however, has till this day gotten the best of those situations, this resulted in people ganging up on her in numbers, however.
Family
Mi-Young Mihn / Mother / Pureblood / Mazoolagist / Former Ravenclaw
Alex Diem / Father / Pureblood / Auror / Former Slytherin
---
---
Likes
Food / Candies / Sweets / Snacks
Music
Singing
Nature / Butterflies
Nighttime
Books
Snow
Stories
Photography
Charms
Spells
Things competitive in nature
Quidditch
Flying
Strengths
Brave
Determined
Loyal
Hard working
Open minded
Talents/Skills
Photographic Memory
Strategic / Intelligent
Quick witted
Excellent with charms
Best known for her extremely strong Defense Charms
Excels in things related to Defense Against Dark Arts
Is very fast / Agile
Musically & vocally talented
Quirks
Is usually found snacking on something
Always has food with her
Singing softly when doing work
Humming to herself when walking around
Will try to rescue anything and everything
Will not drink anything that isn't cold
Will not eat food items that have touched each other
Doodles randomness on anything when bored
Will eat anything
Has a habit of taking bites out of food people are holding
Will help herself to food on people's plates
Dances to songs in her head
Deathly afraid of bright happy face stickers
Has to arrange things properly in regards to size/color/shape
Dislikes
Summer
Authority
Limitations
The closed minded
Animal cruelty
Being wrong
Bullies
Flaws
Naive
Very trusting
Dangerously curious
Physically fragile
Extreme emotional attachment clouds her judgement

Fears
Losing a loved one
Being powerless
Yellow smiley faces
Pictures with eyes that 'follow' her.