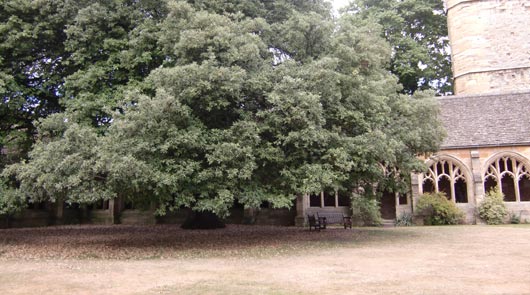 ---


The outside courtyard that leads to many places, depending on which way you take. This is also one of the places students tend to chat around.


---
---
---
---
"Tired... Work... Work... Oh what fun."
Petra murmured as she sat herself outside in the school's courtyard, placing herself on one of the benches. Lucky for her school hadn't just started yet, so she had no need to rush to her classroom. And that meant one thing; she could drink.
The woman would take any opportunity given to her where she could sneak in a drink of wine, beer, anything that had to do with alcohol. Yeah, perhaps she wasn't the best role model, but she never encouraged others to drink and was a very trusty person when she would be needed in any serious situation. But in the mean time, she's really just any childish woman who has a drinking problem.
With a great sigh, Petra placed the small and thin textbook for Defense Against the Dark Arts on top of her face, murmuring various complaints about her job. Well, of course Petra loved her job and students, but perhaps sometimes she got a little too stressed out at times,
"Oh, perhaps I should just quit one day. I'm too old to do things like this."
She whined as she leaned her head backwards.
Petra was still young actually, but laziness was one of her greatest flaws. She didn't want to do certain things, and when she had to do something she didn't want to do, of course she'd get a little out of hand.
While she had the textbook in her left hand which was keeping the textbook over her face, covering up the sun that was already so bright, despite it being early morning, in her right hand was a can of beer that she had intended to drink that morning if it weren't for her having to grade a bundle of tests that she forgot to take care of the day before. It wasn't even open, surprisingly, and honestly, in the condition she was in, it really did look like she needed a drink.
---
Jemima skipped down the hallway, getting to the potions classroom quickly, but not too quickly. There wasn't much need to rush. She swatted her hand when Ayumu said she should go.
"I told you, it's fine! We're going to the same class anyway!"
She grinned and pointed at the Potions classroom door. They'd arrived quickly, and the bell had barely finished ringing.
"Let's slip in and get your books!"
She grabbed his hand and opened the classroom door quietly, as people were just coming into class. They picked up the book and left quickly. Classes would start in less than a few minutes, so they'd best use a trick Jemima had up her sleeve. She made sure no one was looking, and pulled aside a tapestry on the wall. She pulled Ayumu inside and smiled.
"My mum found this passage in her last year, after collecting lots of rumors and clues and stuff. She was in Ravenclaw. I use this in emergencies, and being late for Mr Sou's class is definitely an emergency. I'm assuming you've discovered one of the more strict teachers in the school?"
She smirked and beckoned.
"Come on! This corridor doesn't come out in the Quad!"
She turned forward and scampered quickly up the steps.
The passageway came out behind another tapestry, of a very smug looking wizard. Jemima looked around, got her bearings, and ran down the corridor. They came out a level above the ground floor. Jemima walked down the stairs quickly, Ayumu following. She saw a peachy haired boy go pas them, then turn around. It was Jared, an older Hufflepuff. Jemima smiled briefly at his sort of compliment, and grabbed Jared and Ayumu's hands. "
Jared, Ayumu, Ayumu Jared. Late. Transfiguration. No time complete sentences. Run."
She pulled them along somehow, and ran them both to the quad, whether they liked it much or not. They were late, but hopefully not too late. They got to the Quad after much running and student dodging, and arrived just in time. Jemima panted, and bent over, leaning on her knees, exhausted by the sprint. They'd arrived in time though it seemed. A trickle of students were arriving, but most appeared to be finishing off breakfast or something. At the thought of breakfast, Jemima's stomach grumbled. She looked into her satchel. She had backup in case of times like this. She pulled out three bacon sandwiches.
She handed one of the glad wrapped pieces of food to both Jared and Ayumu.
"Here, have this. No doubt you guys are hungry. It's a little cold cos it was made last night, but it still tastes good. Hogwarts kitchen elves can't be beat."
She smiled, and bit into her own sandwich. As Jemima ate, she saw a taller woman lying on a bench with a book on her face. It was Ms Gordon, one of Jemima's favourite teachers. She walked over and sat on an opposite bench, near the top of Petra's head. She chewed her bacon sandwich, swallowed, and held one out to the teacher.
"Want a sandwich? You'd better eat it on the go or you'll be late to teach your own class."
Jemima smiled although Petra couldn't see her. There was something about smiling that meant you didn't need to see the face to know someone was smiling.
---
The grey sky had opened up and when Claire and Xing came out into one of the hallways bordering the Quad sunlight was shining into the open grass courtyard. The air was still crisp though and Claire adjusted her scarf against the cold before hopping over the sill of one of the many stone arch windows; Xing, no doubt, made a disapproving look at this unrefined behaviour and walked the rest of the length of the hall to enter the courtyard via the proper archway entry.
"I was just scouting ahead,"
Claire said with a smile by way of an excuse.
"All clear. No danger here, apparently. Much like most of the trip here. Although, that lost Gryffindor first year may have been some sinister suspect in disguise, so I apologise for not hexing him. But, back to the situation at hand, it even seems that you're the only Slytherin student here so far."
The bell for class had sounded just moments ago, which meant that technically Claire and Xing were a few minutes late, but it appeared that they would not be last to a class which hadn't quite started. Professor Gordon was sitting on one of the benches looking tired and a little frazzled with a textbook in one hand and a plastic wrapped sandwich in the other. JJ was also there with the second year Jared and another Hufflepuff boy, a first year whose name Claire hadn't yet committed to memory.
Claire strolled over to the bench and dumbed her bag on the ground beside it.
"Hiya JJ, causing trouble?"
she said as her regular greeting to her friend.
"Morning, Ms Gordon,"
she added peering at her teacher before turning back to her housemate.
"You been harassing the kitchen staff?"
she teased harmlessly, indicating towards the plentiful supply of delicious-looking bacon sandwiches going around.
"Oh, by the way. JJ, Mr Xing Hei. Xing, Jemima James."
She gestured rapidly between the two students as she made the introductions.
"And company,"
she waved vaguely at the other Hufflepuffs.
"So, what are we doing in class today and who do I get to practice on?"
---
3 posts here • Page 1 of 1