---
---
When a young witch or warlock reach a certain age, their envelope surely comes in the mail that they have been accepted to the most prestigious wizarding school known as Hogwarts.

We are pleased to inform you that you have been accepted at Hogwarts School of Witchcraft and Wizardry. Please find enclosed a list of all necessary books and equipment. You may also bring if you desire an owl, a cat, or a toad. The term will begin on September 1st though we'll expect you on campus by August 30th. Cannot wait to see you for another year at Hogwarts.



Here are the schools you may transfer from if you want:


Sarina Dorie (France)
Fukuoka Daiichi (Asia)
King Cove (America)



The Plot


It's now 2016 and once again Hogwarts has been attacked by the Death Eaters. They are hoping to in turn kill the new Headmaster in order to gain control of the school and to kill all of the muggleborns and half-bloods. Unbeknownst to many of the professors and students, death eaters are lurking within the school walls with the rest of the students and professors. Who can you trust? How do you know who you can trust?

Also, every student will be punished for going into the Dark Forest, disobeying any of the Hogwarts rules, etc. No students will be given special treatment.
---
Name || Age || Head of Gryffindor || Potions || Blood Status || Holly Marie Combs || Open
Name || Age || Head of Slytherin || Defense Against the Dark Arts || Blood Status || Katie McGrath || Open
Name || Age || Head of Ravenclaw || Magical Creatures || Blood Status || Ian Somerhalder || Open
Dillion McQueen || 35 || Head of Hufflepuff || Charms || Blood Status || Matt Bomer || Taken by Sunshine and Whiskey

---
These individuals possess certain traits such as: bravery, daring, nerve, and chivalry.
This house was founded by Godric Gryffindor.

Name || Age || Year || Blood Status || Debby Ryan || Open
Name || Age || Year || Blood Status || Cara Delevingne || Reserved by (1)
Min-Jun Seung || 17 || 7th || Half Blood || Kim Yu Kwon || Taken by Arrow-
Kai Bolton || 16 || 6th || Half Blood || Max Schneider || Taken by Zoey26123

---
These individuals possess certain such as: ambition, cunning and resourcefulness.
This house was founded by Salazar Slytherin.

Veronika Orlov || 16 || 6th || Half Blood || Darya Dogusheva || Taken by lightningpoint
Kenna Posey || 16 || 6th || Pure Blood || Janel Parrish || Taken by Sunshine and Whiskey
James Parker || 16 || 6th || Half Blood || Ki Hong Lee || Taken by SarcasticZombie
Luke Jordan || 17 || 7th || Muggleborn || Alex Pettyfer || Taken by Zoey26123

---
These individuals possess certain such as: intelligence, knowledge, and wit.
This house was founded by Rowena Ravenclaw.

Brooklyn Anna Maria || 16 || 6th || Pureblood || AnnaSophia Robb || Taken by Zoey26123
Myrra Blake || 17 || 7th || Pure Blood || Victoria Justice || Taken by KazeNoKitsune
Name || Age || Year || Blood Status || Dylan O'Brien || Open
Mitchell Pine || 17 || 7th || Muggleborn || Taylor Lautner || Taken by Sunshine and Whiskey

---
These individuals possess certain such as: hard work, patience, loyalty, and fair play.
This house was founded by Helga Hufflepuff.

Name || Age || Year || Blood Status || Maisie Williams || Open
Sara Park || 16 || 6th || Half Blood || Arden Cho || Taken by SarcasticZombie
Name || Age || Year || Blood Status || Dylan O'Brien || Open
Andrew Powell || 16 || 6th || Half Blood || Max Barczak || Taken by συιʝα

---

Name || Age || Year || Pure Blood || Avan Jogia || Gryffindor || Open
Ayria Blake || 17 || 7th || Pure Blood || Nina Dobrev || Hufflepuff || Taken by KazeNoKitsune
Name || Age || Year || Pure Blood || Imogen Poots || Slytherin || Reserved by (1)
Sebastian || 17 || 7th || Pure Blood || || Paul Wesley || Ravenclaw || Taken by ThatStupidPunk
---
---
Code: Select all

[center][img]Name Pic from fontmeme.com[/img]
[img]Gif[/img]
[color=hexcode][i]"Quote by your character."[/i][/color]
[hr][/hr][hr][/hr]
[left][img]Pic or Gif[/img]
[img]Pic or Gif[/img][/left][right][img]Pic or Gif[/img]
[img]Pic or Gif[/img][/right]
[size=130][color=hexcode][b]|Name|[/b][/color][/size]
Name here.

[size=130][color=hexcode][b]|Nickname(s)|[/b][/color][/size]
Nickname here.

[size=130][color=hexcode][b]|Age|[/b][/color][/size]
11 (First Year), 12 (Second Year), 13 (Third Year), 14 (Fourth Year), etc. (Keep in mind, there are only 7 years.)

[size=130][color=hexcode][b]|Birth Date|[/b][/color][/size]
DOB here.

[size=130][color=hexcode][b]|Gender|[/b][/color][/size]
Male or Female

[size=130][color=hexcode][b]|Sexual Orientation|[/b][/color][/size]
Heterosexual, Bisexual, Lesbian, or Gay

[size=130][color=hexcode][b]|Relationship Status|[/b][/color][/size]
Single? Complicated?

[size=130][color=hexcode][b]|House|[/b][/color][/size]
Role here.

[size=130][color=hexcode][b]|Blood|[/b][/color][/size]
Muggleborn, Half-Blood, Pure Blood

[size=130][color=hexcode][b]|Wand|[/b][/color][/size]
Length, Wood and Core

[size=130][color=hexcode][b]|Pet|[/b][/color][/size]
Owl, Cat, Toad

[size=130][color=hexcode][b]|Familiar|[/b][/color][/size]
Do they even have one?
[hr][/hr][hr][/hr]
[left][img]Pic or Gif[/img]
[img]Pic or Gif[/img][/left][right][img]Pic or Gif[/img]
[img]Pic or Gif[/img][/right]
[size=130][color=hexcode][b]|Likes|[/b][/color][/size]
At least five.

[size=130][color=hexcode][b]|Dislikes|[/b][/color][/size]
At least five.

[size=130][color=hexcode][b]|Personality|[/b][/color][/size]
Personality here. At least one paragraph.

[size=130][color=hexcode][b]|History|[/b][/color][/size]
History here. At least three paragraphs.

[size=130][color=hexcode][b]|Extracurricular Activities|[/b][/color][/size]
Quidditch? Part of any clubs?
[hr][/hr][hr][/hr]
[left][img]Pic or Gif[/img][/left][right][img]Pic or Gif[/img][/right]
[size=130][color=hexcode][b]|Face Claim|[/b][/color][/size]
Name here.

[size=130][color=hexcode][b]|Dialogue Color Code|[/b][/color][/size]
Code here.

[size=130][color=hexcode][b]|Writer|[/b][/color][/size]
Username here.[/center]
Reservations: In order to make a reservation, please read over all of the information given and post in the OOC. I will not take reservations through PM. Reservations last 48 hrs. (2 days). If I don't get at least a W.I.P by then, the character will then be reopened. If you need an extension, message me and I'll look into it. In order to reserve, let me know which face claim you plan on claiming along with their hex code and your favorite Harry Potter character and why, please. Also, characters are not first come, first serve. People may compete for the same face claim and the role goes to the person based on the quality and literate writing in their sheet.

Character Changes: I am willing to discuss face claim changes. Just let me know what you want changed and I wouldn't mind considering it. But just know, I will not be taking overused face claims. If you've been here for a while, you know what the overused face claims look like.

Character Sheet: Feel free to use a different character sheet if you would like to. As long as all of the information asked for is on it, I don't mind the sheet you use. If you use the one given, feel free to change it to your liking. Just keep all of the information asked on it.

Activity: If you cannot post at least twice a week, don't bother making a character. If there comes a time when you won't be able to post for a bit, let me know. As long as the reason is necessary, I'll allow the wait. But please try not to be gone any longer than a week.

Posting: I'm a quality over quantity kind of person, but that doesn't mean I want to see one liners. If you can't write at least 300 words, than this isn't the roleplay for you.
Taking place in...
3 posts here • Page 1 of 1
---
---
Hogwarts was once again full of life and though it should be an enjoyable feeling, this morning, it wasn't. A student had wondered towards the Dark Forest but their body was found on the back stairs of the castle. Another student seen the body and immediately alerted a professor, who alerted the new Headmaster and everyone in the castle was completely stunned though some mourned.

Kenna sat perched onto one of the window sills in the hallway and watched as the sun came up in the horizon. She was still a little sad that a student had lost their life so early in the new year and so early in life. Her normal demeanor may not have been very compassionate and thank god she was alone so no one saw her this way. When the sun was up and shined it's light upon the castle, everyone was beginning to stir and she removed herself from the window and waltzed towards the Slytherin common room.

Of course, everyone was getting up and getting ready for the start of a new day as she followed suit of everyone else. Kenna showered and put on a slight dash of makeup before she changed into her robes and exited the common room, making a trek towards The Great Hall, where breakfast was being held. It was the second week of school and the first Quidditch match was just around the corner, along with the Yule Ball. There was so much going on and she knew that Slytherin was going to dominate this year in Quidditch though.

Kenna sat down at the Slytherin's table and grabbed herself two pancakes, eggs and bacon then filled her goblet up with orange juice. She could literally hear everyone muttering about the recent events that went down last week. She was honestly tired of hearing about as it was even in the Daily Prophet.

Her eyes scanned around the room as she saw people filling up their respective tables, though some were sitting with their friends at their tables. The professors were sitting in their usual spot up front, where their eyes are able to see out at all of the students. Kenna looked back down at her plate and played around with her food. Only someone that truly knew her would know that something is wrong.
---
---
---
Kai groaned as he looked down at his books. It was only the second week and he was struggling with his potions class again. He sat in the library in the back corner nook that he often did. Myrra wasn't with him at the moment but he smiled at the thought of her, wondering if she would magically appear if he wished hard enough for it. He realized how distracting thinking of Myrra was and frowned as he tried to re-concentrate. Then his thoughts drifted to the fact that he shouldn't stop thinking about Myrra because she was distracting, but because he was dating Vee.

Vee... Kai thought about his relationship with Vee. She was sweet and he liked being around her, when they were alone. When they were with people she didn't really like him talking to any other girls... Kai wasn't sure how he felt about it since other people he knew in a relationship talked to everyone and they never had fights. It was confusing since he was sure he liked Vee. Didn't he? It was odd, but he just couldn't help wondering about the relationship they shared. They had been dating for a while now... A little longer than when Myrra Blake began tutoring Kai originally as a favor but eventually as a common thing.

Kai sighed again as he looked down at his advanced potions book. Kai made a note on one page as he remembered something Professor Combs had mentioned in class. Kai looked out the window at the early morning with the sun not even entirely risen. He had gone to bed early the night before after quidditch practice in order to get in the library early so he could have his work done before class later that day. Just that morning he had heard one of the younger students of Hogwarts had gotten killed. Kai couldn't help but think of the poor thing. Supposedly, a student had gone towards the Dark Forest, forbidden, and disappeared only to show up dead within the castle. It was a scary thing since the killer probably was the one to put the student into the staircase. Kai had heard about it only by seeing the Daily Prophet sitting in the Gryffindor common room. Beside him, the newspaper showed a scene of wizards and witches observing the staircase that the student had been found in. It was absolutely heartbreaking too since the student was son young.

Kai ran a hand through his hair as he tried to focus on his potions before just shaking his head and packing his things. He'd been there for nearly an hour and hadn't done anything more than stare at his book and pray that he somehow magically understood the material. Kai moved from the library casually, giving smiles and greetings to all of the people he saw in the halls so early. It was not necessarily an enjoyable feeling being up early, but it did give Kai a sense of accomplishment.

Kai smiled at the fat lady's portrait as he approached, giving the code word before stepping inside the common room of Gryffindor. Kai set the paper that had distracted him so much on one of the mahogany tables that were kept in the common room of the scarlet house of Hogwarts. Kai went upstairs to his room to grab the books he needed for his first few classes, keeping his potions book in hopes that he could borrow someone, hopefully Myrra, to help him understand.

Kai left his house and went to the dining hall where he smiled at the people he saw as he entered. Kai spotted Kenna Posey and considered going over to talk to her since she seemed somewhat distracted, very similar to how he had been earlier as a matter of fact. Kai wondered if Kenna was thinking about the poor kid as much as he was. He didn't ask her since he knew he sure didn't want to talk about it and if she was thinking about the same thing, then she sure wouldn't want to talk about it either.

Kai went to his table and took a seat next to one of his friends before beginning to pile food on his plate, laughing at a joke someone told. Kai took a sip of water from his goblet and began to eat the waffles that he nearly always did, sprinkled with powdered sugar and chocolate.

---
---
---
---

Luke smiled at the girl sitting with him, holding her hand and letting her head rest on his shoulder as they looked out from his favorite place at Hogwarts, a small room in the top corner of a mostly forgotten tower with a window that had a small balcony on it that did nothing if you actually put much weight on it. Luke looked into the girl's eyes, the beautiful green eyes with a small ring of blue around them and the dusting of freckles on her nose. She was beautiful in the moonlight and as Luke leaned in to kiss her, the moon flared up and he raised his hand to block the flash of light.

Luke covered his face with the sheets of his bed as the sun began to rise and the light filled his room. The dream vanished and all he could remember was that he had been with a girl and he was about to get some sort of action. He didn't know why, and frankly, he didn't care. He was mad that his brain felt the need to have the dream right before he was going to wake up. It was rude and uncalled for. Luke mumbled under his breath about how he was never fortunate enough to actually finish his dreams, for he had many, but never could really remember them.

Luke sat up and looked around, hunching his shoulders as his bare chest and shoulders were exposed to the somewhat cool room. It would be freezing soon but it still was comfortable as of right then. Luke ran his hands over his face before taking a look around once more. He pulled the sheets and other bedding aside so he could swing his legs over the side of his bed and stand. Stretching, Luke looked around. His roommates were either still asleep, or had already gone to breakfast presumably. Luke grabbed his clothing he was going to wear for the day before going to the bathroom and changing while getting ready for the day.

Luke eventually found himself in the Slytherin common room where he caught sight of a newspaper sitting on a chair as if it was forgotten. He looked down to see a picture and mention about the student who had died recently after some mysterious event. It was annoying that that was what everyone was most interested in. The first quidditch game was coming up and Slytherin was going to destroy. Luke refused to actually allow himself much thought about the kid. He was either a half blood or a muggle born, but it was made clear he wasn't pureblood. It was somewhat unnerving for Luke since he was muggle born and he had heard rumors of death eaters potentially being around. Luke sure didn't want to die, but he also didn't want to show the fear he truly felt.

Setting the paper down, Luke walked away without looking back at the paper. He left the common room and walked upstairs, bumping into Kaito Bolton as he walked past the paused gryffindor kid in a friendly way. He smiled at Kai as he walked backwards briefly to show it was done in jest and Kai just smiled, waving away Luke's action as if it was something they did every day. He was always so friendly and was probably too nice for his own good. His girlfriend was also extremely fine. Like, Luke would love to just be with her for a little while.

Luke finally made his way to the slytherin table where he took a seat across from and to the right of McKenna Posey, one of the quidditch players whom Luke truly enjoyed talking to. He winked at the other seventh year and smiled at her as he began to put food on his plate. "How are you today Kenna?" Luke asked as he delicately picked a piece of bacon from the plate nearby. Luke blanched for a moment as he looked for the pancakes that went incredibly well with the Hogwarts bacon and was relieved to see a somewhat used stack behind the eggs nearby.


---
---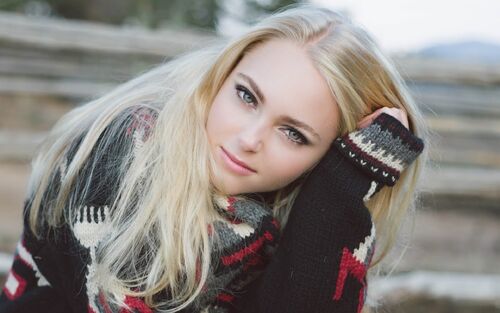 ---
---

Brooklyn looked at the clock on the wall nearby, rubbing her eyes gently as she saw how late it was. She was curled up in one of the chairs of the Ravenclaw common room in front of the fire with a book she had seen on her visit to Diagon Alley that year about a figure in the wizarding world very similar to Robin Hood. She was nearly done with the book and couldn't put it down when she only had one chapter remaining. She had been in the common room ever since she had finished her homework for the next day and the day after that in the library after her last class of the day. She had forgotten to even go to dinner since she hadn't felt hungry and was halfway done with the book. One of her friends had been kind enough to bring her back a little something so she wouldn't be starved in the morning.

She read on as she yawned and struggled to keep her eyes open. Eventually, she felt that she had no more control over her heavy eye lids and though she struggled to keep them open, they closed and she was asleep.

Brooklyn stood in the middle of a street somewhere she had never been before. She looked around confused, and freezing from the snow coming down in large flurries and making the already snowy ground even more frozen. Brooklyn began walking, looking for a way she'd recognize the place. As she continued on, she saw a cul de sac ahead and as she stepped off the main road, she felt herself glide forward in ease.

Suddenly the place she had been was gone and she was in the middle of an arena. Her foster parents were before her with blank stares and she was looking back as she performed her routine, their faces confusing her and causing her to be unfocused. She felt her ankle twist beneath her after the last jump in the routine and the cold ice on her legs and arms before she was on the floor of a dance stage doing an entirely different routine in contemporary style. She was doing a turn when she found herself in the arms of someone.

The boy she was looking up to was handsome but she didn't recognize him as his features weren't really there. She knew he was handsome, but she couldn't tell what color eyes he had or what he really looked like oddly enough. Brooklyn smiled shyly at something the guy said before she ducked her head. She found herself lost when she looked back up at him, not sure how to respond to his presence and closeness. She sees him lean in and as she does so with her eyes closed, she suddenly finds herself in a different room in Hogwarts. She feels an immense weight on her chest and the wetness of tears on her cheek. Brooklyn opens her eyes to find herself cold and alone, feeling as if she should have someone there but isn't sure who or why. She turns to the open window and leans against the frame, allowing herself to sink to her knees. She feels a tap on the shoulder but shakes her head, hurt and frustrated with who ever it was for some reason or other.

Brooklyn felt a second light shake on her shoulder but wrinkled her nose as she turned away, trying to continue her sleep, entirely unaware of the dreams that had just raced through her head. She opens her eyes sleepily, rubbing her eyes with her fists before looking up at the person. There was a pop and she squinted in confusion at the sound, forgetting she had fallen asleep with her finished and wonderful book in her lap. It had been a good one and she remembered right before she lost consciousness, she had smiled at reading the final sentence of the book.
---
Myrra woke up rather early, spending most of her spare time double checking all of her homework in the Ravenclaw common room. She was nestled into a loveseat rather comfortably. Myrra looked over her potions homework. While she could do well on the questions given to her, Myrra could not actually brew anything. Her grades in potions were nothing inspiring or to be envied. It was odd, but she simply could not succeed when it came to actual application of what she had read in her potions class textbooks. Realizing it was time for breakfast, Myrra shoved her belongings into her bag and left the common room. She couldn't help but find the air inside of the castle to be thick, but such was to be expected when there was a recent death. People were still processing it. It was normal. There were plenty of first year students that come to her in tears, frightened and wanting to go home. While she couldn't blame them, she managed to talk each of them down. Her job as Head Girl was to make the younger Ravenclaws feel safe and to make sure the rules were followed, but honestly, Myrra did not even feel safe. The forest was a dangerous place, as was the lake. She couldn't imagine why anyone would have ventured off into such a place.
Before she knew it, she was entering The Great Hall. Myrra definitely needed to fuel herself before she bit someone's head off unnecessarily. For an entire week she was running on fumes attempting to keep the younger students of her house comfortable and calm. The daily prophet being delivered constantly returning their attention to the death was always uprooting her attempts to distract them from it. It was like it would never die down, and Myrra wasn't sure how much longer she would be able to continue with the almost nonexsistent amounts of sleep she was getting. Thanks to magic she managed to tame her unruly hair, which was now perfectly straight. She hid almost all signs of her exhaustion with makeup and elixers, but her lack of energy meant she might as well have posted a neon sign on her back. Myrra plopped down at the Ravenclaw table off to herself, pouring herself some black coffee. She definitely would need the caffiene if she wished to stay awake through her classes. Myrra took a long gulp before piling some eggs on her plate, but she also made sure to grab some salad, choosing heathier options when possible. She began to eat slowly, closing her eyes as she began to enjoy her meal. It wasn't until after a few more sips of her coffee that she noticed Kai, smiling a bit to herself behind the glass in her hand. He had a girlfriend, she was painfully aware of that fact, but she couldn't help having a crush on him. She did her best to keep it hidden under lock and key, but sometimes it was more difficult than she was willing to admit. The fact that his girlfriend was supermodel gorgeous only made her feel even more exhausted at the moment. Myrra was not self conscious, but when she compared herself to Veronika, it was easy to have a few insecurities pop up out of nowhere. Should I wave at him, or not? What if it causes problems between him and Veronika? Myrra thought about it for a moment, before waving at Kai and mouthing the words 'Good Morning, Kai' briefly when she felt he might have been looking in her direction. She hoped a simple wave wasn't enough to cause drama. It was innocent enough. For the most part, she was content just being friends with Kai, but she would be a liar if she tried to pretend there weren't times when she wanted more than that.
---
---
Ayria slept in, unlike her studious sister, getting up just in time for breakfast. She curled her hair, and put on less makeup than her sister, mostly because the recent death had left Ayria mostly unaffected. Of course she felt bad, but casualties happened every day. She couldn't mourn everyone who died, especially now that she was a Death Eater. Murder was simply something she had grown to accept in her new line of work, even if she did not always agree with it. Ayria practically skipped toward The Great Hall, smiling when she made it inside. She noticed Kenna, Myrra, Kai, and Luke. Kai was none of her business. She knew that Myrra had a thing for him, the fact that Myrra denied she had a thing for him on a regular basis only confirmed for Ayria that Myrra had a thing for him. The only reason her gaze lingered on Kai for more than a fraction of a second was the fact that he had a girlfriend. Veronika Orlov, the Slytherin Head Girl.
Does Kai have some fixation on the Head Girl status?
Ayria wondered to herself bitterly, glaring daggers at him as she sat down at the Hufflepuff table. While she had nothing personal against him, if he ended up hurting her sister she knew for a fact that she was capable of taking a life. Her eyes shifted to Luke, a far better specimen to gaze upon in her opinion, but perhaps that was because he wasn't wooing her twin? Giving herself a moment to admire Luke, as he was quite attractive, Ayria was once again reminded that she could not get involved with guys her age, even if it was a player like Luke Jordan. It was a shame, considering he was really attractive and charming. Ayria piled her plate down with hash browns, eggs, and anything else she could think of. She only ate a small portion of each item she placed on her plate. Ayria enjoyed food, especially the ones that weren't exactly ideal for consumption. She poured herself a glass of milk after she was done eating, always having been the type to never drink a drop of anything until after she was done eating. Ayria took a generous drink from the glass, letting out a soft sigh. Ayria wiped her face with a napkin before she looked to the table where the professors always sat in hopes of locating professor McQueen, winking playfully at him if he was already at the table. It was not exactly smart to flirt with the Professor who was head of her House, but it was safer than getting a male student drug into her dangerous life style. She figured that there was no chance of the professor returning her flirtations, so what was the harm really? Besides.... he was hot! What girl in her right mind wouldn't flirt with someone with a body like that? It was almost criminal for a teacher to be that good looking. She wasn't sure if it was possible for her to get in trouble for hitting on him, but even if it was, she wouldn't mind a little detention.
---
3 posts here • Page 1 of 1
Arcs are bundles of posts that you can organize on your own. They're useful for telling a story that might span long periods of time or space.
There are no arcs in this roleplay.
There are no quests in this roleplay.
Here's the current leaderboard.
There are no groups in this roleplay!
Welcome home, Promethean. Here, you can manage your universe.
Arcs are bundles of posts from any location, allowing you to easily capture sub-plots which might be spread out across multiple locations.
You can create Quests with various rewards, encouraging your players to engage with specific plot lines.
Settings are the backdrop for the characters in your universe, giving meaning and context to their existence. By creating a number of well-written locations, you can organize your universe into areas and regions.
Navigation
While not required, locations can be organized onto a map. More information soon!
There are no groups in this roleplay!
By creating Collectibles, you can reward your players with unique items that accentuate their character sheets.
Once an Item has been created, it can be spawned in the IC using /spawn Item Name (case-sensitive, as usual) — this can be followed with /take Item Name to retrieve the item into the current character's inventory.
Give your Universe life by adding a Mob, which are auto-replenishing NPCs your players can interact with. Useful for some quick hack-and-slash fun!
Mobs can be automated spawns, like rats and bats, or full-on NPCs complete with conversation menus. Use them to enhance your player experience!
Current Mobs
No mobs have been created yet.
Locations where Mobs and Items might appear.
You can schedule events for your players to create notifications and schedule times for everyone to plan around.
Add and remove other people from your Universe.
The Forge
Use your INK to craft new artifacts in Hogwarts vs. Death Eaters. Once created, Items cannot be changed, but they can be bought and sold in the marketplace.
Notable Items
No items have been created yet!
The Market
Buy, sell, and even craft your own items in this universe.
Market Data

Market conditions are unknown. Use caution when trading.

Quick Buy (Items Most Recently Listed for Sale)
None
Discussions
Topics

Replies
Views

Last post
Most recent OOC posts in Hogwarts vs. Death Eaters
There have been no posts in the OOC topic for this roleplay!