Hogwarts School
of Witchcraft and Wizardry
Headmaster: Minerva McGonagall
(Order of Merlin, First Class)
Dear Mr./Ms.,
We are pleased to inform you that you have been accepted at Hogwarts School of Witchcraft and Wizardry. Please find enclosed a list of all necessary books and equipment.
Term begins on September 1. We await your owl by no later than July 31.
Yours sincerely,
Filius Flitwick
Deputy Headmaster
HOGWARTS SCHOOL
of WITCHCRAFT and WIZARDRY
UNIFORM
First-year students will require:
1.Three sets of plain work robes (black)
2.One plain pointed hat (black) for day wear
3.One pair of protective gloves (dragon hide or similar)
4.One winter cloak (black, with silver fastenings)
Please note that all pupil's clothes should carry name tags.
COURSE BOOKS
All students should have a copy of each of the following:
The Standard Book of Spells (Grade 1)
by Miranda Goshawk
A History of Magic by Bathilda Bagshot
Magical Theory by Adalbert Waffling
A Beginner's Guide to Transfiguration by Emeric Switch
One Thousand Magical Herbs and Fungi
by Phyllida Spore
Magical Drafts and Potions by Arsenius Jigger
Fantastic Beasts and Where to Find Them
by Newt Scamander
The Dark Forces: A Guide to Self-Protection
by Quentin Trimble
OTHER EQUIPMENT
1 wand
1 cauldron (pewter, standard size 2)
1 set glass or crystal phials
1 telescope
1 set brass scales
Students may also bring and owl OR a cat OR a toad.
PARENTS ARE REMINDED THAT FIRST YEARS ARE NOT ALLOWED THEIR OWN BROOMSTICKS
Hogwarts School of Witchcraft and Wizardry. This school is known throughout the world as one of the most prestigious magical schools in the world, at least, if you are a witch or wizard. Many wait young children have waited their entire young lives for this letter, some even fearing the disgrace of being marked as a Squib, an non-magical person born of magical parents. Others open this letter with wonder and longing as they debate inwardly whether they are indeed a witch or wizard or if someone is playing a joke on them. Nevertheless, they are entranced as the Hogwarts Professor that hand-delivered the letter explains their magical nature and what awaits them beyond the eyes of Muggles.
It has been three years since the famous Battle of Hogwarts that decided the fate of not only Magical Britain, but Muggle Britain and possibly the entire world. In the three years since the Second Wizarding War in Britain, the dark times of Lord Voldemort's brief return seem like a passing dream, save for those who had lost loved ones during that time. Progressive and Traditional forces continue to battle within the Ministry of Magic, which has taken strides to regain its credibility, Diagon Alley continues to be a bustling district of magical shops and artisans, and, most importantly, life goes on free of the shadow cast by Lord Voldemort. Within this time of peace, Hogwarts continues to thrive as the country's most important magical school, despite the loss of Albus Dumbledore, its venerable Headmaster. In its own magical way, Hogwarts continues to be neither wholly different from the way it was in previous generations nor wholly the same as new students enter its distinguished halls, some entering the Wizarding World for the very first time in their lives.
Of course, Hogwarts no longer houses such famous names as Harry Potter, Hermione Granger, Ron Weasley, or the famous Weasley twins, but that is how it should be. This year, a new generation of First-Years enter the school with their whole lives ahead of them with lessons ahead to help the grow into their magical powers and friendships to last throughout their apprenticeship in Hogwarts and beyond.
Houses
Gryffindor
is well known for bravery, daring, nerve, and chivalry. The house colours are scarlet and gold, and the house is symbolized by a lion. The entrance to the common room is on the seventh floor hidden behind a portrait of a fat lady. In order to get in to the common room Gryffindor students must say the right password. This is the "heroic" house as it values boldness and bravery, but some Gryffindors can be bullies. Notable Gryffindors are: Harry Potter, Albus Dumbledore, Hermoine Granger, and Ron Weasley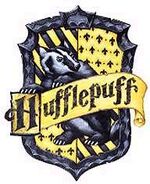 Hufflepuff
is well-known for loyalty, fair play, honesty, and tolerance. The house is symbolized by a badger, and the house colours are yellow and black. Its common room is near the kitchens. Noted Hufflepuffs are Cedric Diggory and Susan Bones
Ravenclaw
values wit, creativity, and wisdom. The house is symbolized by an eagle and the house colours are blue and bronze. However the house colours are portrayed as blue and silver in the movies with a raven symbolizing the house, and the interior of the house room is decorated with blue and gold. The Ravenclaw common room is located on a high tower. To enter, rather than give a password, one must answer a riddle from an eagle door knocker, such as "Where do vanished objects go?" or "Which came first, the Phoenix or the flame?" Noted Ravenclaws are Luna Lovegood, Cho Chang, and Padma Patil.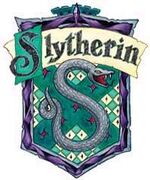 Slytherin
values ambition, cleverness, cunning, resourcefulness, and pure blood heritage. The house is symbolized by a serpent, and the house colours are green and silver. Its common room is in the dungeons through three stones. Slytherin has a dark reputation, but not all or even most people in Slytherin are dark. Noted Slytherins are Severus Snape, Tom Riddle, and Horace Slughorn.
Suggested Character Profile
Name:
Age:
Gender:
Appearance:
Blood-Status:
Personality:
History:
Wand:
Other:
Canon
If you are unsure about what is canon, please consult the Harry Potter wiki:
http://harrypotter.wikia.com/wiki/Main_Page
1. This is a literate roleplay, which means that one must write at least paragraphs per post. Additional length is, of course, welcome.
2. Please use proper spelling and grammar; we all make mistakes, but it is required that you keep do your utmost effort to keep your posts pristine.
3. No canon-characters beyond teachers and other personal. This is three years after the 7th Harry Potter book, providing ample time for known canon students to graduate. Profiles for teachers may be submitted, but, otherwise, will be played by myself or by volunteers.
4. Respect your fellow role-players or your character will find him or herself in St. Mungo's for the rest of the term.
5. All students will be first-years. This roleplay is designed to be the first in a series of seven that will follow our character's student careers.
6. Appropriate ages are to be used; students will be first-years and therefore 11 or turning 11 very soon.
7. No god-modding; that means spells do not automatically hit. In fairness, however, I ask that your characters don't dodge all spells all the time. Be realistic.
8. Parseltongue, visions, etc. and other special abilities are allowed, but cannot be abused. No super-secret snake magic, no visions of the future every five minutes, and no showing off if you can speak Parseltongue. The Wizarding World still has its prejudices.
9. You may take as many characters as you want, but you must be able to handle them.
Taking place in...
Characterization: Proficient Plot: In-Progress Depth: Proficient Style: Advanced Mechanics: Advanced Overall: Proficient
Music wrote:Characterization seems to be very good for the most part, with a few exceptions. The sheer number of posters makes it rather confusing to tell who is who, at least until the characters have deviated from the same 'blank slate' mentality of the first-year student. The plot is character-based, and the RP is not far enough along yet to say whether an official plot itself will develop. While it is clear that the RP is going to occur at Hogwarts, it is so far unclear how much of an effect the magical world will have on the characters or the plot line. Style and mechanics of most players is highly developed. It is clear that a significant motivation to create this roleplay was to 'prove', in a way, that a literate Harry Potter roleplay is possible. Well, so far, this initiative has succeeded. I hope to have the time to continue reading your work.
1 posts here • Page 1 of 1
1 posts here • Page 1 of 1
Arcs are bundles of posts that you can organize on your own. They're useful for telling a story that might span long periods of time or space.
There are no arcs in this roleplay.
There are no quests in this roleplay.
Here's the current leaderboard.
There are no groups in this roleplay!
Welcome home, Promethean. Here, you can manage your universe.
Arcs are bundles of posts from any location, allowing you to easily capture sub-plots which might be spread out across multiple locations.
You can create Quests with various rewards, encouraging your players to engage with specific plot lines.
Settings are the backdrop for the characters in your universe, giving meaning and context to their existence. By creating a number of well-written locations, you can organize your universe into areas and regions.
Navigation
While not required, locations can be organized onto a map. More information soon!
There are no groups in this roleplay!
By creating Collectibles, you can reward your players with unique items that accentuate their character sheets.
Once an Item has been created, it can be spawned in the IC using /spawn Item Name (case-sensitive, as usual) — this can be followed with /take Item Name to retrieve the item into the current character's inventory.
Give your Universe life by adding a Mob, which are auto-replenishing NPCs your players can interact with. Useful for some quick hack-and-slash fun!
Mobs can be automated spawns, like rats and bats, or full-on NPCs complete with conversation menus. Use them to enhance your player experience!
Current Mobs
No mobs have been created yet.
Locations where Mobs and Items might appear.
You can schedule events for your players to create notifications and schedule times for everyone to plan around.
Add and remove other people from your Universe.
Orphanage
By marking a character as abandoned, you can offer them to your players as pre-made character sheets.
The Forge
Use your INK to craft new artifacts in Hogwarts: Year One. Once created, Items cannot be changed, but they can be bought and sold in the marketplace.
Notable Items
No items have been created yet!
The Market
Buy, sell, and even craft your own items in this universe.
Market Data

Market conditions are unknown. Use caution when trading.

Quick Buy (Items Most Recently Listed for Sale)
None
Discussions
Most recent OOC posts in Hogwarts: Year One