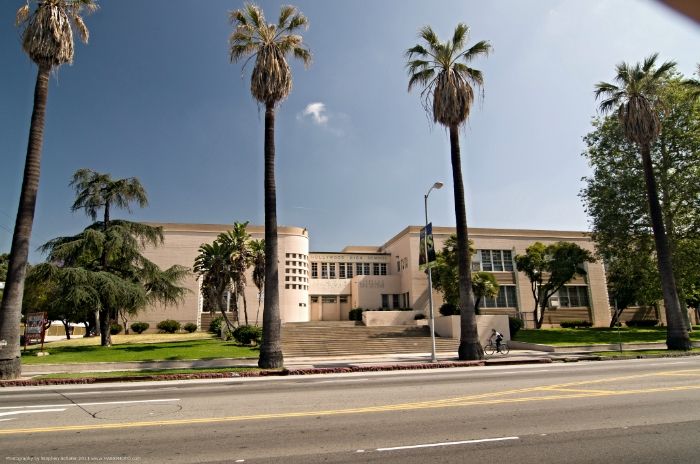 Address:

1521 N Highland Ave Los Angeles, CA 90028


Mascot:

Red Devils


School Colors:

Red, White, Grey and Black


Principal:

Ms. Alejandra Sanchez


Assistant Principal:

Mr. Craig Alessi
"Hollywood High School Performing Arts Magnet is one of the best magnets in the city, with its amazing staff of talented teachers and directors, and its rigorous academic classes. Our school can proudly claim many Ph.d's from Stanford and other highly regarded universities, and teachers with professional experience in top ranked industries. The school is cozy and intimate with a small student to teacher ratio that insures a great deal of individual attention and care for the individual. This is a school with a long and astounding legacy - Judy Garland and Carol Burnett walked its halls, along with great luminaries in law and politics, such as Warren Christopher. Today we are still preparing future great leaders of the world, for many of our students go on to prestigious universities such as Berkeley, New York University and U.C.L.A. Hollywood is a school where one can truly receive a great education."

– Principal Ms. Alejandra Sanchez
Academics


It has many different small learning communities! There Is Teaching career academy for students who want to be future teachers. That academy even offers a chance to tutor second grade kids at a nearby elementary school, which gives them practice for the future! It has Performing Arts, which offers dance, theater, and singing. They perform many high quality plays. The Media and Technology small learning community offers computer classes, and chances to make high quality videos for the school's website. There Is also Health Nutrition Arts and Science, which offers a variety of cooking classes, and education about nutrition. And finally, there Is School for Advanced Studies, which offers Advance Placement classes for gifted students who need more of a challenge, academically.



These are the student schedules:



Freshman
AP Freshman
Sophomore
AP Sophomore
Junior
AP Junior
Senior
AP Senior



List of Elective Classes:




Code: Select all

[u]Apologetics [/u]

• Comparative Religions
• Mythology
• Worldview Studies
• World Cultures

[u]Bible [/u]

• Church History
• Individual book Bible studies
• Old Testament/New Testament Survey
• Topical Bible studies

[u]Business-related[/u]

• Accounting
• Advertising
• Business Law
• Business Management
• Business Math
• Entrepreneurial Skills
• Financial Management
• Intro to Economics
• Marketing
• Office Skills

[u]Communication [/u]

• Creative Writing
• Communication Skills
• Journalism
• Public Speaking
• Research Skills/Writing
• Speech
• Study Skills

[u]Computer[/u]

• Computer Applications
• Desktop Publishing
• Graphic Design
• Keyboarding/Word Processing
• Programming/Languages
• Web Design

[u]Fine Arts [/u]

• Architectural Design
• Art Appreciation/History Band
• Ceramics
• Choir
• Dance (African, Afro-Cuban, Classical Ballet, Neo-form/ Hip Hop, Jazz, Latin (Flamenco, Contemporary, and Modern))
• Drama/Theatre (Drama A, B, and Play Production)
• Drawing
• Film making
• Instrumental Music
• Jewelry making
• Music Appreciation/History Orchestra
• Painting
• Photography
• Sculpture

[u]Health[/u]

• CPR Training
• First Aid
• Nutrition

[u]Life Skills[/u]

• Auto Mechanics
• Woodshop
• Driver's Ed
• Financial management
• Home management/Home economics (cooking, sewing, etc.)
• Industrial Arts
• Interior Design Plumbing

[u]Physical Education [/u]

• Aerobics
• Weightlifting
• Gymnastics

[u]Rhetoric [/u]

• Critical Thinking
• Debate
• Logic

[u]Science-related [/u]

• Intro to Astronomy
• Oceanography
• Botany
• Meteorology
• Geology

[u]Social Sciences [/u]

• Sociology
• Anthropology
• Psychology

[u]Languages[/u]

• Spanish
• French
• Italian
• Sign Language

[u]Other [/u]

• Archeology
• Career Development
• Current events
• Gardening
• Horticulture
• Landscaping
• US or World Politics




By California Guidelines you must complete:



• Three courses in English
• Two courses in mathematics
• Two courses in science
• Three courses in history
• Two courses in physical education, unless the pupil has been exempted
• One course in visual or performing arts, foreign language, or career technical education. For the purpose of satisfying the minimum course requirement, a course in American Sign Language shall be deemed a course in foreign language

As a freshman and sophomore you basically only have a say so in what electives you take. When you get to your junior and senior year you get the option of not having to take certain courses. As a junior you do not have to take math, science or physical education if you have passed the courses in the pass and no longer wish to take them. As a senior you don't have to continue in any of the core courses if you have successfully passed them in the past. However, for those who plan on going to college in the future it is highly suggested that you in the very least take english, science, math and history for all four years. If you would like to drop classes please go to you guidance counselor (me) and let them know so you can adjust your schedule.

Students on the honor roll will automatically be given an AP student schedule. If you don't excel in all areas of school but are really exceptionally at a certain subject you can be placed in the advance placement class or that subject(s). If you are an honor student you like the freshman and sophomores can only select your electives and cannot drop classes. Upperclassmen or not.

Those juniors and seniors who choose to drop classes can take up electives that interest them or they can take nothing and have a free period. This allows some students to come in later or leave early than other students. If you have a gap in your schedule you are free to leave the school and return for your class. Or you can stay on school grounds. Some students stick around and do things during they're free period like get tutoring at the tutor center, hang out in their guidance counselor office, go to sleep in the school library, ect.


Principal Sanchez isn't lying when she brags about what a great school Hollywood High is. Many teachers here are good. Some are outstanding. Performances are second to none and are better than most, if not all private schools of this genre. When it comes to sports the school doesn't excel in all areas but when it comes to the school's football, basketball and baseball team you couldn't find better. However, no matter how much praise is given to the school at the end of the day it is a high school like any other high school. Everyone knows high school can be hell. But no one knows it as much as the students of Hollywood High School. Every high school seems to be ruled by a caste system, but none take it to the extremes that the students at Hollywood High seems to. Your clique defines you and there are very few middle grounds. Walking on campus is like walking into a battlefield, and only the strong survive.

When you first step into the halls of Hollywood High, you're instantly setting your eyes on the different cliques around the school. It's practically social suicide if you decide to step out of your certain group of friends, even if you're already pretty low on the totem pole to begin with. It's just common knowledge to stick with what you know around the halls of the school.



Code: Select all

[u]Character Sheet [/u]

Full name:
Reason or meaning of name:
Nickname:
Reason for nickname:
Birth date:
Sexuality:

[u]Physical appearance[/u]

Age:
How old does he/she appear:
Weight:
Height:
Body build:
Shape of face:
Eye color:
Glasses or contacts:
Skin tone:
Distinguishing marks:
Hair color:
Type of hair:
Hairstyle:
Physical disabilities:
Style:
Favorite outfit:
Jewelry or accessories:
Overall attractiveness:

[u]Personality[/u]

Good personality traits:
Bad personality traits:
Personality:
Greatest joys in life:
Greatest fears:
Priorities:
Life philosophy:

[u]Favorites [/u]

Favorite color:
Least favorite color:
Music:
Food:
Literature:
Form of entertainment:
Most prized possession:

[u]Habits & Hobbies[/u]

Hobbies:
Plays a musical instrument?
Plays a sport?
How he/she would spend a rainy day:
Spending habits:
Smokes:
Drinks:
Other drugs:
Quirks:

[u]Goals[/u]

Drives and motivations:
Immediate goals:
Long term goals:
How the character plans to accomplish these goals:

[u]Past[/u]

Hometown:
Type of childhood:
Pets:
First memory:
Most important childhood memory:
Why:
Childhood hero:
Dream job:
Education:
Finances:

[u]Present [/u]

Currently living with:
Pets:
Occupation:
Finances:
House:
Transportation:

[u]Family[/u]

Family member name:
Relation between (mother, father, sister, brother, ect.):
Relationship With (good, bad, complicated, ect.):

[u]School Life[/u]

What grade are you in?:
What clique are you in?
Where are you on the social ladder?:
Are you happy with your place on the social ladder?"
If you could be apart of any other clique what clique would it be?:
Why?:
Best subject:
Worst subject:
How are your grades:
Schedule:

[u]Other[/u]

Anything else you want to add:

[u]Teacher Sheet[/u]

Name:
Age:
Apperance:
What grade do you teach:
What subject do you teach:
On a scale of 1 - 10 how hard is your class to pass:




List of Teachers



~ 9th Grade Teachers
~ 10th Grade Teachers
~ 11th Grade Teachers
~ 12th Grade Teachers
Overall Plot



I have always really been into shows like Degrassi, One Tree Hill, 90210, ect. I've recently started re-watching One Tree Hill and that got me in the mood to do a high school role-play. The issue with high school role-plays is that they never seem to make it pass the first day of school. So while this role-play will stem from the high school it will be more of a slice of life role-play taking place both in and out of school. This role-play is about the lives of it's student body. So while a big part of it has to do with their school lives their lives outside of school is also important.
✘ ACTIVITY

Activity is crucial ― I really cannot stress this enough. I've seen a handful of quality role-plays die due to inactivity and I don't want that happening here. There's nothing worse than a dead ooc or ic. If you can't be on for whatever reason, you're real life has gotten really busy, or you just don't want to be apart of this role-play anymore― please notify me via pm or in the ooc. I understand that, as the creator of this role-play , I set an example when it comes to activity; however, I really don't want you relying on my posts 24/7.

If you are inactive for 3 days without letting me know the reason behind it, I'll shoot you a pm. I want dedicated role-players so please, please, please don't send in a character sheet if you won't be sticking around for the long haul. And while I do expect you to be active, I understand that you have real life commitments. If you know you're going to be away for extended periods of time, please message me and let me know.

✘ LITERACY

This is a semi-literate role-play meaning I do expect literacy. I understand that your grammar and spelling can't always be on point ― especially if English isn't your first language ― but, if am being completely honest right now, am only going to accept role-players who have a decent grasp at literacy. When it comes to writing post I do understand writers block and how we're not always given much to go off of when replying to others. I hate word counts so in post a minimum of paragraph is expected.

✘ MATURITY

On another note, OOC drama will not be tolerated. Please come to me if you're experiencing issues with other members OOC, even if that OOC member is myself. I'll help out in any way that I can ― but I can only do that if you let me know what's up. This role-play will contain explicit, mature, and possibly triggering themes. Sex, drugs, alcohol, teen angst ― there'll be plenty of it. After all, this is a high school role-play.

✘ INCLUSION

Nobody likes to be left out, right? Try to reach out to as many people as you can when it comes to plotting. Don't be afraid to make the first move and shoot someone an pm or say something in the ooc! Role-plays are all about character interaction and, hey, you might even surprise yourself with how it all turns out. Character development gets a major thumb up from me.

✘ MAJOR CHANGES OR PLOTS

I must approve all major changes to a character before the plot begins. This includes (but is not limited to) pregnancies/pregnancy scares, suicide attempts, death of a family member, and any long-term illnesses or injuries (cancer, mono, car accidents resulting in comas, etc.).

✘ DRAMA

OOC drama is not welcome here. IC drama, however, is highly encouraged. Please come to me if you're experiencing issues with other members OOC, even if that OOC member is myself. I'll help out in any way that I can ― but I can only do that if you let me know what's up.

✘ GODMODDING

Just don't do it. It makes everyone unhappy. If you're new to roleplaying, here's a helpful link so you can learn what not to do.

✘ FACE CLAIMS

I personally don't do role-plays involving anime and therefore when you make your characters please use real images. I also am not a fan of assigned face-claims so you guys are completely freedom over what your character(s) look like.

✘ MULTIPLE CHARACTERS

Am fine with people making multiple characters as long as you can role-play for all of them. I would like differences in the characters that you make in that you either a boy and a girl, or a freshman and senior or nerd and like a jock. Just make your characters different.

✘ TEACHERS

I've always felt that part of the reason high school role-plays fail is because the classes are always boring. This is in part due to the lack of a teacher-student interaction. So when you join I will ask that you take the role of a teacher. You will only play for the teacher you choose during that class. So for example if you choose to be the sophomore gym teacher during period seven you would post as your character(s) and that teacher. You'd tell the students what they're doing that day, take attendance and just be a teacher for that period. Once period eight begins you go back to playing just your characters. You are free to play more than one teacher (I would actually love you if you took multiple teachers).

✘ BEFORE POSTING

• I am going to be making a student relations page. Before you can make your first post in the IC you will have to make your character(s) relations page. This is very important to me because I like for all the characters to have some sort of background and connect to each other.

• I am also going to be making a sports team page, after school clubs & activities page, cliques page and an events page.
Taking place in...
21 posts here • Page 1 of 1
21 posts here • Page 1 of 1
Arcs are bundles of posts that you can organize on your own. They're useful for telling a story that might span long periods of time or space.
There are no arcs in this roleplay.
There are no quests in this roleplay.
Here's the current leaderboard.
There are no groups in this roleplay!
Welcome home, Promethean. Here, you can manage your universe.
Arcs are bundles of posts from any location, allowing you to easily capture sub-plots which might be spread out across multiple locations.
You can create Quests with various rewards, encouraging your players to engage with specific plot lines.
Settings are the backdrop for the characters in your universe, giving meaning and context to their existence. By creating a number of well-written locations, you can organize your universe into areas and regions.
Navigation
While not required, locations can be organized onto a map. More information soon!
There are no groups in this roleplay!
By creating Collectibles, you can reward your players with unique items that accentuate their character sheets.
Once an Item has been created, it can be spawned in the IC using /spawn Item Name (case-sensitive, as usual) — this can be followed with /take Item Name to retrieve the item into the current character's inventory.
Give your Universe life by adding a Mob, which are auto-replenishing NPCs your players can interact with. Useful for some quick hack-and-slash fun!
Mobs can be automated spawns, like rats and bats, or full-on NPCs complete with conversation menus. Use them to enhance your player experience!
Current Mobs
No mobs have been created yet.
Locations where Mobs and Items might appear.
You can schedule events for your players to create notifications and schedule times for everyone to plan around.
Add and remove other people from your Universe.
The Forge
Use your INK to craft new artifacts in Hollywood High School. Once created, Items cannot be changed, but they can be bought and sold in the marketplace.
Notable Items
No items have been created yet!
The Market
Buy, sell, and even craft your own items in this universe.
Market Data

Market conditions are unknown. Use caution when trading.

Quick Buy (Items Most Recently Listed for Sale)
None
Discussions
Topics

Replies
Views

Last post
Most recent OOC posts in Hollywood High School
There have been no posts in the OOC topic for this roleplay!