Name: Moss
Age: 18 years old
Gender: Male
Species: Cat
Cat Appearance:
Human Cat Appearance: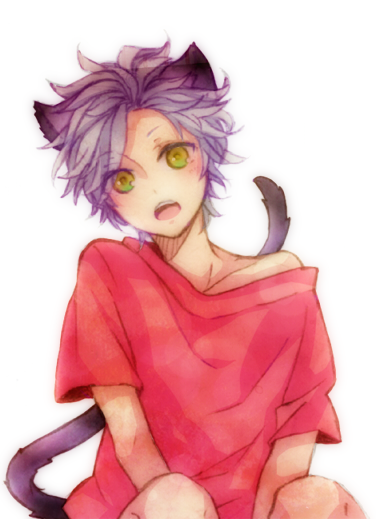 Likes:
Ball of yarn
Colorful things
Fluffy Beds
Fish
Swimming
Dislikes:
Hot weather
Fleas
Old food
Mud
Being alone
Personality: Moss is a very lively young boy. He's very playful and loves to interact with others. Very cheerful by nature he can cheer up anybody and make anyone feel comfortable. Moss can be a bit of cuddlier though he loves nothing more than to cuddle on a soft comfy couch or a persons lap. Childish in nature he can be very kind or sometimes he can throw tantrums, but still he's a very sweet boy.
History: Moss was born in a litter of eight kittens. He was the runt of the litter, so he was the tiniest of the bunch. As he got older he grew up to be a smaller cat than his brother and sisters. Though smaller than everyone else he was still the most kind and playful kitten of the bunch. He was then adopted by an older man and his wife who lovingly named him "Moss." A few year went by and Moss grew bigger, but still smaller than most cats. That's when tragedy struck Moss's owners were killed in a major car accident that left him homeless.
This was the first time Moss experienced hunger and the cruelty of man. For those few months he was alone and everyday he hated it. That was until he found the "Home" at first he was unsure about the place but he soon grew to like the place. So he began to donate money for those who lived there in order to help them. Since Moss has such a playful nature he works at a daycare with children.