Asher Lucian
"A long time ago, this land was founded by our species so we may live in freedom and in peace. However, in this reign of secret terror, we are only given illusions of those two necessities. The dungeons are just physical representations of what we are all living in at this moment."
Appears to be:
18
Actual Age:
275
Race:
Wizard
Gender:
Male
Brief History:
There was once a small village made up entirely of wizards. In this village was the little Asher, who was born to be a wizard. A normal family, a normal life (for a wizard), a normal everything. He had no reason to rebel, that is until one confrontation set it all off. You see, the village knew better than to fully give in to this new rule. Rather, they were a bit suspicious about the new king, Cain. All they heard were findings of gold or certain farmers hiding a few crops for no reason whatsoever. Well, all that made the village a bit tense- okay, that's an under-exaggeration. There was only peace until one confrontation ticked it all off.
Some wizard was too paranoid. Burn all the crops if one was imperfect? A step out of line is a step into a cell? What is this? Eventually, the wizard was so paranoid that, one day, the guy killed a Soldier. The result was him being executed, which further caused the whole village to rebel. Asher was kept out of the way, as with the other children at the time. However, that didn't mean Asher didn't see what happened to his village. It was all burned down to the ground, and the one to blame was obviously the leader of the soldiers, King Cain.
Asher managed to escape the burning village alive and well, but now he is traumatized by the experience. There was also a burning hatred in his heart after losing all his loved ones, and Asher made sure that one day, the king would get his just desserts. The wizard would find himself in the care of an elderly wizard, and Asher would train his powers to defeat the king.
(At the time of this roleplay,) Asher is well into his training, being one to be stronger than most wizards. However, he still needs more. Currently, however, Asher is in the care of himself, as the elder had died. Asher forces himself to work himself everyday in a house in the middle of a forest, one hidden from the king's eyes. Every week Asher would go to the village and feign to be a normal citizen, but inside, Asher is plotting the right moment to turn one of these excursions into a revolt, then a revolution.
Personality:
"..."
Asher is surprisingly calm, even in the most horrifying situations. His eyes wander everywhere, taking in everything. Once satisfied, they'd look upon a certain object, usually one of the greatest of least amount of interest to anyone else. He calculates everything, or at least, tries to. Asher's greatest weapon of all in battle is strategy, as he can see the weak points and faults of an enemy thanks to his magic. Also, Asher has photographic memory, which is useful in case a certain situation arises that requires it. Asher is mentally strong except for a few vulnerable points, and Asher usually doesn't give up on something.
Outside of battle, Asher is usually nonchalant as well as being patient. He doesn't give a damn about petty things, and Asher also doesn't give out his emotions so easily. Asher is mostly seen with an indifferent face, and he doesn't show any emotion at all to strangers. Only when you are actually close does he show his true side.
His true side is basically a normal person who had lost everything. Asher is in need of mental support, and he's also in need of being with someone. He longs to love, and isn't afraid to do so. It's just that he fears that a scenario, similar to Samson and Delilah would happen. Then again, it may not. It all depends on who fate throws at him.
Asher is also not very knowledgeable to doing certain things. All he knows is the training he had done, as well as many things he retained from his childhood. Asher is socially awkward with people, making him a bit secretly shy- especially to people who see it through. Of course, you'd have to notice this when Asher is coldly telling you to fuck off.
Weapons and Equipment
"You want to look at my stuff? No."
Frigid Inferno:
A magical sword with a blade that must be made by Asher's magic. The blade is made of ice with lava flowing through it.
Firestorm:
A curved sword that is made through blacksmithing and magically-enchanted flames. Asher is able to create more powerful fire spells by wielding this sword.
Arctic Blade:
A straight sword, the metal being cooled off in magically-enchanted water. With this blade, Asher is able to create more powerful ice spells.
Sheath:
A normal sheath that's magically enhanced to withstand stronger attacks, ones that would break even the toughest of metal. Asher has three of them, 1 for each sword. Asher can wield this in conjunction with a sword in a sword-sheath combination for both defense and offense.
Elemental Tags:
Due to Asher's magic, they can be multiplied an infinite number of times. There are two kinds, one detonates and creates white flames, while the other freezes the surrounding area.
Dark Green Hooded Cloak:
An old cloak that has a few rips and tears on it. It's covered with dust, but the original color is still visible in a somewhat darker shade. This cloak was left behind by the wizard that took Asher in, and Asher holds it close to him. It's magically enhanced by the wizard so the wearer can store items in it- more than what anyone can assume at first glance.
Flaws:
"Please... That would be dumb to tell you them."
-Asher is love-shy (meaning that while he is searching for love, he's practically afraid to advance in a relationship).
-Asher isn't very sociable. He has little to no skills in the social area.
-Around women (particularly the attractive ones) Asher usually messes up in his movements and speaking. His concentration is easily broken, and Asher is also easily seduced.
-In battle, if there are civilians, Asher tries to get the battle away from them. If not, then protect the civilians even if it means taking the its.
Talents:
"My strong points? I'm not one to reveal them so easily... Maybe in a fight, yes."
+Asher is an expert at swordsmanship. His work with the sword is as deadly as his magic.
+Speaking of magic, Asher mastered fire and ice spells.
+Asher can remain calm in the worst situations.
+Asher has a photographic memory as well as a pair of good eyes that can see the weak points of something easily.
+Asher is able to strategize mid-battle and think on his feet.
About the Corruption of the King:
"Sometimes I wonder... How the hell did we get him as king?"
Asher is completely aware of the king's corruption. The caves have dug deep within the earth in search of gold. Farmers hid a few crops to save millions more. Asher is practically sickened by the fact that everyone must follow the king's orders or it's to the dungeon. You don't even have the right to voice your own opinions out.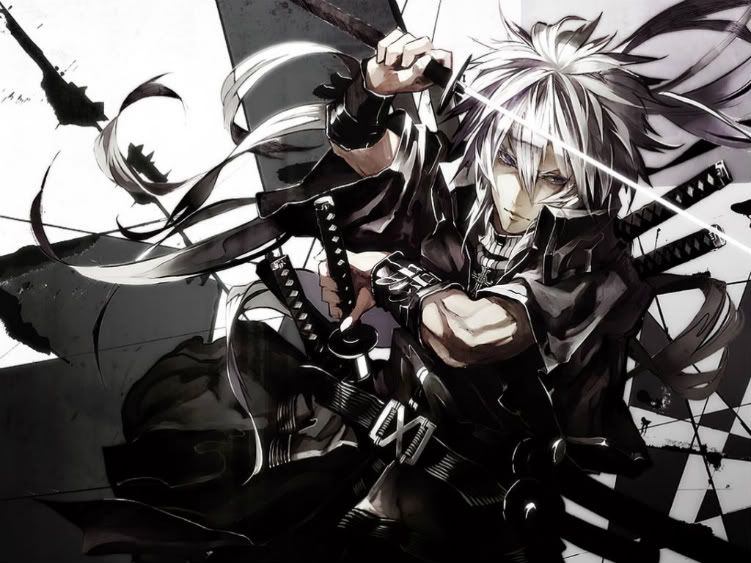 ---
[url=http://www.youtube.com/watch?v=JIFsnk_jCTY]Theme Song ~ From Shadows by Jeff Williams (Appeared in RWBY: Black Trailer)
From shadows[/url]
we'll descend upon the world
take back what you stole
from shadows
we'll reclaim our destiny
set our future free
and we'll rise
and we'll rise

above the darkness and the shame
above the torture and the pain
above the ridicule and hate
above the binding of our fate

born with no life
into subjugation
treated like a worthless animal
stripped of all rights
just a lesser being
crushed by cruel ruthless human rule

when it started
all we wanted was a chance to live our lives
now in darkness
taking everything we want and we will rise
we'll rise
we'll rise