---
---

---
---
"I am there, in the shadow of the night, in the stealth of a step, in the very thought of rebellion."
---
---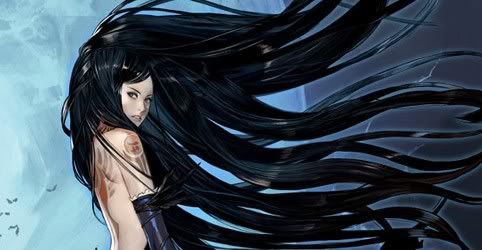 ---
---
| Name |
"My mother used to say names have power or meaning." Kalista Fey Raven [ Kuh-list-uh | Fay | Ray-ven ] Kalista means the most beautiful one.

| Nickname |
"I don't give out my full name." Typically, Kalista doesn't like to give out her full name to anybody. As such, she usually goes by her last name, or variations of it. The most common names she gives out are Raven, Rae, or Kali. Nobody knows her real name and she likes it that way.

| Age |
"What does it matter to you?" 153 years-old

| Race |
"I live in the shadows." Shade, meaning she can manipulate the mind and travel in and out of dreams, collecting them like treasures.

| Gender |
"You have eyes, don't you?" Female, clearly.

---
---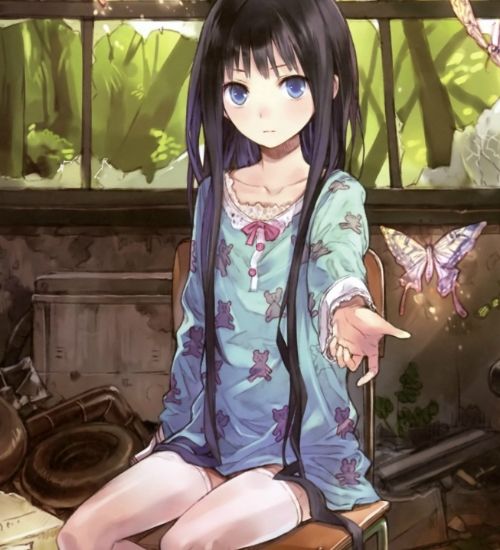 | Appearance |
"Trust me, I may be small, but I'm quick and lethal as a jungle cat." Kalista has a very innocent and naive appearance. When you first look at her, you wouldn't believe that such a small, kind looking girl could be tough, or could fight off a lot of soldiers, but, in fact, you'd be wrong. Very wrong. When it comes to body type, she's very small. She stands only about 5 feet 4 inches, and weighs only 106 pounds. She's got thin, light bones, and a delicate appearance, leading one to believe that you could snap her wrist in just one hand. And you probably could. If you could catch her. She's extremely quick and nimble.

When it comes to facial features, Kalista is kind of an exotic beauty. She has a stunning face that looks like it doesn't quite belong in Home, but somewhere far off in an exotic land. Her skin is always slightly tanned, and her lips are plump and pink. Her eyes are captivating for they're very large and doe-eyed, making her look innocent. They're also slightly turned up at the sides in a way that makes them look exotic. As for color, they're rather strange. Her right eye is a bright aqua color, while her left eye is a stunning emerald green with little flecks of turquoise in it.

For hair, Kalista has extremely long locks. She's never cut her hair in her life, as her mother used to sing while she brushed it's long tresses out soft and tell her never to cut her hair short for, once you cut it, it never grows back quite the same. As she has never cut it, and it continues to grow, her hair hangs all the way past her hips to mid-thigh. It's soft and shiny, and lays naturally in long, loose spirals. It's as black as it could possibly get, no hints of brown in it to be found. Blacker than the raven.

For scars, she's been running, fighting, and hiding most of her life, so she's bound to have a few. Her first is a long jagged one running up her left thigh. Her second is a slice across the palm of her right hand. Her final, most noticeable scar, runs along her right collarbone. When it comes to piercings, Rae has three in her left ear and two in her right. In her left, she typically wears a raven feather, a small silver hoop, and a turquoise. In her left, she wears the other hoop and a ruby. Expensive pieces of jewelry for a poor girl, but the ruby and the hoops came from her mother and father. The rest though, she stole. Finally, when it comes to tattoos, Raven was born with three and got one on her own. The one she got on her own sits along her waistline, between her hips, reading "I am the hero of this story, I don't need to be saved." One of the tattoos she was born with sits on the inside of her left wrist of a raven in a wolf. The second is a skull mixed with a rose that sits between her shoulder blades. And finally, the third is a moon that sits on her left temple, curving around the end of her eyebrow.
---
---
| Likes |
♥ Freedom
♥ Animals
♥ Children
♥ Warm food
♥ Rebelling
♥ Stealing
♥ The shadows
♥ Heights
♥ Dream walking/collecting

| Dislikes |
✘ Being told what to do
✘ The cold
✘ The king
✘ Home
✘ Thunderstorms
✘ Crowds
✘ People bothering her
✘ Being restrained

| Flaws |
☠ Her lack of physical strength
☠ Her slight fear of crowds
☠ Her lack of social skills
☠ The fact that she can't talk verbally, only mentally

| Talents |
✔ Stealth
✔ Cunning
✔ Stealing
✔ Sneaking

---
---
| Personality |
Cunning
[ kuhn-ing ]
Adjective
1. Skill employed in a shrewd or sly manner, as in deceiving; craftiness; guile.
2. Adeptness in performance; dexterity
3. Artfully subtle or shrewd; crafty; sly
"Watch your step around me, if you so much as walk in a way I don't like, you'll be dead before you ever see me." Kalista has suffered a rough past, and it's changed her quite a bit from the girl she once was - A simple country girl - into a complicated city girl. She's got layers to her that go very deep.

At the heart of Kalista, the very soul, you'll find a girl who's kind and caring. She has a deep love for children and animals, and a knack to stand up for the downtrodden or the innocent. She has motherly instincts, and seems to know how to care for people. She's naturally protective of the weak and does everything she can to make sure the strong never step on them.

She was once outgoing and open to everyone around her. She was more than willing to talk to anyone who would talk to her, and people tended to love her. Her kindness, and her openness drew people to her like a moth to a flame. She never judged, and took people as they were, at their heart. In their soul.

Seeing as she can see into the minds and dreams of others, she knows what people are like inside. Knows what they want, and what they fear, and knows how to give it to them. She can weave illusions either inside or outside the mind, planting things like memories and thoughts or making her victim experience things that have to do with the five senses. Things that never happened. Things that aren't really there. Essentially, she could drive a person mad, and has done so many times.

At a young age it is true that she was open, and people loved her, but things have changed drastically. She is no longer sweet to everyone. She is no longer, judge-free, and she is, above all, no longer so outgoing. She prefers to live in solitude, on her own. She hates people, and hates having them around her for they only remind her of all that she's lost. Her inability to communicate makes it hard anyway, so she prefers to just stick to the shadows and care for herself and herself only.

Should someone come across her, they would find that this girl is defensive of everyone and everything around her. Her first instinct is to either run, which, if she chooses this, you'll most certainly never catch her, or fight. Watch out if she chooses to fight you. You'll never see her or her moves coming, and she's not afraid to use her power of illusion to make you see, hear, or feel things that aren't really there. When her solitude is threatened, she fights to defend it.

Kali cannot talk anymore. She has no voice. She can speak through people's minds, sending them messages, but people tend to get defensive of their heads, and don't generally like her in their minds. Before she lost it, she used to have a lovely voice. It was musical, like a sirens, and drew people to her. Her mother often had her sing to her and company. Even just her talking was sweet and rhythmic. But she lost all that when Cain destroyed it, and when he destroyed her life, he also destroyed the girl she once was.

She no longer lives on a farm and sits around dreaming and painting. Instead, she lives in a dirty alleyway, hiding from soldiers, and stealing, both for survival, and amusement, for she's probably the most talented thief the world has known. She's never been caught, and likes to see what she can get away with. She even breaks into Cain's library and steals books on a regular basis without him knowing.

She hates Cain, and rebels against him in any way possible. He's cruel and evil, and she
refuses to let him and his silly laws rule her. She considers herself free no matter what Cain says. She may live on the streets, and fight for survival, but she is much richer than any of Cain's accomplices, for, unlike them, she abides by her own rules and her own conditions.

Now, most people do not like Raven, for she can be a little spitfire. She may not be able to communicate verbally, but her body language and telepathy does all the work for her, though she wont usually use telepathy unless it's an emergency or the person gives her permission, for she finds it an invasion of privacy. People tend to think of her as rude and cold, for she immediately shuts people out, not looking to make friends or ally's, only enemies. This, however, is not exactly the case.

Sure, she shuts people out, and can come across as rude, but this is her defense mechanism. She prefers to be alone because, in her experience, when she grows close to someone, bad things happen to them. If you were to grow more acquainted with Kalista, you would find that she is as she is at her soul. Kind, motherly, and caring. A sweet person. Though one that can really pack a punch.

Raven also never stays in one place very long. She's got a wandering heart and will pack up and leave in an instant if she felt like it, meaning she packs lightly. She carries with her a few changes of clothing, a bag of her favorite dreams, a few paintings, and painting supplies, for she is an exceptionally talented artist. She often rebels by painting the sides of buildings with beautiful depictions of peace, or horrifying pictures of Cain's treachery. Once she's painted, she moves on, as not to get caught, and picks a new shadowy place to hide, for Raven is a true creature of the shadows.
---
---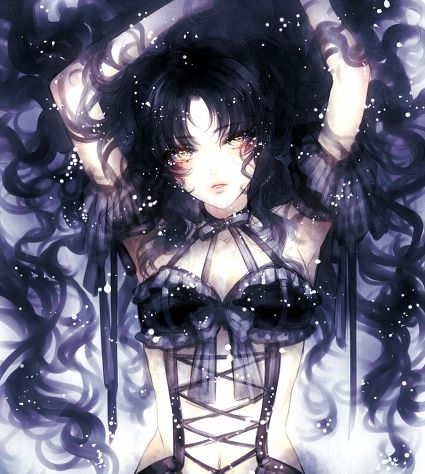 | Brief History |
"My past has made me who I am." Kalista has had quite a traumatic past. She was born to a woman named Starlight, an adept painter, and a man named Darius, a very powerful shade. Her father and mother owned a farm on the outskirts of Home, and living wasn't too hard for the first portion of Kali's life.

She had a slightly dysfunctional family, her father and mother fought often, and her mother had three lovers, but when it all came down to it, they had each other, and they loved each other. Her mother used to tell her, while she brushed her hair at night that love and hate go hand in hand. Kali had free reign of the farm when she was young, and played with the animals and the farmboys on a daily basis.

When she was ten, three of Cain's soldiers showed up at her door, and dragged her father away to the mines, figuring that, since he was a shade, he'd do good in the dark tunnels underground. Kali rarely saw her father anymore, and life on the farm began getting a little harder, for her mother couldn't support the whole place on her own. Still though, things could have been worse.

A year after they took her father away, the men returned, this time, in regards to the farm. They'd found an imperfection in her mother's crops that she'd forgotten to hide, and shoved her mother aside while they set fire to their fields, her mother screaming and crying while smoke and fire gave the night an eerie glow.

After that, Cain's men started paying special attention to her farm, and burned down three more crops before her mother had finally had it. Her father was home for a little while from the mines when the men showed up. They knocked on the door in the middle of dinner, and Kali jumped out of her seat to run and get the door, but her father grabbed the back of her dress and forced her back into her seat. "We're eating dinner honey." He told her. "Whoever they are, they can wait." He said, locking eyes with her mother in a way that told Raven they already knew who was behind the door.

Fifteen minutes later, the men barged into the house and demanded to see the fields. Her father stood, and the farm boys joined him as they refused to let the soldiers go anywhere.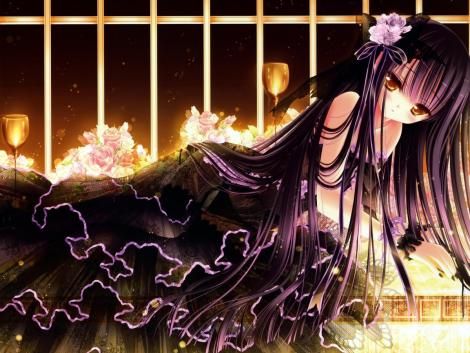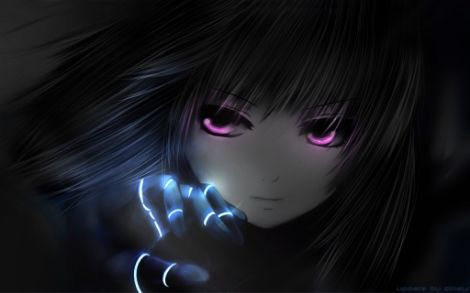 Chaos then ensued. The men slaughtered the farm boys and her father right before her eyes, and then reached for her and her mother. They grabbed then roughly and threw them out into the back yard, tying them up so that they had to watch as Cain's men set fire to, not only her fields, but her home, the animal barns, and her mother's art studio, all while the men beat them.

Kalista's mother fought viciously, causing Cain's soldiers to turn on her and kill her, but giving Rae enough time to slip away. She ran as fast as she could, hearing shouts and calls behind her until she reached a neighboring farm and burst into their home panting, bloody, and sobbing. She shrieked out the entire story and they were appalled, and sent for the next farm to be notified as well.

But it was no use. When the men came, they slaughtered everyone there and took Raven as prisoner, dragging the sixteen year-old girl in before their king, knowing that he'd be happy to throw her in his prisons himself.

But he didn't. For some reason, he didn't throw her in the dungeons. Instead, as punishment for telling two neighboring farms of his killing and starting a small revolution in his farms, his soldiers stabbed her in the base of her throat, between her collarbones, effectively taking out her voice, and making her mute. They then threw her out into the streets to fend for herself, and, with any luck, maybe her wounds would get infected and she would die anyway.

But they didn't. Her soul did. And she changed that day, swearing she'd make Cain pay. For a little while, she bounced around in the forests along the edges of Home, but then decided to move into the city to be closer to Cain and his soldiers.
| Cain? |
"His corruption ruined my life. Of course I know of his treachery." Kalista knows very well of Cain's corruption and has devoted her entire life to stopping him.
---
---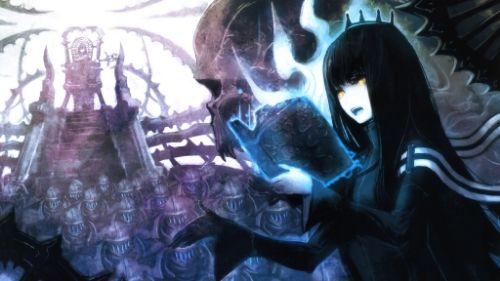 Kill Your Heros - Awolnation
Well, I met an old man
Dying on a train.
No more destination,
No more pain.
Well, he said
"One thing before I graduate
Never let your fear decide your fate."

I say ya kill your heroes and
Fly, fly, baby don't cry.
No need to worry cause
Everybody will die.
Every day we just
Go, go, baby don't go.
Don't you worry we
Love you more than you know.

Well, the sun one day will
Leave us all behind.
Unexplainable sightings
In the sky.
Well, I hate to be
The one to ruin the night.
Right before your, right before your eyes.

I say ya kill your heroes and
Fly, fly, baby don't cry.
No need to worry cause
Everybody will die.
Every day we just
Go, go, baby don't go.
Don't you worry we
Love you more than you know.

Well, I met an old man
Dying on a train.
No more destination,
No more pain.
Well he said
"One thing, before I graduate
Never let your fear decide your fate."

I say ya kill your heroes and
Fly, fly, baby don't cry.
No need to worry cause
Everybody will die.
Every day we just
Go, go, baby don't go.
Don't you worry we
Love you more than you know.

I say ya kill your heroes and
Fly, fly, baby don't cry.
Don't you worry cause
Everybody will die.
Every day we just
Go, go, baby don't go.
Don't you worry we
Love you more than you know.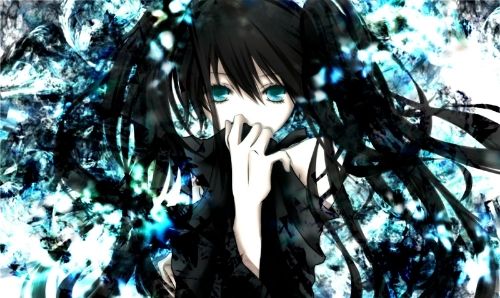 ---
---
Code: Select all

[hr][/hr][hr][/hr]
[center][img]http://i1180.photobucket.com/albums/x403/desire99600/temp2_zps874d0191.png[/img][/center]
[hr][/hr][hr][/hr]
[left][img]http://i1180.photobucket.com/albums/x403/desire99600/Anime%20girls/Anime%20girls%20-%20Black%20hair/ShanoaProfile_zps26423bc2.jpg[/img][/left][font=times new roman]Post[/font]
[hr][/hr][hr][/hr]
---
---