Lucinda Myratles
Pocketful of Sunshine
---
---
Nickname:
Lucy, Cindy
Age:
19
Sexuality:
Bicurious
---
---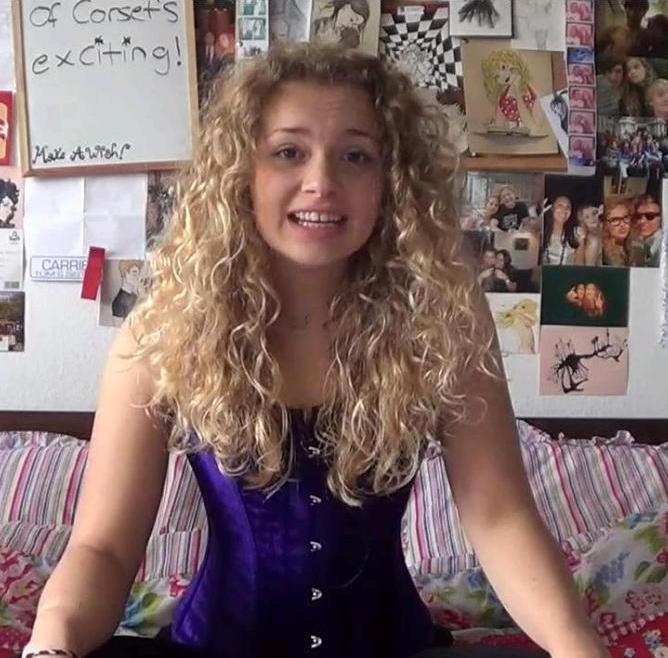 Lucinda, from her crazy blonde curls to her expressive eyes, tells a lot about herself just by her appearance. She likes to leave her curls alone, never putting it up or doing anything to them. Her face is free from makeup most of the time, although she might put some on if she's performing in a play or something. She likes to wear quirky pieces of jewelry and clothing, often making them intentionally mismatching. She is quite tall, standing at a height of 5'9", and is a little on the chubby side, although she's not considered overweight. She has curves in all the right places, but she doesn't like to emphasize them. She wears contacts.
Lucinda is very, very energetic. She is not afraid to express her thoughts and feelings, rarely hiding anything from others. She cannot lie at all, and will often say whatever is on her mind at the moment. Her bluntness may scare away other people, but she doesn't mind. She believes that the truth is always more important than a sugarcoated lie. She can be a little self-centered, and likes to think that the world revolves around her. She interrupts others often when they are speaking, due to her inability to wait for someone to finish their sentences. For example, you might be speaking about something but Lucinda will butt in on whatever you're talking about and share her own opinions about the topic. She is eager to please and wants to be helpful to other people. She loves talking, sometimes she just goes on and on, as though she likes to hear the sound of her own voice.

Although Lucinda can come across as a nosy busybody, she is warm and kindhearted, never judging others by their physical attributes or preferences. She is accepting and welcomes new ideas. She is emotional, as she often gets carried away with her feelings. She appears confident in her identity, and knows what she wants to do in life. She can be childish and naive about certain things, like romance, for example. She doesn't believe in the idea of love at first sight, and has never fallen in love before. Lucinda always has a smile ready to give out to people, and is pretty optimistic about life in general.
Strengths:
>Talking loudly
>Smiling
>Being optimistic
>Acting
>Singing
Weaknesses:
>Not knowing when to shut up
>Can be childish and self-centered sometimes
>Emotional
>Gets emotionally hurt easily
>Shellfish (she's allergic to them)
Likes:
>Singing
>Dancing
>Acting
>Talking
>Meeting new people
>Funny things
Dislikes:
>People who judge others too quickly
>Sad movies (she always cries when she watches one)
>People ignoring her
>Hurtful words
>Eating meat
>Insects
Potential Interest:
TBD
---
---
History:
Lucinda was born on April 21st, 1993 in a small suburban town in New Jersey to a normal family consisting of herself, her mother, her father, and her younger sister. She was loud and energetic even as a baby, her mother often said. All was happy and well until the day her parents got a divorce when she was six years old. After a long battle, her mother received full time custody of both her and her sister, although she could visit her father on the weekends and holidays. Lucinda was confused and depressed, not really understanding why her parents were living in separate houses. It was then that she saw a television show that inspired her passion for drama. Lucinda was captivated by the show, and it helped her bring her out of her shell. She aspired to be an actress or singer when she grows up, or maybe even star in a musical. She persuaded her mother to let her take acting and singing lessons at the age of seven.
In middle school, Lucinda was bullied a little, due to her braces, huge chunky glasses, and weird clothes. She often went home crying to her mother, but her mother told her to stand up for herself, saying that she couldn't fight all of her battles for her. Lucinda took her advice to heart and went to school the next day with a smile on her face. She no longer cared what other people had to say about her. This caused her to be isolated in her class, but she had friends from her drama and singing classes, so she didn't really feel lonely.
In high school, Lucinda vowed to start anew, not letting her middle school past drag her down. She was in quite a lot of clubs, from chess to drama to art club, and participated often in school events such as the school play and charity drives. Her weird sense of fashion and appearance did not deter other people from approaching her this time, although she had swapped her glasses for contacts and gotten rid of her braces. She did receive some confessions during her high school years, but turned them down because she didn't really know the meaning of love.
When she was accepted into a college famous for its theater arts program in New York City, Lucinda was ecstatic. She immediately packed her packs and proceeded to move to the big city, excited for all the adventures she's sure she's going to have...
Other:
She has 3 piercings in her left ear and two in her right.
---
---