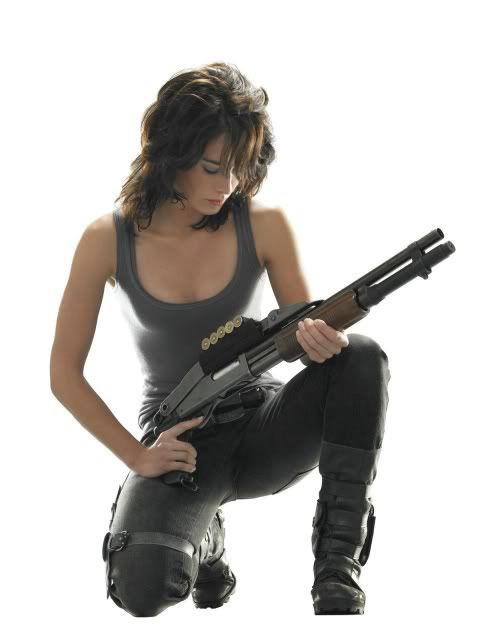 Name: Marie Wilson
Age: 20
Country of Origin: England
Weapon(s):
1) Shotgun
2) Knife
3) Two pistols
Specialty: Mechanic
Appearance: Marie has shoulder length, layered, brown hair that she often wears tied back in a short ponytail when she's working. She wears pretty monotone clothing in browns, blacks, whites and greens. She always wears an old army camo jacket when she's outside of the shelter. She wears thigh high walking boots because she has worn them into the shape of her feet and knows she can run with them on if she has to get away. She has a mechanics belt on most of the time with the tools she has found and that she escaped with. When she's outside of the shelter she wears a knife belt on her right thigh with the two knives she carries strapped into sheaths. She has her shot gun slung over her back by a thick leather strap when she's not holding it. She also keeps a pair of black leather gloves on her person at all times in case she needs to work.
Likes: Cake, cars, reading, swimming
Dislikes: Rain, the dark, being so far away from her family
Personality: Marie is very happy go lucky and is often caught talking to herself when there's not enough noise in the area. She is easy to talk to and easy to get along with most of the time. She smiles a lot and has pretty dark sense of humor with most of her joke knowledge being made up of dead baby jokes. Her mood can switch really quickly from being happy and laughing to being serious and that takes a little bit of getting used to. She likes to play around with anything she can find and is often bringing bits of junk back to the shelter to make new things.
History: Marie left her family home in Portsmouth for the first time earlier in the year to attend West-Thames college in London where she started a car mechanics course. She got along really well with her family and missed them quite a bit while she was away but she also enjoyed her course and living her life as a student. It was just before she was due to go home for Christmas that the virus began to spread stopping trains and all other travel. Distraught, Marie tried everything she could to get home to her parents and younger siblings and during this she met the Alliance. A group of people who were fighting for survival. They agreed to take her in because she could fix weapons and vehicles. Currently she's trying to fix a bus and modify it so that it's a moving fortress so that members of the group can move around to see if families in other places are safe.