Theme Song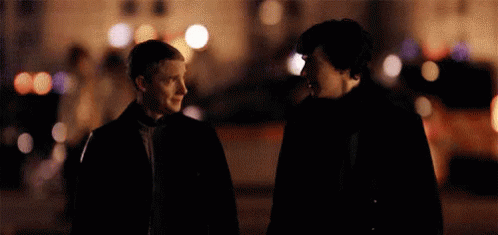 In modern day London, Sherlock and his companion Dr. John Watson have solved some of England's most puzzling mysteries. Flatmates second and foremost friends first, a normal life has never been in the cards for the two of them. Follow Sherlock and John in this alternate universe roleplay several years after the final Episode of the fourth series as it seems James Moriarty isn't as dead as they thought. John's trying to cope with raising his now teenage daughter Rosie and still coping with the lose of Mary, at the same time trying to find his own happiness with a recent love interest. Meanwhile, when an old childhood friend crops up from Sherlock's past...he may have a more romantic, emotional connection then he ever intended her.
❖❖❖
PLEASE SEE OOC FOR CHARACTER INFORMATION
For some reason it would not let me post here.
▶ No Godmoding. RPG Rules apply.
▶Please note there may be Mature content.
▶ MUST have Character sheet in with forty-eight hours or your request becomes available once more. (Unless otherwise discussed.)
▶Face Claims are not changeable for Sherlock or John and I would prefer they remain the same FCs for the others, however if you would like to discuss changing the FCs message me.
▶No one-liners. I expect 2+ paragraphs in third person from all involved. (I write 500+ words, so be prepared for long reposes on my end.)
▶Please be active in plotting and creating with one another.
▶Post at least twice a week.
▶This is a Fandom RP however I don't expect the cannon's (Sherlock and Watson) to be played to a T. Wiggle room isn't a problem.
▶If you have an questions feel free to message me.
▶Character sheets must be fairly detailed, however I will not be giving you a prefer format; just the basics of what is expected.
▶No text talking.
▶Reserve character's in the reservation thread in the OOC.
Taking place in...
There are no characters in this universe yet!
0 posts here • Page 1 of 1
0 posts here • Page 1 of 1
Arcs are bundles of posts that you can organize on your own. They're useful for telling a story that might span long periods of time or space.
There are no arcs in this roleplay.
There are no quests in this roleplay.
Here's the current leaderboard.
There are no groups in this roleplay!
Welcome home, Promethean. Here, you can manage your universe.
Arcs are bundles of posts from any location, allowing you to easily capture sub-plots which might be spread out across multiple locations.
You can create Quests with various rewards, encouraging your players to engage with specific plot lines.
Settings are the backdrop for the characters in your universe, giving meaning and context to their existence. By creating a number of well-written locations, you can organize your universe into areas and regions.
Navigation
While not required, locations can be organized onto a map. More information soon!
There are no groups in this roleplay!
There are no characters in this universe yet!
By creating Collectibles, you can reward your players with unique items that accentuate their character sheets.
Once an Item has been created, it can be spawned in the IC using /spawn Item Name (case-sensitive, as usual) — this can be followed with /take Item Name to retrieve the item into the current character's inventory.
Give your Universe life by adding a Mob, which are auto-replenishing NPCs your players can interact with. Useful for some quick hack-and-slash fun!
Mobs can be automated spawns, like rats and bats, or full-on NPCs complete with conversation menus. Use them to enhance your player experience!
Current Mobs
No mobs have been created yet.
Locations where Mobs and Items might appear.
You can schedule events for your players to create notifications and schedule times for everyone to plan around.
Add and remove other people from your Universe.
The Forge
Use your INK to craft new artifacts in I Believe in Sherlock. Once created, Items cannot be changed, but they can be bought and sold in the marketplace.
Notable Items
No items have been created yet!
The Market
Buy, sell, and even craft your own items in this universe.
Market Data

Market conditions are unknown. Use caution when trading.

Quick Buy (Items Most Recently Listed for Sale)
There are no characters in this universe yet!
None
Discussions
Topics

Replies
Views

Last post
Most recent OOC posts in I Believe in Sherlock
▸Name◂
Rosamund Mary "Rosie" Watson
▸Age◂
(15-16)
Relevance
⤷Daughter of Dr. John Watson and his late wife Mary.⤶
⤷Moriarty's son's love interest.⤶
▸Availability◂
Available
Face Claim: Elena Kampouris
---
---
▸Name◂
____ Moriarty
▸Age◂
(17-18)
Relevance
⤷Secret son of James Moriarty and Eurus Holmes.⤶
⤷Rosie's love interest.⤶
▸Availability◂
Available
Face Claim: Max Ehrich
---
---
▸Name◂
_________
▸Age◂
(29-35)
Relevance
⤷John Watson and Sherlock Holmes new neighbor at 221A Baker street⤶
⤷John's love interest.⤶
▸Availability◂
Available
Face Claim: Daisy Ridley
---
---
▸Name◂
Dr. John Watson
▸Age◂
(45-50)
Relevance
⤷Sherlock Holmes best friend and father of Rosie⤶
⤷FC Daisy Ridley love interest.⤶
▸Availability◂
Available
Face Claim: Martin Freeman
---
---
▸Name◂
_________
▸Age◂
Forty-Four
Relevance
⤷Sherlock Holmes childhood friend⤶
⤷Sherlock's love interest.⤶
▸Availability◂
TAKEN

by velvet.rose.asylum
Face Claim: Florence Welch
---
---
▸Name◂
Sherlock Holmes
▸Age◂
(45-50)
Relevance
⤷Sherlock Holmes the world's greatest detective⤶
⤷FC Florence Welch love interest.⤶
▸Availability◂
Available
Face Claim: Benedict Cumberbatch