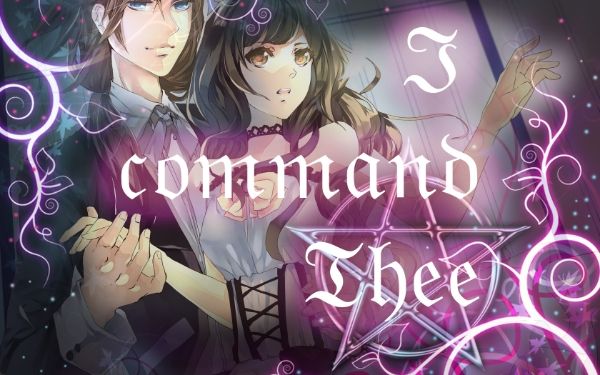 Greed, Gluttony, Envy, Lust, Wrath, Sloth, Pride; they are all sins which dwell within the heart of each individual human. They whisper to us, they reach for us, they try to tempt us with the sweetest of words, with promises of a brighter tomorrow and a wealthier future. They lure us down the road of depravity, and by fulfilling our wishes, let us end in tragedy.
Constantly lurking in the shadows, they await their pray.
Bind themselves to us with contracts, and in the end with our sullied soul we pay.



Will you give in to the temptation?
---
---
I'm ready, you think as you stand on the rooftop and gaze down at the world spreading out beneath you, I'm ready. I have nowhere to belong, nowhere to go back to... this is the only option for me. This is the only thing I can still do, the only thing I still have control of... you clench your fist as you take one step closer to the edge, your hands shaking.

I have to do this. I will...

You take another step closer towards the edge, towards the end. You can feel the adrenalin pump through your body as you gaze down at the tiny cars flitting by along the street beneath, and the even tinier humans moving across the sidewalk, illuminated by the small city lights. Who needs them anyway? And who needs you, God? Damn this all. Damn my life. Damn everything. I give up. I don't want to live through this hell anymore. I don't want to... You draw a deep breath, a gentle breeze caressing your cheek before you do it. Clenching your eyes shut, you lift your foot over the edge, quickly letting the other follow. And so, you throw yourself into the air, into the night, into the fall which could end in only one possible way.
Or so you thought.
You expected to fall, and yet you didn't. Puzzled, you carefully open your eyes and glance around. Where before the beautiful scenery of the city was just moments ago, is now but a pitch black and endless darkness, spreading out in every direction of you. There is nothing. Truly nothing but you. At least until a voice speaks to you.

"Human, is this truly what you want? Is it truly your wish to die?"

You glance around frantically for the source of the silky, alluring voice echoing through the darkness, yet find nothing.

"Is it?" the voice repeats, this time seeming to come from another direction.

You gulp, trying to gather your thoughts as you think the question over carefully. Finally you need, saying in a shaky voice. "Yes, yes... I want to die. Let me die, I want to die..."

"Truly?X If I were to tell you, my little human.. that you had one wish- one wish which you could spend on anything. Anything at all... would you still have the desire to depart from the world of the living just yet?"

Taken aback by this question, you yet again take a moment to think over your answer. Do I truly wish to die? You ask yourself, If only I could...

"If only you could?" the voice repeats your thought, a hint of amusement in it, "voice your wish and it shall be granted. It doesn't matter what it is, I shall make whatever your deepest desire is come true..."

You frown. "And what will I have to give in exchange?" you ask, knowing there has to be some sort of trick to it all. There has to be. There is always one, after all.

The voice chuckles softly and you can feel the hairs rise on your neck. This time it sounds as though it's right by your ear, whispering into it. "Your soul... I desire nougat but your soul in exchange for your service. You will die either way, but in exchange for your soul you may at least live happily for a while... what do you say? Isn't it a fair deal?"

You gulp. "M-my soul?" you ask, sounding horrified.

"Indeed... it is a fair price to pay, don't you think? For happiness?" asks the voice softly.

"I-I.." you never get the chance to say whatever you are about to, because the voice interrupts you, having totally changed from just moments ago. Now it sounds even almost hostile.

"It is either that or this fate awaits you!"

Within the blink of an eye the darkness around you disappears and you are yet again falling. Falling, quickly, with the street coming closer by each passing second. Your heart races with anxiety. You hadn't expected this. You weren't ready. A-and... and I don't really think...I don't really think I want to die.

I don't want to die...

Tears start rolling down your cheek and you know that in just a moment, you'll be dead. You'll be gone. You don't want to anymore, but your chance to escape death has already slipped away. You'll die. You'll die for sure... you hold your breath and start to count.

1...2...3...

Just as you should have made impact with the sidewalk, everything around you turns black again.

"Human, do you truly desire to depart from this world already? I will only need to resume time, and your wish will be complete..."

"I don't want to die," you whisper, more tears spilling onto your cheek, "please, don't let me die..."

"Good little human. What do you say, why don't we make a contract?"

"A contract?"

"What is it you truly desire?"

"Desire? I...my wish... my wish is..."
---
---
Humans

A human a is exactly what you and I (most likely) are. They are living being who are incapable of possessing supernatural abilities. However, they are able to form a Faustian Contract with a demon, whereas the latter fulfills their wish and in return, humans sacrifice their souls for consumption. Once the contract had been made, the human bears a mark somewhere on their body (this could either be decided by the human if the demon lets him, or by the demon alone. It all depends on what the induvidual demon decides). In a sense, the contract is viewed as a 'scar' the demon leaves so he will not lose the person he has contracted with. However if the wish is not yet fulfilled, the usual practice for the demons is to serve under the human for as long as it takes. No matter where, the contract has the authoritative power, and the demon is able to detect where the human is.
Despite having no supernatural abilities, humans have exceptionally developed brains which enable them of abstract reasoning, language, problem solving, and introspection (i.e. self-observation of one's own thoughts, feelings, or 'souls' in spiritual cases). The distinguishing features that define them as a 'person' are the high-leveled thought processes such as self-awareness, exercise of reasoning (i.e. rationality), and wisdom.

Demons

A demon is a supernatural being who occasionally comes to the human world to form a Faustian contract with a human, offering a range of services in return for the future consumption of the individual's soul. Demons seem to exist for the sole purpose of consuming human souls.
There are two aesthetics of demons: one, their masters' orders are absolute and two, obey those orders while keeping their contracts. These two aesthetics are the reason for most demons' actions. There is no faith or loyalty that prompts them to act otherwise. However, demons are highly afraid of breaking their aesthetics, this being why they value their masters' lives above their own.
A contracted person receives a mark of their contract somewhere on his or her body, with a corresponding mark appearing simultaneously on the demon. The location of the mark can be chosen by the person who wishes to make a contract, or it can be the choice of the demon. The more visible the location of the seal is, the stronger it is. In order to create the contract, a human has to summon a demon. However, it seems that they do not need to be aware of the existence of demons, attempt to summon a specific demon, or even summon one intentionally. As it may be, a human needs to a lack faith in God, and needs to be desperately searching for a way out. All the same, the human still has the option to go through and create the contract, or dismiss the demon. Demons contract on their own behalf, and there is no suggestion that they serve any supreme devil/demon.
---
---
The Reservation Spots and Character Sheets are to be found
HERE!
Godmodding is under no circumstances permitted.
I would prefer it if we got by without Mary Sues.
Literacy, proper grammar and spelling are a must. Please post at least a minimum of three decent paragraphs per post. Otherwise we'll most likely get stuck very quickly.
Please be friendly and show respect towards all fellow role players. This should be a given, but I'll say it anyway. Drama within the RP is encouraged, drama in OOC is completely forbidden.
Although I Command Thee was inspired by Black Butler, the RP is set in modern day Tokyo and I will only allow original characters. It was only inspired by the anime, after all, and not based off. At the end of the day, I suppose I have the person who wrote Faust to thank for this idea. Still, I would say it's original, since it has very little in common with Black Butler itself.
All sorts of gender combinations are allowed, and even encouraged. Nothing is impossible with true love, after all. ;3 Plus, it makes the role play more interesting.
Romance is also encouraged, though as soon as the clothes start flying I would like you to please either move your conversation to PM, or fade to black.
To prove that you have read the rules, please include black featherr somewhere in your character sheet.
The sort of introductory post above was just an inspiration as to how a contract between a human and demon could have been formed. It doesn't mean it needs to be the same way with your character. Humans could form contracts with demons for all kinds of reasons, with the only requirement that they have a final goal in sight and that they have given up their faith in god, and completely given up on hope.
As for now, I am going to allow only eight demon and eight human characters. Depending on how many join, you may also only play one character (or a maximum of two. They must both be opposite genders and different creatures, then, though). Once the role play is on the roll, this restriction will be lifted and those part of the role play may create more characters as needed, though they should consult me about it first.
Please don't join and then never come back. If something should happen and you become incapable of posting, please notify me. It'll be easier that way, for everyone. (I know I have been bad at this, so this is sort of also a note to myself).
Last but not least, though... have fun and use your imagination! :3
Taking place in...
Arcs are bundles of posts that you can organize on your own. They're useful for telling a story that might span long periods of time or space.
There are no arcs in this roleplay.
There are no quests in this roleplay.
Here's the current leaderboard.
There are no groups in this roleplay!
Welcome home, Promethean. Here, you can manage your universe.
Arcs are bundles of posts from any location, allowing you to easily capture sub-plots which might be spread out across multiple locations.
You can create Quests with various rewards, encouraging your players to engage with specific plot lines.
Settings are the backdrop for the characters in your universe, giving meaning and context to their existence. By creating a number of well-written locations, you can organize your universe into areas and regions.
Navigation
While not required, locations can be organized onto a map. More information soon!
There are no groups in this roleplay!
By creating Collectibles, you can reward your players with unique items that accentuate their character sheets.
Once an Item has been created, it can be spawned in the IC using /spawn Item Name (case-sensitive, as usual) — this can be followed with /take Item Name to retrieve the item into the current character's inventory.
Give your Universe life by adding a Mob, which are auto-replenishing NPCs your players can interact with. Useful for some quick hack-and-slash fun!
Mobs can be automated spawns, like rats and bats, or full-on NPCs complete with conversation menus. Use them to enhance your player experience!
Current Mobs
No mobs have been created yet.
Locations where Mobs and Items might appear.
You can schedule events for your players to create notifications and schedule times for everyone to plan around.
Add and remove other people from your Universe.
Orphanage
By marking a character as abandoned, you can offer them to your players as pre-made character sheets.
5 sightings
Naoko
played by Uniken
"If the greatest gift is life why is it so easy to kill someone?"
The Forge
Use your INK to craft new artifacts in I Command Thee. Once created, Items cannot be changed, but they can be bought and sold in the marketplace.
Notable Items
No items have been created yet!
The Market
Buy, sell, and even craft your own items in this universe.
Market Data

Market conditions are unknown. Use caution when trading.

Quick Buy (Items Most Recently Listed for Sale)
None
Discussions
Topics

Replies
Views

Last post
Most recent OOC posts in I Command Thee
There have been no posts in the OOC topic for this roleplay!