Jung, Tae-Hyun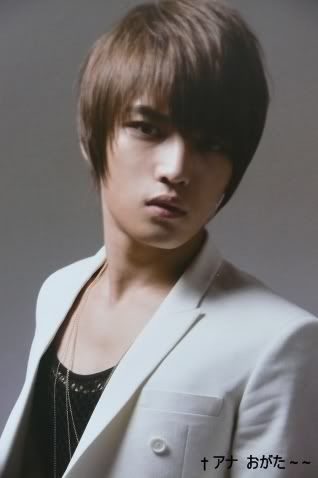 Role
Human 5
Age
18
Gender
Male
Job
Korean solo Idol.
Orientation
Straight
Crush
Ghost 5
Reason Not Believing in Love?
Loved by all the wrong people.
Appearance Description
Tae-Hyun is 5'9". His skin is a light tan from spending most of his spare time outside if not sleeping. He often works out so he's very muscular and has toned abs. His hhair is short with spikey bang swept to the side and is a mix of brown and blonde. He has two piercings on each side of his ears and has a tattoo of a dragon on his right arm and a tattoo of the yin yang sign with a dragon and tiger on the back of his left shoulder from a past relationship.
Personality
Tae-Hyun likes to hide his emotions and doesn't open up to anyone easily. He doesn't really talk unless spoken to and is very polite. He doesn't like making girls upset nor does he like getting involved in or starting trouble. He is usually calm and reserved but once you get to know him and he's comfortable around you, he's just a normal guy that loves to have fun. Although he may look like a cold-hearted bastard, part of it is just an act. He's actually pretty sensitive and naive. That's why he's cautious around certain people- or genders now. If he's in the mood, he'll answer any questions you have except anything about relationships. That's a touchy subject.
Likes
Food
Working out
Sports
The idea of being happy with someone
Music
Art
Spending his time outside
Laughing/Smile
Horror films
Soft things
Dislikes
Romance
Being played/used
Hurting others or being hurt
Trouble
Mistakes
Tattoos
Being read like an open book
Nosey people
History
Tae-Hyun was an only child who lost his mother at the age of three due to illness. He's never really had a mother figure and his father had always been a drunkard. Once his mother died, his father started to abuse him. After a few months, his grandmother found out and urged his father to let him live wither her and her husband in Busan. Tae-Hyun's father knew what he's been doing was wrong and for his safety, agreed.
When Tae-Hyun turned eleven, his grandfather passed from old age. The next year, his grandmother died of a stroke on his twelvth birthday. But because his father was no where to be found, he was sent to an orphanage in Seoul. There, he finally talked to girls and started liking them. He was a handsome boy so of course the girls lilke him too. Many girls would flirt with him but the first girl he liked never liked him back because she thought he was some jerk who played with girls. This was the first time his heart was broken and almost considered running away.
About half a year later, Tae-Hyun auditioned to be a trainee in Prism Entertainment. He excelled in many things such as acting, dancing, but still needed some work on his vocals. Nonetheless all the judges loved him and was immediately accepted. He met even more girls. Even thought he tried not to, he broke many girls heart seeing as none of them weren't "the one". But one time, there was a girl who he was very serious with. They dated for two years and he swore that he'd marry her once they've reached five years. He was so sure that ahe was his soulmate. They even got matching tattoos a few weeks after he got his first one on their third year. But after he debuted, they saw each other less and less as each month passed. On the fifth year, he made his way to her apartment to fulfill his promise when he caught her cheating on him. He was so depressed that his manager even told him to take a break and cancel one of his upcoming concerts. He'd been loved by girls who only went for him because of his looks, money, or fame. But being cheated by the girl whom he loved and trusted hurt the most. Turns out, she only dated him for publicity, even though she still said what they had was "something real". Basically, he was loved and loved all the wrong people.
To avoid the last pieces of his heart from being broken, he swore never to let anyone easily anymore and to never get in a serious relationship unless he could really trust the girl with his heart. He also made an oath to himself to never break anyone's heart since he didn't like getting his thrown away in the trash or runover by a bulldozer either. He didn't like the idea one bit but as his friend said, he would be... Forever Alone.

Hex Code
#008000
Theme Song
Angel- EXO-K
Stupid Love- Supernova