"Love Me Or Hate Me,There Is No "Like Me". But,Either Way I Will Be There For YOu When You Need Me. I Promise."
Isabelle Ae-Cha Choi
Gender/Role
Female Ex
Age
19
Birthday
4 of June
Nickname(s)
Isabelle (By Most People In The World)
Belle (Family and Close Friends)
Izzy (By Carmine Only)
Bellie (By Kai only)
Ex
Kwang Guk Bang (She only calls him Kai when he's not pissing her off but she also calls him Kwang Guk to flirt and tease him.)
Appearance
Isabelle stands about 5'7 and weights around 110. She has what you would call an hourglass figure but she'd be the last person to admit it to anyone. Her hair is light brown with carmel highlight that goes down to her mid-back. She has a milky peach colored skin which is kind of pale from living in New York all her life,but when it hits the sun it starts to turn tanner within seconds which she hates. She has her ears peirced three times on her left ear and once on the top of her right ear. She has a few tattoos,one on her shoulder blade,one on her wrist,one on her upper left arm and the last one's on the back of her neack,which is pretty much hidden all the time. (See in other) Her eyes are wide like her mothers but are a color of greenish hazel but they turn darker in some light. Now everything about her face is very expressive as in if she's angry,sad,or just plain shocked it will show in her eyes within milliseconds.
Personality
Isa or Isabelle to most people is a sarcastic,out spoken girl who knows exactly what she wants in her lifetime. She will do anything for her career but isn't the most open girl in the world,she doesn't take many chances and likes things to be planned out before hand so that she can relax and enjoy and with that said she completely hates surprises of any type. She honestly doesn't like her personality all the time and sometimes calls herself "the black sheep" of the family,which her parents hate. Because unlike her parents she isn't big on romance either,she doesn't really see getting married in her future like her mother how got married at the age of twenty. Ha! Within one year,she still sees herself being that same determined girl who still is going to shoot for the stars. Yea,she's a dreamer but don't get me wrong she has both feet on the ground and would like to keep it that way. Now,one thing you never,ever want to do is ask her a stupid question that answers itself because she will give you a straight answer on the spot probably relpying in sarcasm or seriously depending on what you asked her.

But,down to the good stuff when it comes to guys,she acts like she's not interested what so ever. Mainly becuase most of the time she isn't interested in them or in having a boyfriend. Oh no,if a guy wants her they need to be on top of their game and be willing to work for her no matter how long it'll take because she hates quitters. But,once they do catch her interest like her ex,then her wall starts to fall alittle and instead of being sarcastic and a bit bitchy,she goes to flirty and sly,then after that it's just plain flirty because she is a flirt but only with certain guys mainly the ones who think they can get any girl they want just by their charms and good looks which only leaves a few she knows in her life because she is very particular with everything,but she's far from self-centered,she's just a perfectionist and loves it. But after you get away from outside shelid,you'd be able to find out she's a sweet caring and passonate person who deep down is a hopeless romantic,she's just too afraid to get hurt to try,seeing that she's already been hurt twice in her life. Adding to that,at times around guys that she is really and I mean Really into she becomes this shy,clumsy,and tounge tied girl who has no idea in Hell what to say after getting a compliment.

Once you get really deep down,she just like any other girl. I know the tin man does have a heart and is willing to give it to you if you really truly do care for her but honestly it's only around her family members because well,they known her all her life. But,if there was a guy willing to work and actually wanted this serious,staight forward perfectionist she would give them a fight chance at least but not many get past her frist wall none and I mean none have seen her third layer.
Enemies
Her Ex boyfriend
His friends
Her Siblings.........But aren't all siblings once in a while
Crush
She's Starting To Get Feelings For Kai Again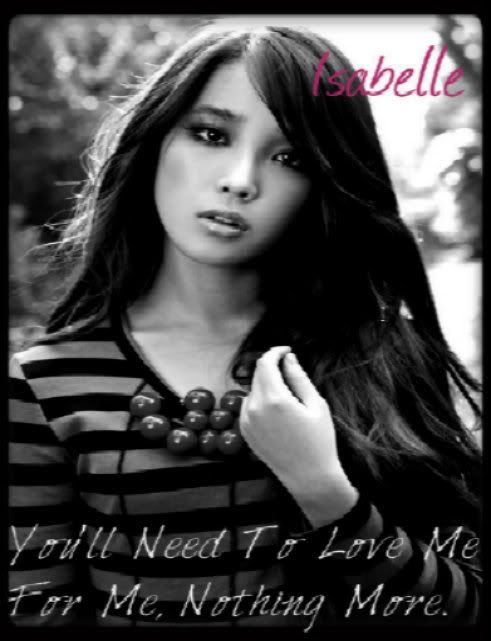 Likes & Dislikes
Likes
K-Pop
Her Parents
Her Younger Brothers,Edric (Age 18) and Minho(Age 16)
Her Twin Sisters,Mi Cha and Alexandera (Age 14)
Her Youngest Sister,Sunye(Age 5)
Most Types of Music
Being Hard-Headed
Rapping,Yes she can rap
Taking Pictures Of Nature And People
Playing Hard To Get
Dancing
Fast Food...once in a blue moon
Homecook meals
Taking Pictures
Sports
Track
The Thought Of Falling In Love.......sometimes
Gymnastics
Playing Violin
Singing......Duh
Writing music
Clasical Music
Korean and Chinese Culture
Her Bulldog,Pete
Her brothers' German Sheperd,Anika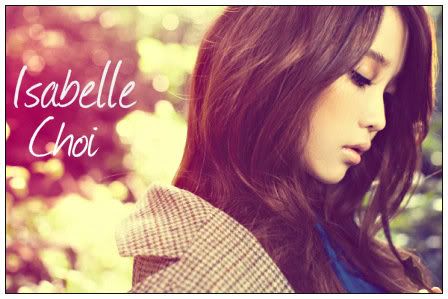 Dislikes
Cats
Having Pictures Taken Of Her
Puppets
Getting Her Heart Broken
Her Big Mouth......at times
Country,Gospel,and Jazz music
Her Ex
Cleaning
Forgetting Things
Guy Flirting With Her
Nasty Coffee
Monday nd Mornings
Being told what to do
Plugs that go in your ears
Overly Strong Perfume(She's allergic)
Tree Nuts(Allergic)
Having "The Talk"(All Teens Know EXACTLY What "The Talk" Is)
Falling in Love

Hobbies and Skills
Gymnastic
Track
Dancing (Ballet And Hip Hop Mostly)
Being In Front Of A Large Group Of People
Singing (Her Voice)
Playing Clasical Violin (Her Favorite Song On The Violin To Play)
Playing Classical Piano (Favorite Song To Play)
Rapping (Think CL from 2ne1)
Ways Of Coping
Singing
Playing The Violin and Piano
Being On Stage
Ballet Dancing
Writing Poetry But Never Reading Them Out Loud
Hanging Out With Her Friends Or Family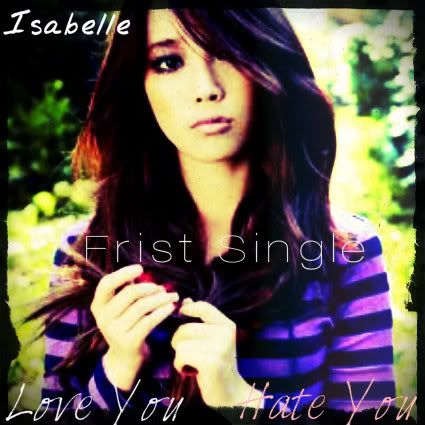 Bio
Born to Analise and Nicholas Choi,Isabelle was the first born and lived in New York city with her artist mom and accountant dad,man is the polar oppiste or what? It was just her until she turned one year old,that's when her brother,Edric came in the picture. Not long after came Minho,then the twins,Mi Cha and Alexandera and recently came the baby and hopfully the last,Sunye. Growing up they had a pretty good life and she loved how much her parents made loving each other look so easy,like it wasn't a challenege what so ever but that they wanted to spend forever together,they could have been the poorest people in the world but as long as they had each other it didn't matter. She always admired that growing up. When it was just her and the two oldest boys Analise would always tell Isabelle to speak her mind and if someone asks for your opinon then tell them straight forward,so she did. And with this came a curse in her eyes, it attracted a lot of guys. They liked her "hard to get" personality,which was true she honestly never thought about falling in love or even having a boyfriend not even being a teenager. Espcaily with being in gymnastics and track and taking singing,violin and piano lesson it didn't leave her much time to go out with boys. It wasn't her parents choice to put her in all the activities Isa was just looking for a reason to say no to guys.

But,of course there is that one guy,that one pest that snuck under the radar and messed with her just enough for her to finally give in. Honestly she liked having a boyfriend,it felt different like a weight was lifted off her shoulders. And she liked it. But once she really started to fall for him,he went running. No sursprise,she knew that was bound to happen. From then on she started being a little rebellious,dying her hair and giving up all her activities and dyed her hair a midnight color of navy. But,before you get any idea she didn't go overboard like her mom. She still cared about what her parents thought,she just chose not the listen to them. It wasn't long until her grades started to slip and that's what pissed off her parents,they knew she was a smart girl and with the grades she had it wasn't showing that. She somehow got her 3.7 GPA down to a 2.5,barely keeping at that. Her parents made her an ultimatum either get her grades up or just leave,they weren't about to baby her for the rest of her life

She wasn't used to that,so she dyed her hair back to a light brown color and started to focus on getting into Juliard for Music. And that's exactly what happened,she got her GPA up back to the 3.7 by her graduation her senior year. And now she already has done a few concerts around the country like Los Angeles,Miami,and Dallas. But,with that came alot of drama,being what you would up and coming star she did have guy drama yet again with another up and coming korean singer named Jae (Yes,She went from one blonde to another :P) when she came home to New York,They went out for a good two years from when she was 17-19,long distance for a year and without anyone but their families knowing.But,It was strange because they were going out before but when everyone started to find out they actually were going to break up because they never had enough time to be together since both of their careers started totake off. But she went along with it until she turned nineteen she was sick of lying so she and him staged a fake break up but they still keep in touch,ever through he lives in Seoul and has a new girlfriend. Now,she still make youtube videos and does shows but only in and near New York so she can still go to school. Asked for guys,she does miss GD and sometimes wants him back but at the same time she wants a nice down to earth guy who will be there for her every step of the way and support her. And asked for Kai,there's just something about him that makes him different then every other guy,the others compared to him don't know that the right way to get her to go out with you is to just keep pestering her and sooner or later she will give in but don't get me wrong she did have affectionate feelings for him and deep down she knows she still does but it will be a frezzing day in Hell before she admits it to him without a good reason. The one thing she fears in life is spending it alone,never finding that one person who can see right through her,what she's feeling,what's she's thinkning,or be there to comfort her whenever she just can't take the pressure of her life anymore.
[CL]I know that you're gonna hate me
For saying these words right now
But I ain't got no choice
I just have to let it out
[MINZY]Cause you see lately something's
Changed in my mind
Seems the fire within me has died
I'm a stranger to myself, don't wanna feel this wa-a-ay
[SANDARA]You're so sweet, so lovely
But even so I let go
[CL]I don't know, I don't know
What's taking over me?
[SANDARA]Your loving arms reach out for me
But even so I let go
[CL]I don't know
[SANDARA]I gotta find my way home
[BOM]Baby I'm sorry even now you're here I'm lonely
I'm so selfish, I ain't worthy of your heart
Wait here, and watch me walk away
[MINZY]I'm sorry, here's the ending to our story
When we're close I still feel like we're worlds apart
I can't stay, cause with you baby
I'm so lonely, lonely, lonely, lonely, lonely
Baby I'm so lonely, lonely, lonely, lonely, lonely
[BOM]Baby I'm so lonely, lonely, lonely, lonely, lonely
Baby I'm so lonely, lonely, lonely, lonely, lonely (eh-eh)
[CL]You didn't create this problem
All of this is my own fault
I can swear to God that I've been ready to break up from the start
[BOM]When you hold me I feel so out of place
I feel trapped I wanna run away
How come when I'm met by love it makes me weak and empty?
[SANDARA]You're so sweet, so lovely
But even so I let go
[CL]I don't know, I don't know
What's taking over me?
[SANDARA]Your loving arms reach out for me
But even so I let go
[BOM]I don't know
[SANDARA]I gotta find my way home
[CL]Baby I'm sorry even now you're here I'm lonely
I'm so selfish, I ain't worthy of your heart
Wait here, and watch me walk away
[MINZY]I'm sorry, here's the ending to our story
When we're close I still feel like we're worlds apart
I can't stay, cause with you baby
I'm so lonely, lonely, lonely, lonely, lonely
Baby I'm so lonely, lonely, lonely, lonely, lonely
[CL]Baby I'm so lonely, lonely, lonely, lonely, lonely
Baby I'm so lonely, lonely, lonely, lonely, lonely
[MINZY]Cause I'm just another girl, who's tired of being lonely
[BOM]I can't take it anymore goodbye
[SANDARA]Cause I'm just another girl
[CL]Who's tired of it all
[BOM]I just cannot stay cause with you baby
[MINZY]I'm so lonely, lonely, lonely, lonely, lonely
Baby I'm so lonely, lonely, lonely, lonely, lonely
[CL]Baby I'm so lonely, lonely, lonely, lonely, lonely
Baby I'm so lonely, lonely, lonely, lonely, lonely (eh-eh)