---
---
---
---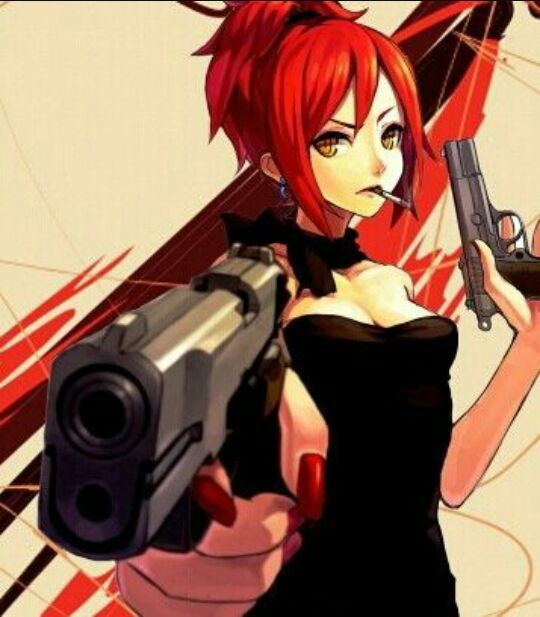 【Full Name】
Felicity Taylor Allen
【Nicknames】
Izzy
Flick
Red
【Age】
35 (She stopped aging at 23)
【Gender】
Female
【Sexuality】
Homosexual
【Occupation】
Waitress at a club
---
---
【Height】
5'5''
【Weight】
140
【Hair Color】
Red
【Eye Color】
Green
On weekdays, she works third shift at a club, so she is mainly seen in her club uniform which is fairly provocative looking complete with a low cut blouse and a short skirt. At home, she finds it more comfortable to wear her pajamas that are usually just baggy shirts and flannel pants. She also wears a pair of light blue, rounded frame glasses, instead of the contacts she wears at work. When she's at home she prefers to have her hair down, but at work it's pulled up in either a high ponytail or high pigtails. When she's in public outside of her work, she opts to wear any clean t-shirt she can find and a comfortable pair of jeans.
---
---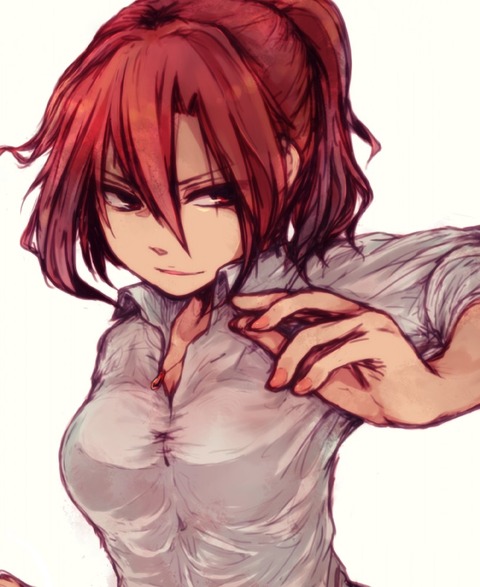 【Likes】
Strawberry Daiquiris:
"Or anything strawberry flavored, really. I love strawberry."
Fires:
"What can I say? The warmth and quiet crackling relaxes me. Plus roasted marshmallows."
Puppies:
"They're cute, also all dogs. Dogs are great."
Attention:
"I like it when people give me attention, it makes me feel important."
Winning a Fight:
"Arguments, fist fights, any kind of fight really the adrenaline is addicting."
【Dislikes】
Headaches:
"It's the first sign that I need my addiction satisfied."
Rain:
"I always get caught in the rain. I don't like getting wet."
Rude People:
"I deal with them all day long, they're the type to not tip."
Daylight:
"I may not be a vampire, but I work third shift and the sunlight makes it hard to sleep."
Being Forced to do Anything:
"It makes me feel like I'm not in control. I don't like that feeling."
Felicity is a flirt when she's at work, she knows how to get good tips, plus drunk men will give her quite a bit of attention because of it. She loves working third shift and her job, it just means she's always loved staying up late ever since she was young and her employer gives her all the hours she could possibly work. She's pretty full of herself, and overconfident about her abilities. She has been in several fights, and will fight anyone that pisses her off enough. Anything that makes her feel like she's not in control of herself makes her feel very uncomfortable.
---
---
As a young kid, she lived in a pretty bad neighborhood. For the most part she had to fight for anything she wanted and just to show that she wasn't going to be pushed around by anyone. Her parents tried their best to give her a good life, unfortunately her grandparents didn't think this was good enough and took her from them. She went from being in poverty to being in the middle class and was upset. She knew that she wasn't getting the best schooling and was in a very unsafe neighborhood, but she didn't care. Her parents were good people and she had friends that she now had to leave behind. After that, she never got to see her parents again. She started so many fights at her new school, that her grandparents were ashamed of her.
She became the most feared in her school system, even the older kids were afraid of her. The school was just waiting to pounce and get her expelled or throw her into prison. It never happened, Felicity was the perfect student on the grounds and off the grounds she would end up punching anyone who she thought deserved it. There were plenty of rumors that she was sleeping with a few of the male teachers for better grades, but there was never proof of that. She ended up graduating just like most of her classmates. Most of them were mad, even a little jealous that she seemed to be doing so well, while getting into so many fights.
After highschool, she moved out of her grandparent's place and moved into the trashiest apartment, since it was the only thing she could afford. After getting a job at a local factory, she spent her time being as quiet as possible. She kept herself afloat and that was all that she cared about. One night in an alley next to a local bar, she was attacked by a few men, and was left to bleed out. Someone happened to come by and took care of her. This person was a vampire, and took care of her the only way he knew how, by having her consume her blood. After that, she stayed with him, being told that she wasn't allowed to support herself anymore and that she was to just stay home and care for the house. At one point she got sick of being a maid and had just stopped. She started to argue with the vampire, so the vampire stopped letting her have his blood that she was so addicted to. When she finally gave in so she could get the blood, she ended up draining him.
Felicity quickly moved as far away as she could from that place and started a new life in Staves. A new city that could at least give her some comfort. She found a nice job at a very popular club, the owner seemed to like her quite a bit. So, she got enough work to move into a nice apartment complex and finally be well off. Too bad that she's still hooked on vampire blood.