---
---
"But oh to be free. Not to have to go 'Poof! What do ya need?', 'Poof! What do ya need?', 'Poof! What do ya need?' To be my own master. Such a thing would be greater than all the magic and all the treasures in the world."
---
---
---
---
ѕ υ r ғ a c e
---
---
Name
Bryson Spencer
Nickname(s)
Bryce
Age
Looks 23, but is really 285
Role
The Genie
---
---
r e ғ l e c т ι o n
---
---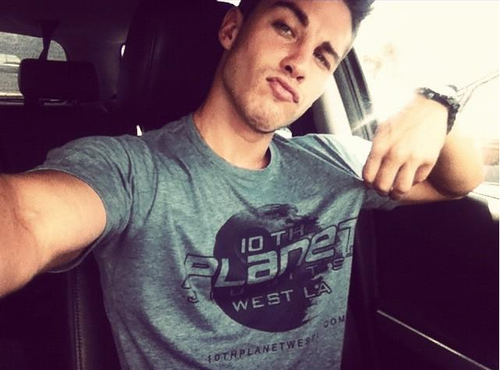 Build
Bryson is in perfect shape, his abs are chiseled and his biceps can be seen through his sleeves. The veins on his arms are extremely prominent and he has a deep 'V' on his mid section. He may not be so close to perfection as Zeus or another Greek god, but he's pretty close. Plus, he's got
a lot
of free time in the lamp so he does what he can to stay fit.
Hair/Eyes
His brown hair is always tousled up perfectly and his eyes are the color of the ocean.
In Depth
Standing at an impressive 5'10, Bryson can be an intimidating, guy. His looks make him seem perfect (at time perhaps even
too
perfect). There's nothing he could have done about that, though. It's certainly not in his genes. Every genie is what the human race describes as "perfectly beautiful".
---
---
a т т r ι в υ т e ѕ
---
---
Personality
Bryson is a very "glass half full" kinda guy and he sort of has to be with the life he leads. Everyday it's the same routine and the only time he gets to spice it up is when someone rubs the bottle, which doesn't happen nearly as often as he might like. Optimistic as he may be, however, there is always that nagging feeling in the back of his mind that something major is missing from his life. If he just ignores the feeling and never acknowledges what that major something is, he can continue with his life and be as happy as someone stuck in a bottle can be. At least, that's his reasoning.
When someone finally does rub that bottle, though, he has to pop out in his ridiculous half shirt, baggy pants, and long vest outfit while watching them struggle with what to wish for. What usually happens is that the votes are wasted. The first wish tends to go horrible wrong, whether it be them saying something too literal (i.e.
Make me a peanut butter sandwhich
and Bryson has no choice but to turn them into a PB&J) or wishing for something they didn't realize would completely screw up their lives. Then, the second wish is used to undo the first wish. Once they've reached their last wish, they're too scared so they either wish for him to go away or for a lot of money. No one ever does anything interesting.
Optimism and being bored very easily - basically the only two character traits he's picked up in the lamp for hundreds of years.
Likes/Dislikes
Likes:
|| Working out || Granting Wishes || Adventure || Freedom || Chocolate ||
Dislikes:
|| Continuity || Down Time || Being Bored || The Genie Bottle || Cats ||
Habits/Flukes
|| Messes with his hair a lot || Cute Side Smirk || Snaps for no reason sometimes || Clicks his Tongue ||
---
---
в a c ĸ g r o υ n d
---
---
History
262 years ago, Bryson found his own genie lamp. When he rubbed it, the genie popped out and asked him what his three wishes were. Being unsure and not wanting to waste them, he asked if he could wait to use them later. The genie agreed but shared that he couldn't return inside the lamp until all three wishes had been used. The two men talked: the genie telling stories of previous wishers he'd encountered, Bryson telling the genie all the things that were going on in the world. Eventually Bryson realized he didn't want to use his wishes because he and the genie had become such good friends. He searched for a way to free the genie but the magical being assured him there was no way to do that without wishing for it, and if he were to do that he would need to be very careful about the way he said and worded it. In the end, the genie advised Bryson against it, not wanting to risk something bad happening to the young man just because he wanted to free him.
A couple days later, the genie told Bryson he needed to use his wishes.
"It's not healthy for a genie to be out of his lamp for so long."
The genie insisted. Out of annoyance, Bryan said in the spur of the moment,
"I wish it was me that had to go back in there instead of you."
Immediately he realized what he had said and slapped a hand over his mouth, but it was too late. The clothes the genie had been wearing were now on Bryson and he could only see the former genie out of what seemed to be the transparent side of the genie lamp.
Over the 262 years it's been since then, Bryson has learned to forgive himself and has also mastered the key to wishing and wish granting. Everytime someone new rubs his lamp, he warns them on how they word things (even though most don't listen to him anyways). It's been almost 60 years since he granted anyone wishes, though. So, who knows who the next person to rub his lamp will be?
---
---
o т н e r
---
---
Face Claim
Dean Geyer
Dialogue Color Code
#5FC401
Role Player
The Littlest Mermaid